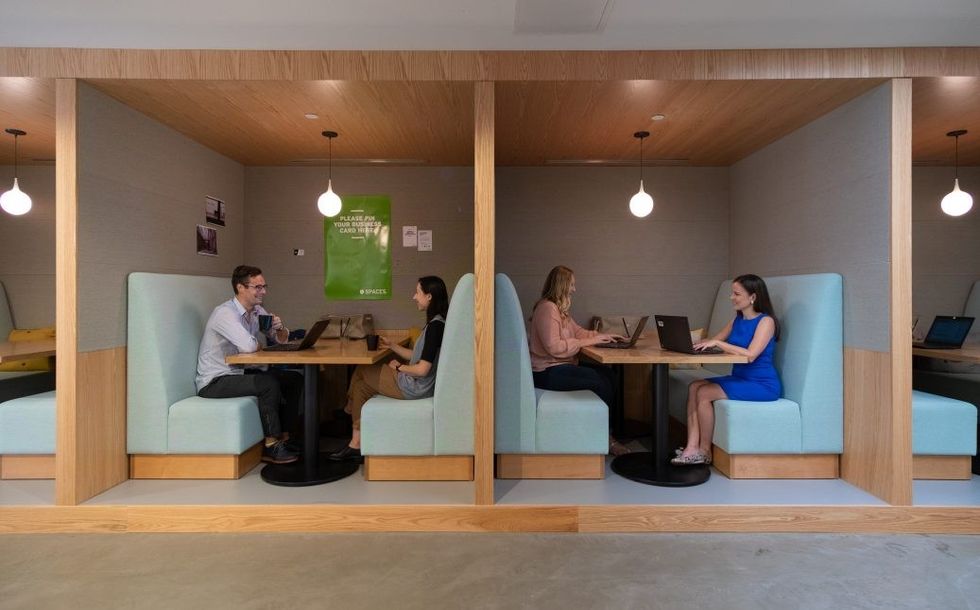 (All photos courtesy of Spaces)
To say co-working spaces have taken Toronto by storm would be a complete and utter understatement. With another day comes another just–or to be–opened co-working spot in the city. All offering various perks, amenities and niche branding in an attempt to draw a steady stream of freelancers and workers alike.
---
But when I heard about the opening of Spaces in Yorkville at 99 Yorkville Ave., I was actually intrigued. Firstly, it's the first-ever co-working space to open in the upscale and prestigious Bloor-Yorkville area. Secondly, Spaces' reputation precedes itself.
Spaces offers an inspiring work environment for professionals and growing businesses. In addition to office space, there are memberships and meeting rooms to help you think, create and cooperate with like-minded people.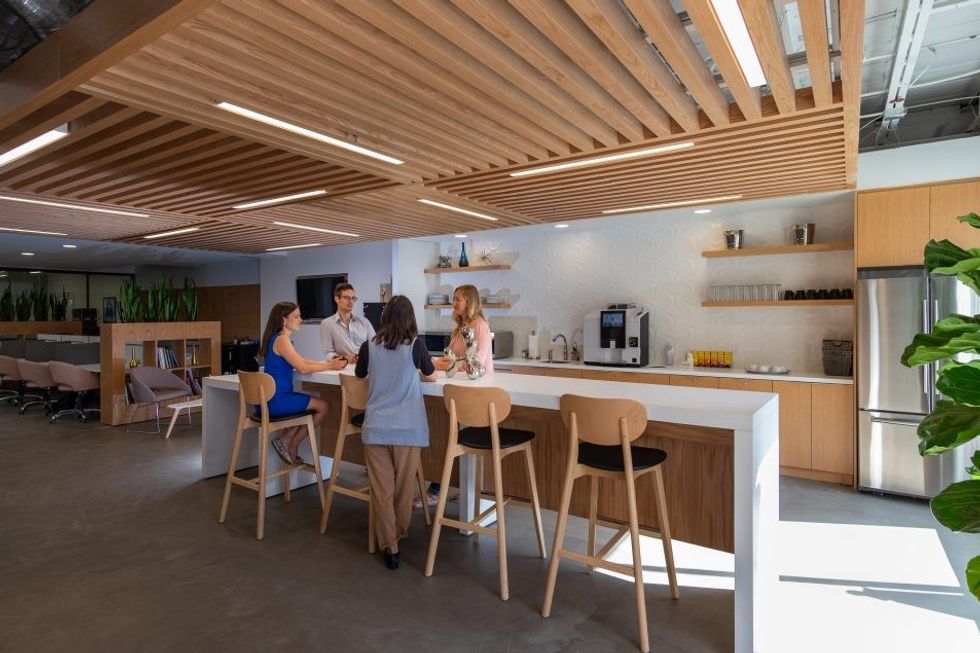 And it's no one hit wonder.
It has 140 locations in 30 countries and 94 cities around the world. The new Yorkville location is the second in Toronto, its first being in Queen West. The company will open two more locations in Toronto next year in North York and Liberty Village.
The premise of the company is to offer members the best possible locations in every urban centre. So, the Yorkville location was a no-brainer. The space really reflects the high-end neighbourhood nicely.
Spaces Yorkville's inspiring and upscale workspace has a sophisticated European design, two exclusive patios, and over 17,000 square feet of collaborative workspace. Renovations began in December 2017 and Spaces Yorkville officially opened at the beginning of the fall season.
The interior design inspires a fresh and modern spirit with a warm atmosphere featuring pastel palettes and local artwork on the walls. All Spaces workplaces are furnished with European-inspired designer and minimalist mid-century furniture. The custom booths in the Business Club are specifically designed for a collaborative atmosphere so people can work, share and connect over ideas. There are two exclusive patios: one overlooking Yorkville Avenue and the other offering members a more private space to lounge, work, and collaborate overlooking Sofia.
Wayne Berger, CEO of IWG Canada and Latin America, which owns Spaces, told me why coming to Canada—and Yorkville in particular—is so important to the brand:
"We are rapidly opening new Spaces locations around the world, and Toronto is a key priority to build our aspiration and creative workspaces. Yorkville is an incredible second Toronto location for us—our passion for design and attention to detail has shone through in this location. We ensured every element, from the local artwork to the carefully sourced furniture, enhances the experience for our members."
They are also continuing to open new Spaces in the best locations and most highly sought-after buildings.
"We are opening two new locations in Spring 2019 in the popular timber building coming to Liberty Village and a large coworking location in North York on Yonge St. We also just announced Spaces' largest North American location to date coming to The Well development in 2022 on Front Street, with 127,000 square feet of coworking space," says Berger.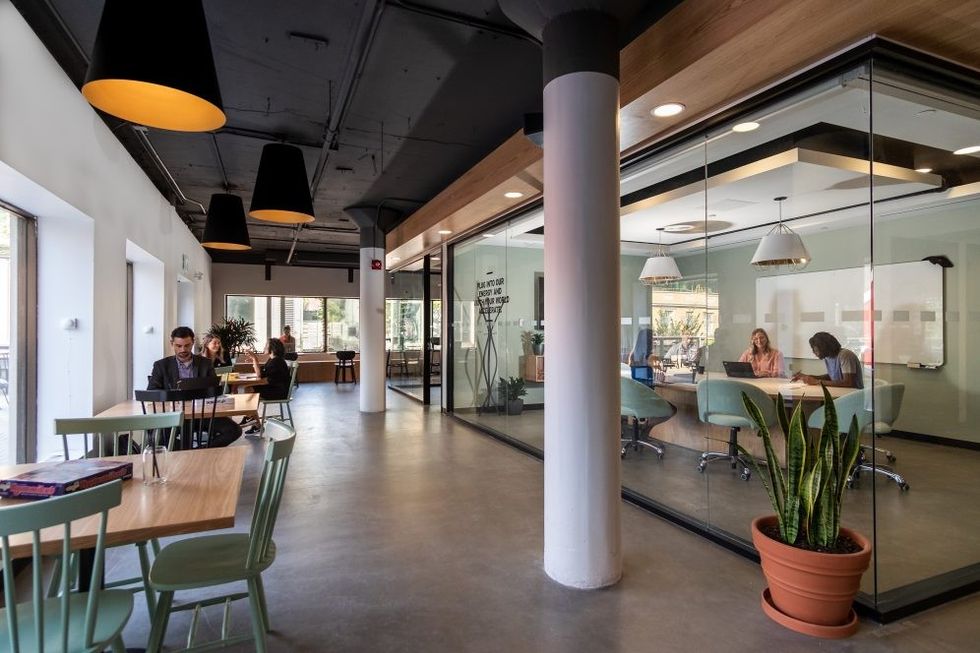 The sophisticated and modern Dutch-inspired interior is designed by Sevil Peach in Amsterdam and executed locally by Design Associates.
All the Spaces across the world are consistent with their design. When I asked Berger why this is, he said, "Many of our memberships are frequent business travellers so it's important to offer a consistent look and feel so our members feel at home and welcomed every time they walk into a Spaces. Our hospitable staff always have a smile on their face, no matter where they are in the world."
So what perks do you get when becoming a Spaces member?
"Our goal at every Spaces location is to build a community," says Berger.Therefore, every Spaces location has a full calendar of member activities from networking events, professional development, and office socials. For example, we've hosted educational events including a Growth Acceleration Coaching Sessions with Futurpreneurs, Law 101, and a workshop on 'How To Write Like A Boss'. We also host wellness activities like yoga and Pilates classes once a week and our office socials have included DIY Caesar-making events and vegan cooking workshops."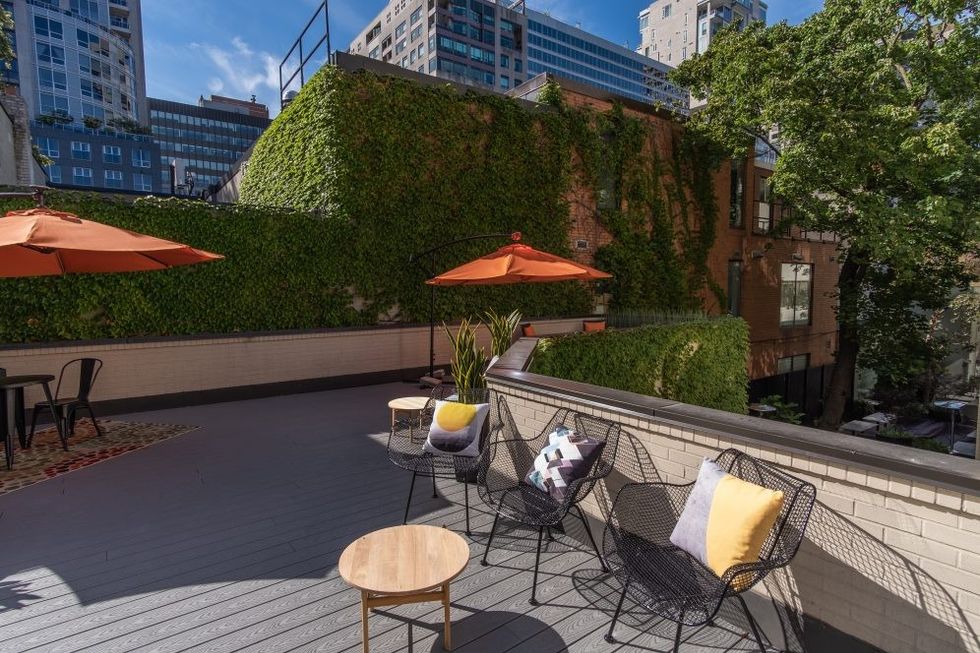 Berger adds: "Our members have access to the beautifully-designed Business Club, kitchen with self-serve specialty coffee, two meeting rooms, and two exclusive patios."
Members range from solopreneurs to large corporations, and a larger majority of members at Yorkville are in design, arts and culture.
Toronto