When it comes to road-access waterfront properties in Ontario's prime cottage country, inventory is scarce.
The reality is that they're simply not making any more waterfront properties on high-density lakes that are already lined with cottages. For this reason, these precious properties have seen their prices skyrocket in recent years – especially in the coveted Muskoka region.
---
These limited properties are largely financially unattainable for many cottage-seekers. Not to mention, many don't necessarily have all the "must haves" – like privacy, space, and value – on their lists.
Water access-only properties, however, offer an attractive (and sometimes overlooked) alternative.
Privacy, Space, and Value
Let's face it: water access-only cottages get a bit of a bad rap. But the reality is, they have a lot to offer cottage-buyers. In fact, when it comes to cottaging, Muskoka-based Broker Ross Halloran of Sotheby's International Realty Canada in Port Carling says that a water access-only property — in Ontario's prime cottage country — offers the chance to "have your cake and eat it too."
The biggest draws of water access-only properties come down to value, space, and privacy – things that are only paired with a hefty price tag when road-access waterfront properties are considered.
Some of the more affordable road-access waterfront properties may be logistically simpler to access, but they may sit in close proximity to busy roadways or neighbours. Those road-access properties that offer premium access and privacy will generally set you back upwards of a cool $5M. Water access-only cottages, by contrast, remove the sounds of cars from the equation and generally offer more land for a better value than waterfront road access properties do.
"If you're willing to alter your access patterns – i.e. being willing to park your car and take your boat to access your property – you'll get much more value; larger pieces of land, generally speaking, with longer shorelines and more privacy," says Halloran.
Current water access-only listings offer both vacant land, which provides a blank canvas to build your dream cottage, or previously developed cottages. Those in search of serenity and luxurious space could check out any of the sprawling private island listings on Lake Joseph – for example, one on Fawn Island — or on Lake Muskoka, including one on Bass Island. Each of the stunning and secluded properties house a modern lake home, and are accessible via a five-minute (or less) boat ride from their respective landings.
But for those simply seeking a family-friendly weekend escape, the options are even more bountiful.

"If you're looking for either a large family compound or to develop a property, you can start with water access-only properties and get great value, as in the case of my current listing on Kahshe Lake," says Halloran.
This sprawling property offers 4,000 feet on Kahshe Lake – "the gateway to Muskoka," says Halloran – severed into five lots, with an additional 800 feet onto a small lake called Little Sunny Lake. "For somebody who's looking for large tracks of property, subdivided – perhaps for children and their families – you've got an average shoreline length of over 500 feet per lot, which addresses that privacy concern. Indeed, when you have a long shoreline, you generally have more privacy."
The entire parcel of land is currently listed at $4,250,000.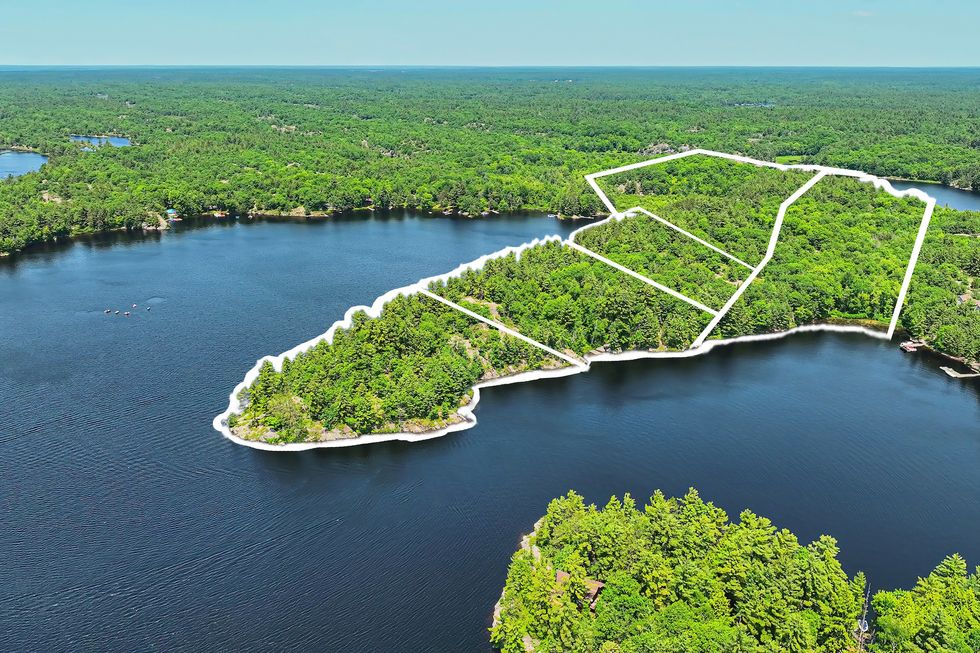 The for-sale Kahshe Lake property, with its five lots.
The Misconceptions
Halloran says that the biggest misconception with water access-only cottages is that they are a logistical hassle. Unlike driving straight up to a road-access property, water-access properties involve the added steps of a boat ride – and unpacking the car, packing the boat, and unpacking the boat.
Halloran, however, says this is a small price to pay for owning a private piece of pristine cottage country land. Not to mention, it's no big deal (at least in the midst of a gorgeous spring, summer, or autumn morning).
"Typically, how they work is, you'll have a landing area where you can park your car and shuttle your guests and supplies across in a pontoon boat," says Halloran. "Many cottagers with water access-only properties have these logistics down to a science. If you're willing to take that extra few minutes to unload from a car to a boat and go on, you've got the best of all worlds with your property."
Halloran also highlights that cottagers spend a great deal of their time in their boat anyway. "What's the difference if you have a five to 10-minute boat ride to begin your time at the cottage, because you're going to be spending most of your time in the boat anyway?," he asks.
In addition to the transportation logistics, most people also have provisioning and maintaining their water access-only cottage down to a science as well, says Halloran. Another misconception he mentions is that these properties can't be used year-round.
"People can use them year-round," says Halloran. "They take either a snowmobile (when the ice is strong enough to support them), a scoot, or a hovercraft. If you're really committed to four-season cottaging, you can pick up a hovercraft from the Cottage Life Show." Of course, this could set you back a cool $50K. But for the most dedicated, technology like this has made it easier to own a water access-only cottage in recent years, Halloran points out.

The Cottage Experience
A water access-only cottage inevitably means a completely different experience than a road access cottage. Let's be honest; especially on Muskoka's three big lakes, the "cottage" experience can feel anything but. Cottagers in Muskoka now enjoy everything from Pusateri's grocery delivery, compete with pre-made meals and spreads, to concierge services. But, being in a water access-only property brings back the good, old fashioned element of "roughing it" – even if the kitchen is full of gourmet groceries.
Halloran highlights how a water access-only property makes people change their behaviour when it comes to cottaging. "You don't have to run out to the store to buy a loaf of bread; you plan your groceries in advance," says Halloran. "So, you don't need to make those incidental trips by car that can disrupt the whole cottage experience."
The privacy element also contributes to a more traditional, peaceful cottage country experience. "If you're sitting on 100 feet of shoreline on a road-access property in the Kawarthas, Muskoka, or Haliburton, you're inevitably aware of your neighbours – so, hopefully you have good ones who are well-behaved and not too noisy," says Halloran. "But, generally speaking, for the same amount of money, you can get a pretty extensive water access-only property, where you're guaranteed that solitude and quietness, and it really makes people feel they can unwind."
So, if that sounds like something you'd appreciate, a water-access cottage may just be the way to go. Of course, they're not for everyone. Those with mobility issues may find the extra step of the boat ride a challenge, and others with certain medical considerations may not feel comfortable on an island. But for many, they're a solid option in a climate of extremely limited cottage country supply.
"People aren't able to get what they're looking for, for the price they're willing to pay," says Halloran. "Considering water access-only cottages opens up layers of opportunity for people that still want waterfront, but at a reasonable price, with a high degree of privacy."
This article was produced in partnership with STOREYS Custom Studio.
Muskoka