---
At this point, it goes without saying that with sky-high (and still-increasing) real estate costs, demand overpowering supply, and interest rates on the cusp of rising, hopeful first-time homebuyers are staring down no easy feat.
To purchase a first property is a huge undertaking in the best of times -- never mind now, when securing a space to call home feels harder with each passing day.
But without getting too deep into the weeds of anxieties first-time buyers are facing -- you already know, so let's save you the stress, shall we? -- we propose approaching the discussion of homeownership through a more positive, solution-based lens.
Enter: Vandyk Properties, and more specifically, the Vandyk Start Program.
Launching at the developer's shiny new transit-oriented community Grand Central Mimico, the Vandyk Start Program was designed to help hopeful buyers realize their homeownership dreams. By offering a more accessible way to take ownership of a condo suite, individuals and families alike are better positioned to break into the real estate market (and to live in a chic, ideally-located, ultra-connected building while doing it). 
The What
The Vandyk Start Program features a collaboration with the City of Toronto, which supports homebuyers financially. At closing, an interest-free and payment-free loan provided by the City will come into effect to reduce buyers' total mortgage amounts -- that's a loan of $33,000 for a one-bed, and $51,000 for two- and three-bed suites*.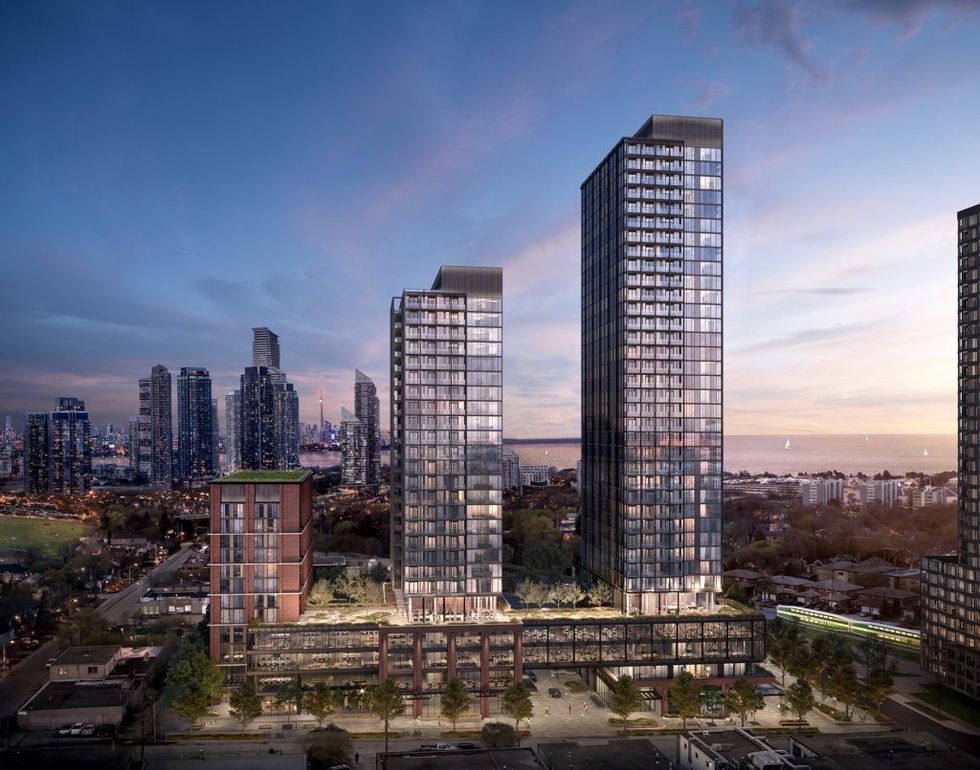 Grand Central Mimico, The Buckingham
And the benefits don't stop there. In most cases, when someone is looking to buy at a new condominium project, developers require 20% of the purchase price to be paid in advance; this payment serves as a deposit on the property purchase. The Vandyk Start Program supports homebuyers by slicing this deposit in half, meaning buyers are only required to pay 10% of the purchase price in advance.
Even better, buyers can pay this deposit in instalments over the course of 18 months, allowing them more time (and less stress) as they organize their finances.
Through this program, first-time buyers have the opportunity to get in on the ground floor of a highly sought-after development, which no longer has suites available for general sale.
The Where
Lucky for anyone keen on taking part in the program, the offering is launching at Ontario's up-and-coming transit-oriented community. Rising via Vandyk in partnership with Metrolinx, Grand Central Mimico – with Mimico GO Station at its base – is poised to reshape south Etobicoke through its vibrant and connected hub for travel, work, play, and the comforts of daily life.
As the majority landowner in the area, Vandyk's team and its partners are positioned to bring their vision of a cohesive urban experience to fruition. Ultimately, Grand Central Mimico will create a transit-oriented, connected community that seamlessly integrates the upgraded Lakeshore West GO line and the planned Ontario Line, both of which offer ease of access to further pastures across the GTA. Beyond the transit enhancements, the mixed-use development will also feature a 1.25 km greenway and a multi-use path along the rail corridor with a new pedestrian bridge overpass, plus new, expanded commuter parking facilities and a pedestrian pick-up and drop-off area for Mimico GO riders. All this, while the City of Toronto introduces a new 12-acre active sports field to the district as well.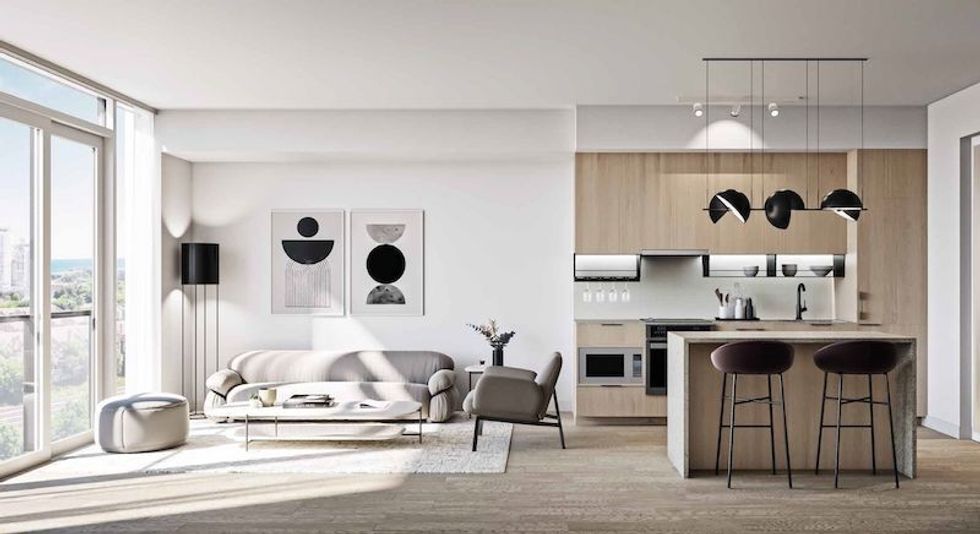 Grand Central Mimico, The Buckingham
Across the development, heritage-inspired aesthetics are paired with reimagined industrial design, resulting in loft-like-yet-warm interiors, and exteriors that embrace both contemporary design and nature's influence. The project will provide residents with 200,000 sq. ft. of work spaces, shopping, dining options, and markets, including those situated in the lively and landscaped plaza. Meanwhile, planters, green streets, green parking, and green roofs boast both sustainability and resilience, promising future residents a home base that they can rely on.
Born of the intention to truly serve the future community's inhabitants, the project will span more than 2 million sq. ft. across four city blocks and nine proposed towers, with 1.85 million sq. ft. dedicated to new residential living. 
The Buckingham, the first trio of residential towers to rise as part of the new development, is complete with its own private lobby entrance for residents and guests. Within, rich brick, steel awnings, black mullions, and cross bracing nod to the area's industrial and rail history, while suites serve contemporary cabinetry, quartz countertops, and modern fixtures and fittings.
Residents will consistently find themselves bathed in the sunlight that pours through expansive windows, while large balconies provide a seamless connection to the surrounding urban energy. Suites eligible for the Vandyk Start Program range from studios to 3-bed-plus-dens, providing the ideal home-base for everyone from young professionals through to families.
The How
Participating in the Vandyk Start Program is broken down into a handful of easy steps.
First, you need to qualify as an eligible purchaser under the program, which you can do right here. Next, you'll connect with a Vandyk sales representative, who will guide you through selecting from a list of eligible suites. And finally, when it comes time to talk dollars, program participants will benefit from Vandyk's exclusive deposit structure, which is both reduced and extended:
$5,000 on signing 
Balance to 2.5% in 30 days 
2.5% in 365 days 
2.5% in 450 days 
2.5% in 540 days 
At closing, the aforementioned loan provided by the City is applied as a "silent mortgage," with its amount dependent on the type of suite you've purchased.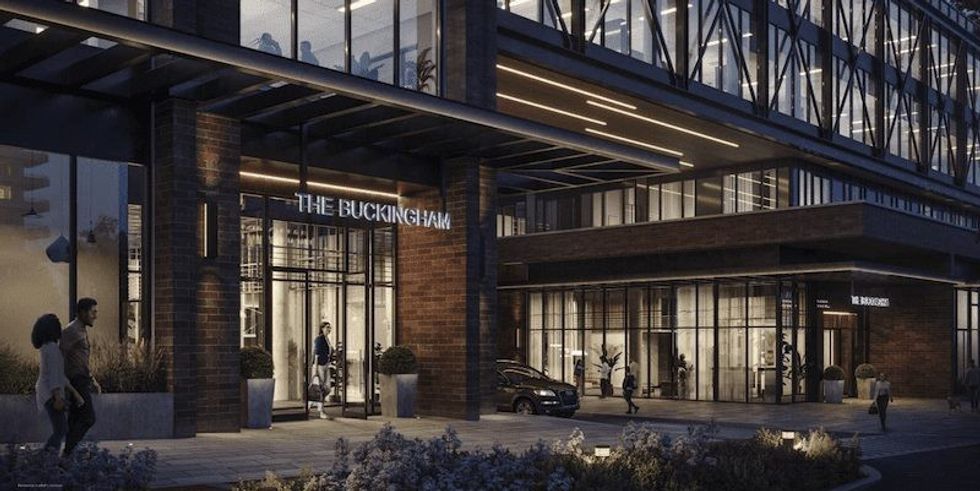 Grand Central Mimico, The Buckingham
One of the most difficult hurdles for hopeful first-time homebuyers to overcome is the time when they're so close to being able to lock down their property, but they're just not quite close enough. As a city builder that cares about affordability and accessibility, Vandyk is helping buyers bridge that gap.
To learn if you're eligible for the Vandyk Start Program -- and to begin building your life at Grand Central Mimico -- fill out the pre-qualification form here.
*Loans are funded by the City of Toronto.
**Loan amount is subject to increase and will be adjusted at closing.  
***Capital Appreciation Amount Example: The home is purchased for $500,000 and the loan is $33,000 (6.6% of the cost). The home is then sold for $600,000. The Capital Appreciation Amount is $6,600 or 6.6% of the increase in value of $100,000. 
---
This article was produced in partnership with STOREYS Custom Studio.
Future Developments