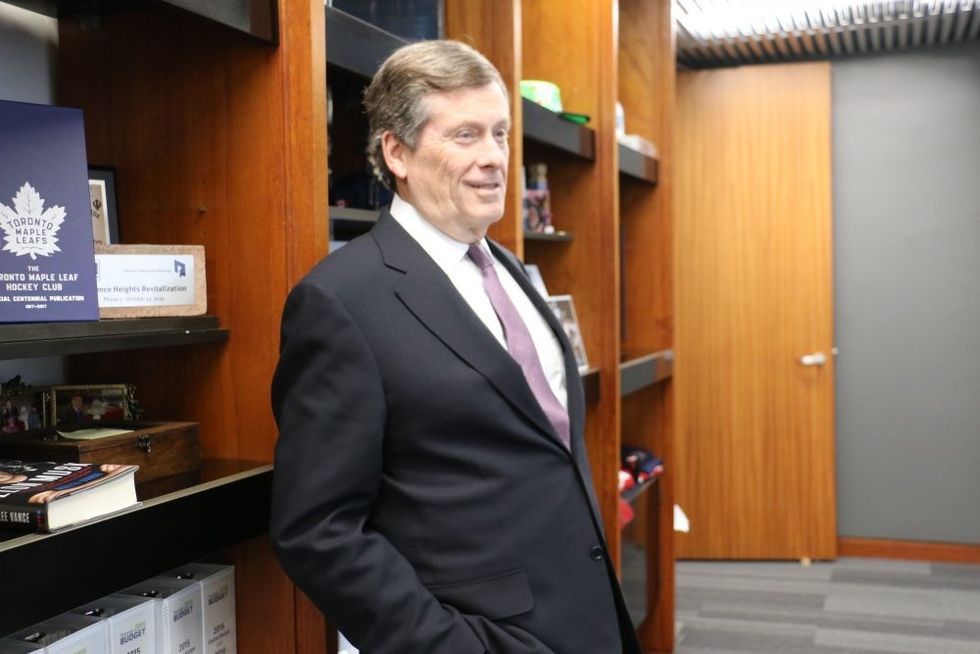 Torontonians had better hope the real estate market doesn't cool off anytime soon. Without the $800 million collected through land transfer levies, Mayor John Tory and council's fixation on keeping property tax increases at or below the rate of inflation would leave the city more stretched than it already is.
---
Toronto's 2018 budget, which stands at $11 billion, says much about a city whose leaders are too timid to demand more from home-owners, though that means many residents will go without services that have never been in such high demand.
The final budget of Tory's first term, which council passed Monday night, continues Canada's richest city's commitment to austerity for the fourth year in a row — eight if you include Rob Ford's mayoralty.
It means that programs such as daycare, improved transit, shelter beds for the homeless and subsidized housing will receive less funding than they need.
But keeping property taxes low — this year's increase is 2.1 per cent, or about $81 per family — fulfills a promise Tory made during the election campaign of 2009. His low-tax strategy is a familiar one; before him, Toronto's first post-amalgamation mayor, Mel Lastman, and Ford made similar pledges.
Clearly, the power and politics of parsimony prevail in this city.
As a result, spending in many municipal departments has been frozen and Toronto will be forced again to dip into its reserve fund to pay for new initiatives, including a nutrition program for students and the TTC's much-ballyhooed two-hour transfer. Indeed, that fund, set at one percent of the tax levy — $42 million — will have dropped to $13 million by the end of this year from almost $80 million in 2010.
"We have a lot of work to do on addressing a lot of these issues," Tory admitted after Monday's vote. "And if I believed that simply raising property taxes was going to provide the answer, then I would say so. But I know that that can't work by itself."
Tory is right.
Like all cities in Canada, Toronto desperately needs new revenue sources. Council approved a motion to ask the province for a portion of the Harmonized Sales Tax. But it turned down a second proposal to approach Queen's Park for permission to levy its own sales tax if the province refused to share the HST, which is pretty much a foregone conclusion.
In other words, the city would happily take a portion of taxes levied by the "senior" levels of government, but is reluctant to impose one of its own.
But then, we all remember what happened when Tory went to Ontario Premier Kathleen Wynne seeking tolls on the Don Valley Parkway and Gardiner Expressway.
Council also nixed a motion to bring back the vehicle registration fee, the much hated $60-fee introduced by Mayor David Miller and rescinded by his successor Rob Ford shortly afterward. It was also Miller who presided over the last big property tax increase — four per cent — in 2009.
Since then, average annual land tax increases have been 2.4 per cent. During the same period, real estate has doubled in value.
Critics also point out that Toronto property tax rates are the lowest in the GTHA. In fact, Torontonians pay at roughly half the rate as homeowners in Oshawa and Milton.
Little wonder Councillor Gord Perks' was inspired to introduce a motion calling for property taxes to be raised by four percent. Needless to say, it failed. That led Perks to accuse Tory and his allies of keeping taxes low to benefit rich homeowners on the backs of the middle- and low-income Torontonians.
Meanwhile, the city's capital budget remains focused on a series of highly criticized projects. It sets aside $3.35 billion for the discredited one-stop Scarborough subway extension; $2.3 billion for relocating and expanding the east end of the Gardiner Expressway; $3.8 billion for Tory's SmartTrack transit scheme as well as the Eglinton Ave W. light rail line.
We get what we pay for, of course, and in Toronto, the biggest little small town in the country, that's never enough. The savings civic politicians claim this year will come back to haunt us next year. Like it or not, sooner or later we have to pay the price.
Hume with a View