---
A brand new tower reaching 49 storeys in height is in the works for a site across from the infamous Toronto strip club Filmores Hotel.
Proposed for 239-255 Dundas Street East by developer Metropia, the Turner Fleischer Architects-designed tower would sit atop a two-storey podium at the corner of Dundas Street East and Pembroke Street. The stretch of land is currently home to a number of low-rise commercial and residential buildings. Although they would need to be largely demolished to make way for the new tower, some parts of the buildings would make it to the new development.
The proposal states that the heritage facades of 239 and 241 – 243 Dundas Street East would be retained as is, and that the facade of 255 Dundas Street East would be kept and relocated forward to be more in alignment with the other heritage properties. Unfortunately for any Papa John's Pizza lovers, the store that currently sits on the corner of Dundas and Pembroke would be demolished in its entirely.
Architectural renderings of the proposed tower, which is set to reach just over 150 metres in height, reveal that it will have an interesting hourglass shape, giving the appearance of curving in part way up the tower. Development application filings explain the building's shape as "sculpting to mitigate any adverse planning impacts on the immediate and broader surrounding area."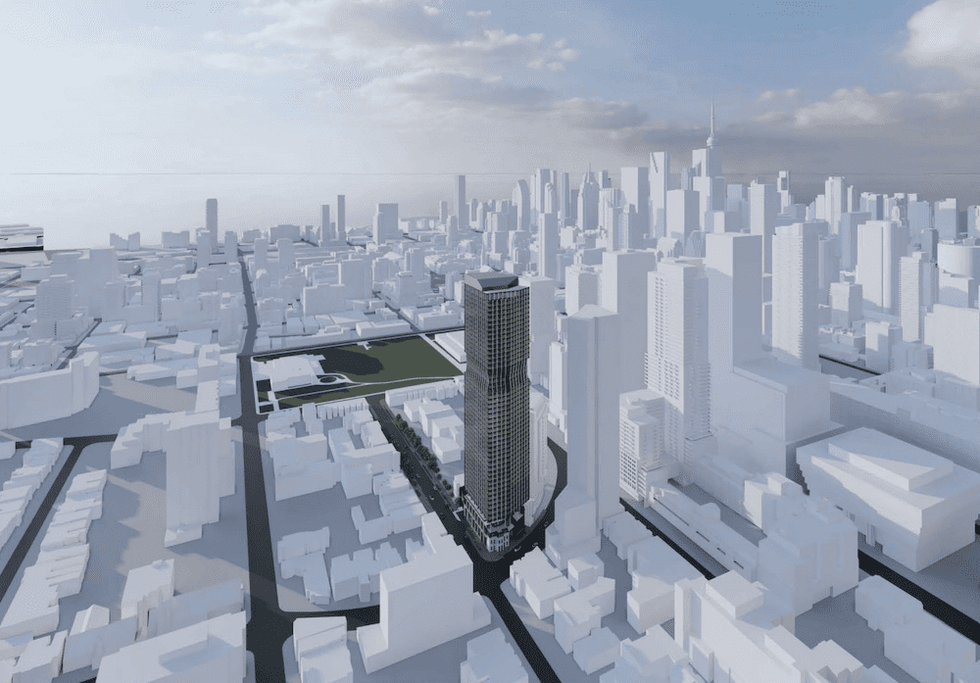 Metropia
During the site's development, eight rental units would temporarily be lost, but according to the developer's plans, they will ultimately be replaced in the new tower, along with 670 other residential units for a grand total of 678 units. The replacement rentals will include three one-bedroom units, four two-bedroom units, and one three-bedroom unit. The remainder of the building's units will be range from studios to two-bedrooms plus den.
Commercial space lost during development would also be recouped, thanks to the retail space that's planned for the base of the tower. According to filed plans, there would be 198.4 sq. m of non-residential space, which includes retail space at ground level facing onto Dundas Street East.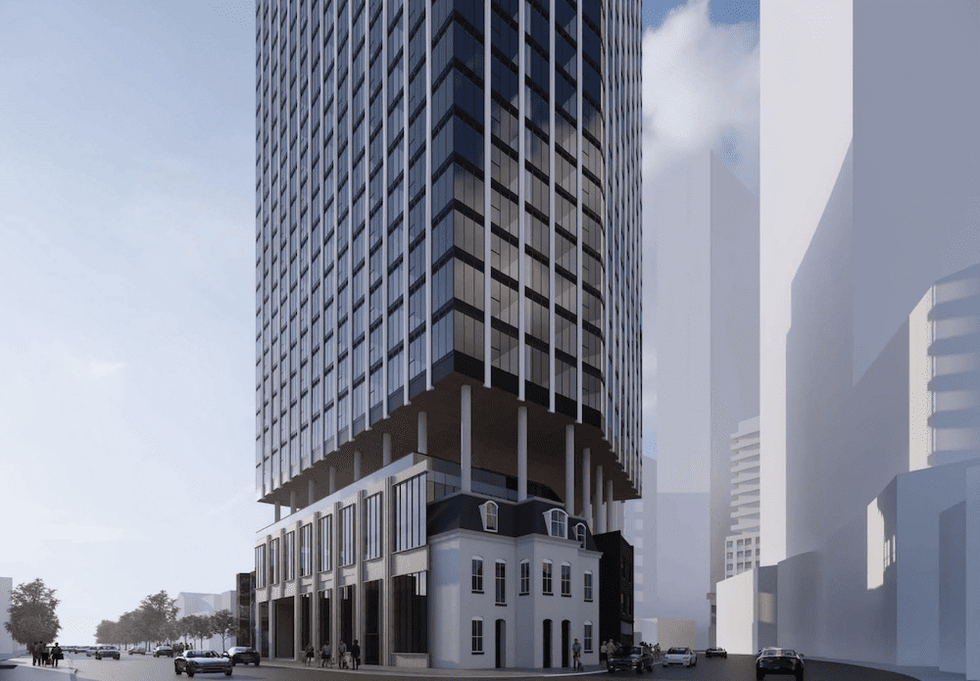 Metropia
As with most modern residential developments going up in Toronto, the residents that would occupy this building would have access to a slew of amenities. On the second floor, there'd be a total of 819 sq. m of indoor amenity space, and then just one level up on the third floor, there'd be another 241 sq. m of indoor amenities and 504 sq. m of outdoor amenities.
In the wake of the City of Toronto removing parking minimums for new residential buildings back in December, the parking for the building would be rather limited, with just five visitor parking spaces and one car-share parking space provided at grade. Bicycle parking would be extensive, with 752 spaces provided.
Interestingly, this site isn't the only one in the area to be targeted for a new development recently. In fact, developer Menkes is looking to build a 41-storey, 495-unit tower over top of Filmores itself, meaning the Toronto strip club would be no more. A zoning bylaw amendment for the development was approved in 2020 and the site plan is currently being reviewed by City Council.
Future Developments