Residents that have yet to take advantage of lower rents brought on by implications of the pandemic should consider doing so sooner rather than later, as average Toronto rent is expected to increase in the latter half of 2021.
Rentals.ca and Bullpen Research & Consulting have released their latest National Rent Report, which reveals that national average rents for all property types are forecast to increase 3% in the new year, lead by Montreal (6%), Toronto (4%), and Vancouver (3%).
---
Nationwide, rents are expected to continue trending downward in the first half of 2021 as the lockdown continues to limit in-person viewings, COVID cases increase, and the border remains mostly closed to new immigrants; however, rents are forecast to slowly increase in the second half of the year.
According to the report, the decrease in demand will be met with an increase in supply and based on data from the Canada Mortgage and Housing Corporation (CMHC), 2020 will likely set a 30-year high for new apartment completions (condo + rental) of about 100,000 suites.
A crackdown on short-term rentals in Toronto as well as the potential for a vacant homes tax in the city are expected to increase supply further in Canada's largest rental market.
And now that the COVID-19 vaccine on the way, it is possible that some Canadian renters will try to time the bottom of the rental market and jump back in during the spring. As a result, Bullpen Research & Consulting and Rentals.ca expect a "sizable" increase in demand in the fall of 2021 that could drive rents above December 2020 levels in most major markets.
READ: This is the Most Searched for Neighbourhood to Rent in the GTA
"2020 has been the most unpredictable year of my nearly 20-year career as a housing analyst," said Ben Myers, president of Bullpen Research & Consulting. "We expect the market to continue trending downward for the next four to six months nationally but start a slow recovery in the second half of 2021."
Locally, Toronto rents are expected to increase by 4% over the course of 2021. This increase will not return average Toronto rent to the record highs it saw in late 2019, when average rent for a one-bedroom topped out at more than $2,600 per month, but it will redeem some of the losses felt in 2020.
In Toronto (former City boundaries before amalgamation) in November, average rent for all property types was down to $2,081 per month -- a decline of 20% year-over-year. According to the report, Toronto led the list of Canadian markets for average monthly rent for a one-bedroom home in November at $1,877, despite monthly rents for a one-bedroom in the city declining every month since January. For a two-bedroom, Toronto finished second for average monthly rent at $2,468.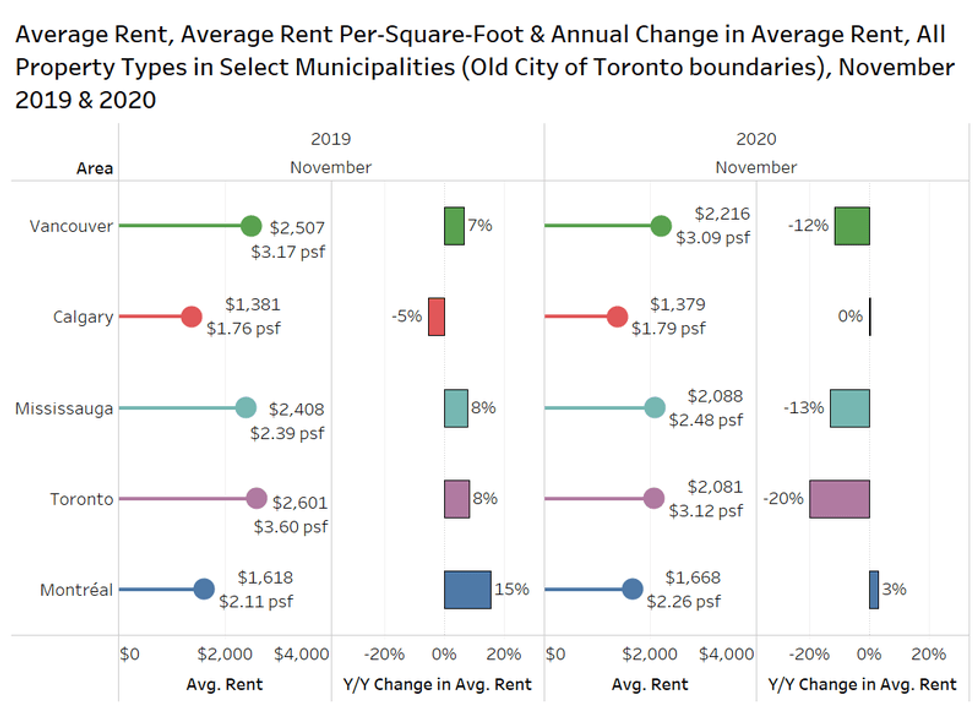 This forecast comes as the average monthly rent for all Canadian properties listed on Rentals.ca in November declined 9.1% annually to $1,743, making a "180-degree turn" when compared to an increase of 9.4% this time last year, according to the rent report. What's more, month-over-month, average rents were down 2.2% from October.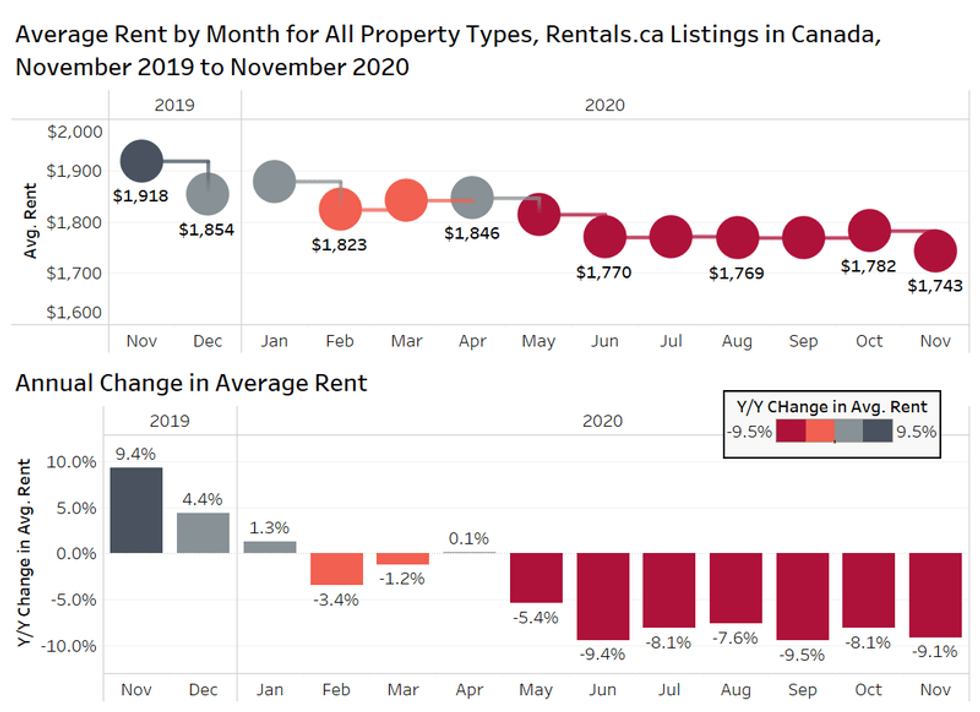 Renting