As the second wave of COVID-19 and subsequent lockdowns rage on, confidence in renting in Toronto's downtown core continues to "erode," according to a new rent report. However, residents are still looking for rental units in downtown, where rents have declined by as much as 15% to 17% annually.
This week, TorontoRentals.com and Bullpen Research & Consulting Toronto released their monthly GTA Rent Report, which revealed that the average rent in the GTA was down for the 11th straight month, with rent for all property types taking a dive of more than 13% in October to land at $2,122.
---
According to the report, one-bedroom suites were down 12% last month, while two-bedroom units fell 10%. What's more, condo rentals have been steadily declining from August of 2019 to October 2020 -- a 16% drop from last year's peak rent level. On average, a tenant looking to lease a condo paid $400 less in October of this year compared to the same month in 2019.
READ: Average National Rent Price Increases After Months of Remaining Flat
The suburban communities surrounding Toronto, such as Oshawa, Richmond Hill, Brampton, Burlington, and Ajax have been faring better than the "416' area with average monthly rents for all property types declining less than 4% year-over-year in October.
But on a more local level, the former municipalities that make up the amalgamated City of Toronto have all experienced significant declines in year-over-year rents in October, including East York (-20%), Old Toronto (-17%), Etobicoke (-15%), Mississauga (-13%), Markham (-13%), York (-11%), Vaughan (-11%), and North York (-8%). Average rents were also down in Scarborough, though 'only' 6% from October 2019.
Looking ahead, the report says that the data suggests further declines in average rents should be expected in the slower-demand months of November, December, and into January, with the annual drop in average rent in Toronto potentially exceeding 20%.
"Average rent in the former City of Toronto continues to decline, and will likely finish the year down 20% annually, an unprecedented one year decline," said Ben Myers, president of Bullpen Research & Consulting.
"The second wave and lockdown will further erode confidence in the return of the downtown core rental market. However, prospective tenants continue to look at properties in Toronto with the Bay Street Corridor and Davisville areas being the most popular."
The report also used data from Local Logic, which revealed where renters are searching to live in the Greater Toronto Area (GTA).
According to the chart below, which looks at the number of searches for specific areas by rent ranges in GTA neighbourhoods, the Bay Street Corridor in Toronto was the most searched area, with 79% of those searches looking for properties between $1,000 to $3,000 per month.
The second most popular area by online searches was Davisville, with over 90% of prospective tenants looking at properties between $1,000 to $3,000 per month.
The Church-Wellesley area was third, with 87% of those searches for properties taking place between $1,000 to $3,000 per month.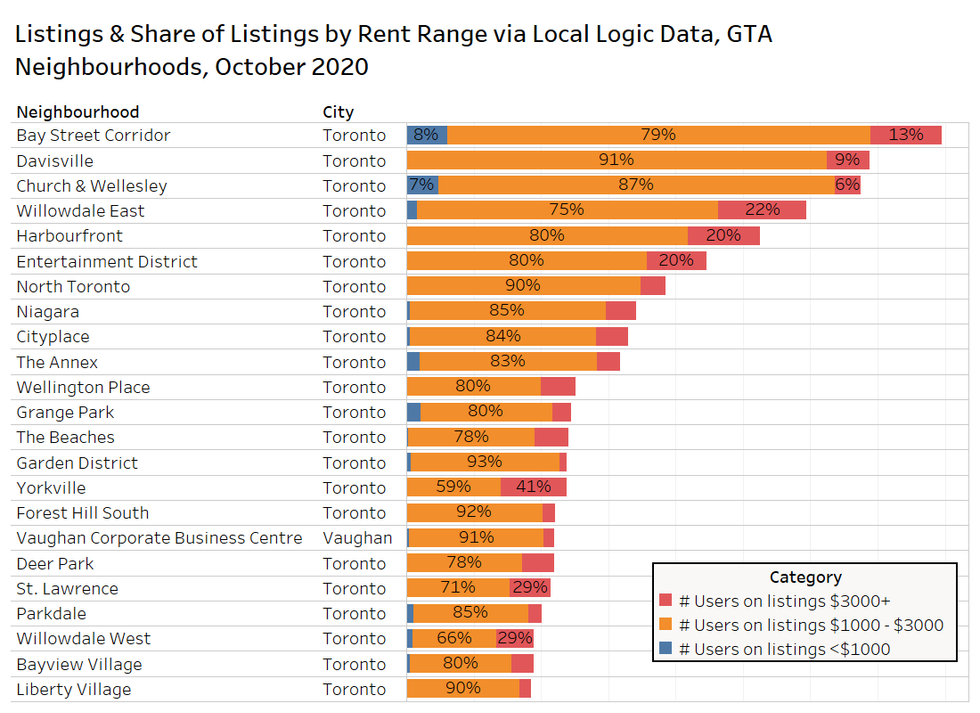 You can read the full report here. 
Renting