Real Estate News
Average National Rent Price Increases After Months of Remaining Flat
After four months of unvarying changes, the average rent for all property types in Canada has increased, reaching a new average of over $1,700 per month in October.
On Friday, Rentals.ca and Bullpen Research & Consulting released their latest National Rent Report, which revealed that the average monthly asking rent for all Canadian properties listed on Rentals.ca — which includes single-family housing, townhouses, rental apartments, condominium apartments, and basement apartments — in October reached $1,782 per month, down 8.1% annually, but up 0.7% from September 2020.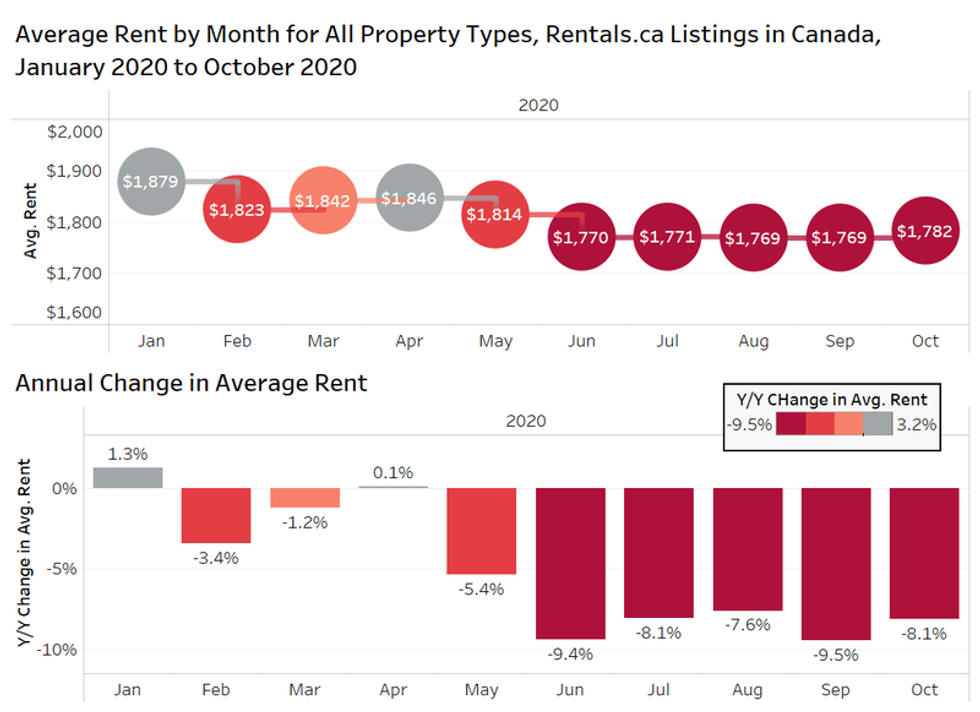 When looking at the year-over-year changes for the different property types, the results are polar opposites for single-family, townhouse, and condominium apartment listings.
Single-family homes, which includes single-detached and semi-detached, saw average rents rise by 11% annually in October 2019, but fall 13% annually in October of this year.
READ: Average Rent Across All Property Types in the GTA Down 12.9% Annually
Townhouse rents surged in the fall of last year, rising 17% annually to $2,025 per month, while the same rents declined 6% year-over-year in October 2020, reaching $1,912 per month.
Condominium apartments, on the other hand, have experienced the biggest drop this year, falling 17% annually to $2,084 per month. Growth in October 2019 was modest, rising 1% year over year to just under $2,500 per month.
Surprisingly, rental apartments experienced growth this year, with average monthly asking rents increasing 5%, following an 8% rise last year. Part of that rent inflation is likely attributable to a number of new completions pulling the average up.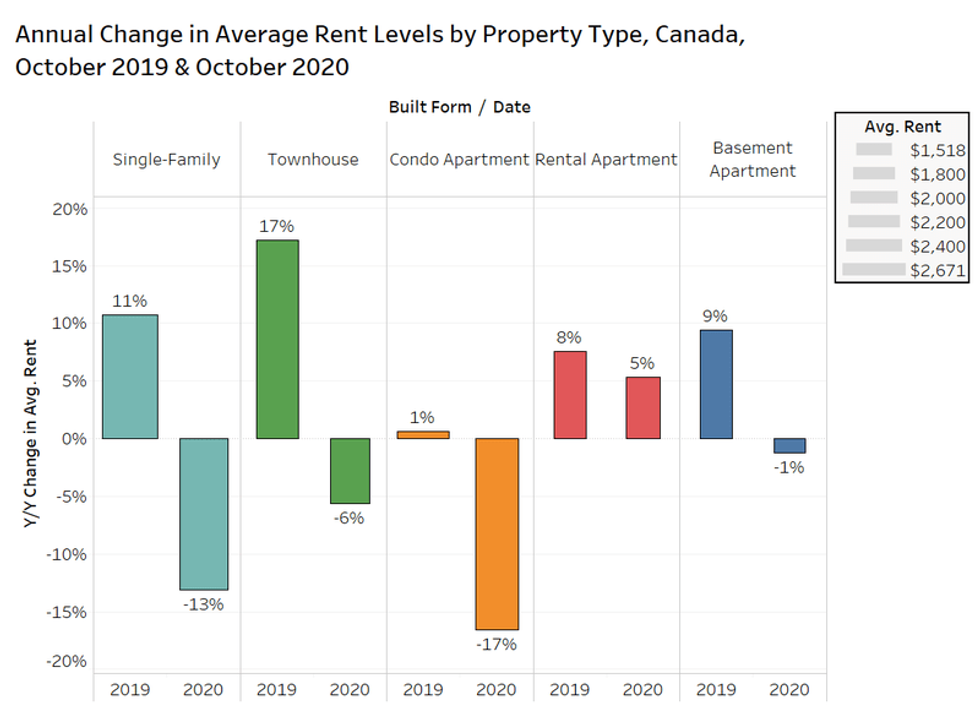 As for bedroom types, the latest data shows that a tenant will now have to pay $325 more in rent to go from a studio or bachelor unit to a one-bedroom unit. For a tenant looking to upgrade from a one-bedroom to a two-bedroom unit, they'll be looking at spending about $300 more on average in Canada.
After that, a third bedroom will cost a tenant $270 more, while a fourth bedroom will cost $515 more, likely because the majority of three-bedroom units are only available via single-family and townhouse properties.
The report says that in addition to an extra bedroom, these tenants are likely gaining a parking spot and even outdoor space — which is something many residents are looking for as more workers are forced to spend more time at home amid COVID-19. Adding a fifth bedroom will cost a tenant another $425 per month.
"The average rent in Canada trended up in October, which we partially attribute to an increase in new purpose-built rental apartment listings," said Matt Denison, CEO of Rentals.ca.
Denison noted that he continues to see an increase in listings nationally, which suggests that supply is outpacing demand. "This market imbalance suggests soft rental market conditions will continue for the rest of the year," added Denison.
However, it is important to note that this report analyzes asking rents, which can hide some of the softness (or strength) of the market. According to the report, when conditions are poor, landlords may often accept rents below their asking rate or offer incentives like one or two months of free rent. The opposite can occur in a strong market, where a tenant offers the landlords more than ask to outbid the competition.
What's more, a unit could end up spending several months on the market because a landlord might be reluctant to lower the asking rent, especially for a rent-controlled unit where increasing rents in the future is limited if the tenant stays, which can skew the average asking rent.
You can read the full national rent report here.