The average rent for all home types in the Greater Toronto Area (GTA) continues to trend downwards, after falling nearly 13%, according to a new report from Toronto Rentals.
According to the report , the average rent for all property types listed on TorontoRentals.com , which includes basement apartments, rental apartments, condo apartments, townhouses, and other single-family homes, fell 12.9% year-over-year or 2.4% month-over-month to $2,131, marking the 10th consecutive monthly decline.
---
However, the months of price declines are expected to come to an end; competing rental site Padmapper has previously suggested that the "rent free fall" in Toronto may be winding down  — and soon — as Canada's priciest rental markets are expected to hit a price "floor."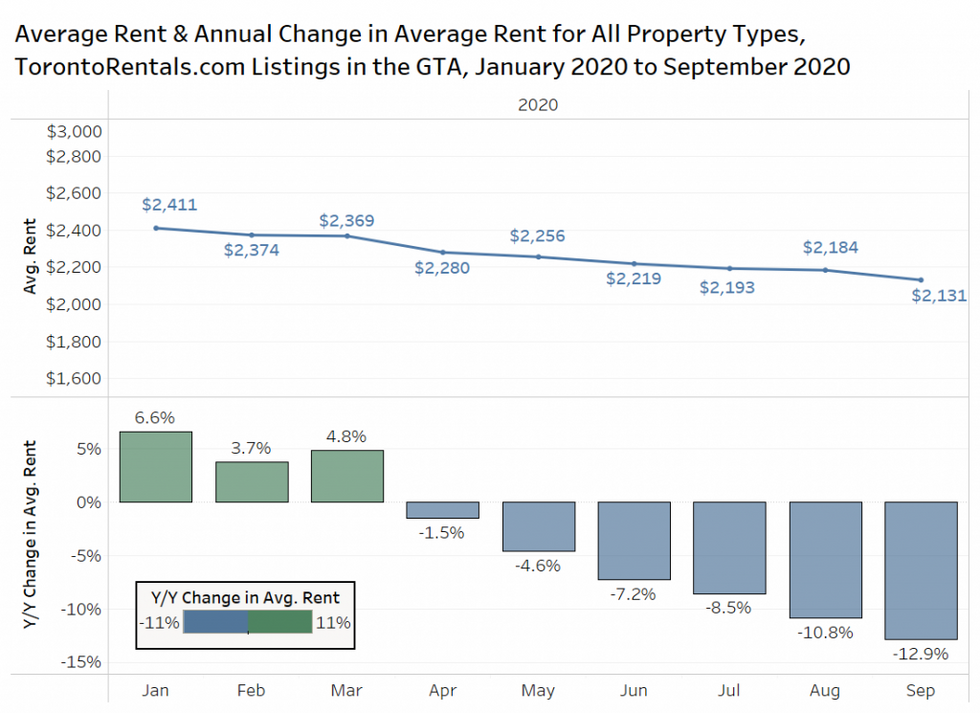 When it comes to bedroom types, studios, one-bedroom, two-bedroom, and three-bedroom units also saw their annual rents fall, with studios declining 7.9% to $1,590, while one-bedroom and two-bedroom units recorded year-over-year declines of 11.0% and 9.3%, respectively. Three-bedroom units fell 4.4% to $2,744, while four-bedroom units actually increased 4.5% to end up at $3,237.
The increase in rents for four-bedrooms could be attributed to more residents looking for more space outside of the confines of the downtown core.
READ: Toronto's Condo and Rental Markets See Record Growth in Q3: TRREB
When looking at Toronto, the report revealed that the annual average rent per square foot for condominium apartments and rental apartments in August and September of 2020 versus the same two months in 2019 also declined.
All 10 neighbourhoods included in the report experienced a decline, with seven of them experiencing double-digit deflation in their average rent per square foot year over year.
Those looking for the most affordable options should consider looking in the Waterfront Communities, where average rents are down 15% year over year to $3.43 per-square-foot and in the Little Portugal neighbourhood, which is down 17% to $3.17 per-square-foot.
The smallest decline was in Kensington-Chinatown, which lessened just 6% to $3.41 per-square-foot. This likely has to do with the fact that there currently aren't many new condo projects with high rents in that neighbourhood in comparison to the four areas with higher per-foot rent levels.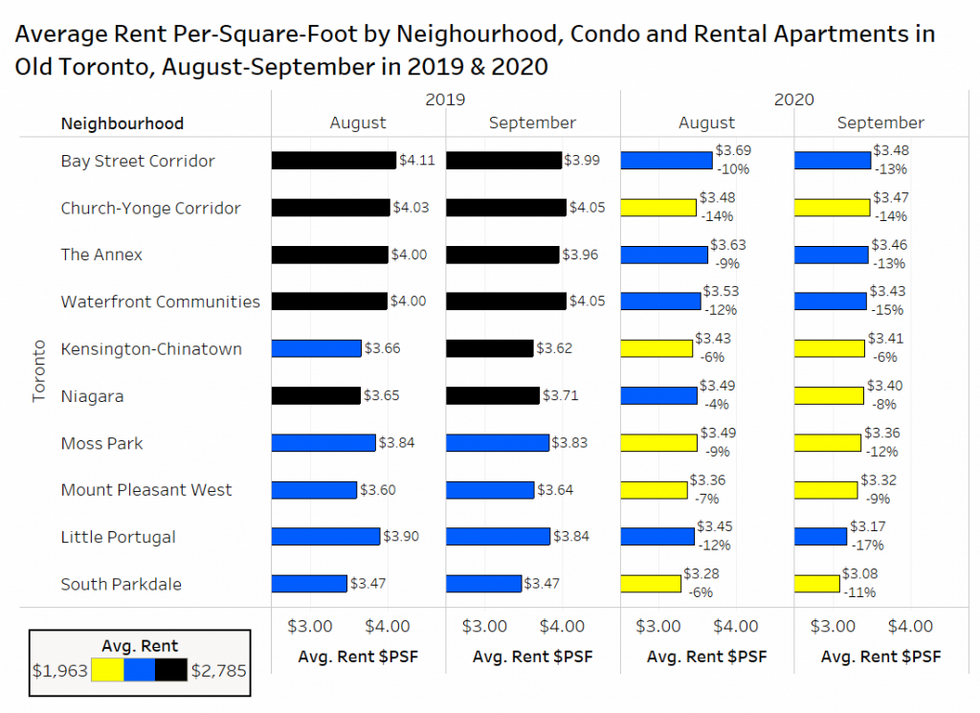 What's more, Toronto Rentals says investors who own condo apartments in the GTA that they previously rented out are now starting to list their units for sale as downtown tenant-demand shifts, and resale condo supply has "skyrocketed." However, resales are still occurring and leases are still happening.
According to a recent report from Urbanation, purpose-built rental apartments in the GTA built since 2005 had a vacancy rate of 2.4% in Q3-2020 , which was three times higher than in Q3-2019 (0.8%). In old Toronto, the vacancy rates increased to 2.8% from 0.7% a year earlier.
Toronto Rentals says this "weakness" is expected to persist as the work-from-home phenomenon that's currently in place for many employers will continue moving forward.
That being said, employment is continuing to pick up and international students are now allowed to enter (or re-enter) the country which will likely cause the vacancy rate to improve.
Renting