As the old saying goes, 'what goes up, must come down.' And in this case, we're referring to rent prices in Toronto, which have been slowly declining month-over-month due to impacts of the coronavirus.
But after months of price declines, a new report from Padmapper suggests that the "rent free fall" in Toronto might come to an end  -- and soon -- as Canada's priciest rental markets are expected to hit a price "floor."
---
According to Padmapper's latest national rent report, which analyzed hundreds of thousands of listings last month to examine median rent prices across the 24 largest cities in the country, Canada's two largest markets --  Toronto and Vancouver -- both had relatively flat months in terms of rent price changes.
Here in Toronto, one-bedroom rent decreased 1% to $2,050, while two-bedrooms grew just 0.8% to $2,650. On a year-over-year basis, rents for both bedroom types are down around 11%.
Toronto's west coast neighbours also saw very minor changes, with rent prices for one and two-bedrooms remaining flat at $2,000 and $2,750, respectively. However, two-bedroom rent in Vancouver has declined 15% since this time last year.
Though both these markets still had double-digit year-over-year declines, Padmapper says this monthly tapering may signal that the downswings are decelerating and a rent price floor may be hit soon -- as one-bedroom rents for both cities is now hovering at or just above the $2,000 threshold.
READ: Average Condo Apartment Rents Continue to Drop as Demand Patterns Shift
"Since the effects of the pandemic began earlier this year, rent prices in Vancouver and Toronto have continually hit record declines every month," said PadMapper analyst Crystal Chen told Toronto Storeys.
"This report was significant since it was the first where prices in these two most expensive markets started to taper off on a monthly basis with Toronto two-bedrooms even seeing a slight increase of 0.8%. We haven't seen any sort of increase since March 2020," explained Chen.
"Since March, Toronto one-bedroom rent has fallen about 11% to $2,050, which is equitable to the rent priced at about a year ago. This trend most likely goes hand in hand with Canada's economic recovery from COVID and may signal that the migration of renters away from these most expensive markets is beginning to slow down."
As for the rest of the country, Padmapper's latest findings revealed the top markets experienced a "mixed bag" of changes as Burnaby, BC, the 3rd most expensive city, saw rents down on all fronts, with one-bedroom rent dipping 2.4% to $1,660, while two-bedrooms dropped a slight 0.4% to $2,280.
Victoria, BC, the next priciest market, saw one-bedroom rent increase 2.5% to $1,650, while two-bedrooms decreased 0.5% to $1,980. In stark contrast to the top three priciest cities, rents for both bedroom types in Victoria are up over 13% since this time last year.
If ridiculous affordability is what you're after, the cheapest rent in Canada this month can be found in St. John's, Newfoundland, where a one-bedroom rental costs just $810, while two-bedrooms are going for an average of $880.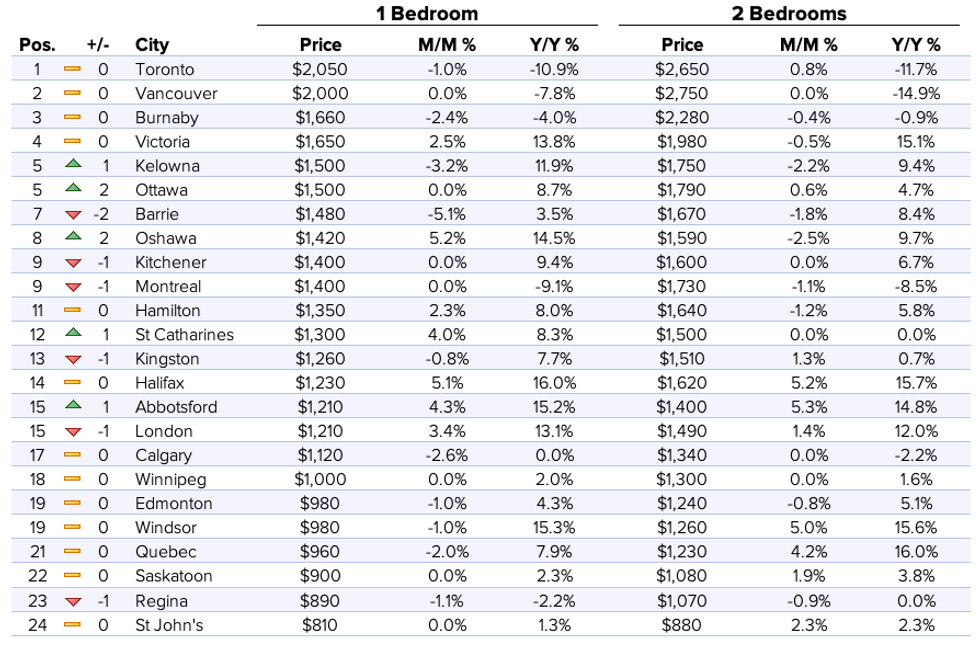 You can read the full report here. 
Renting