As the COVID-19 pandemic unfolded, countless Canadians were forced to work-from-home, and as a result, demand patterns have shifted; tenants are now looking for properties that are cheaper, farther from their jobs, and offer more space. In turn, average rents in urban centres continue to decline in major cities across the country, including here in Toronto.
According to Rentals.ca's and Bullpen Research & Consulting's latest National Rent Report, which compares rents in 35 Canadian cities, rents for one- and two-bedroom apartments and condominium rentals continue their downward trend year over year, while the average rent for all Canadian properties has remained the same the last four months. The September average monthly rate is down 9.5% annually.
---
The report found that on a national level, tenants are now looking for larger units, either by square footage or by number of bedrooms. However, they appear to be avoiding the most expensive single-family properties and condominium apartments in prime neighbourhoods.
"Many prospective tenants desire more space as they work from home," said Matt Danison, CEO of Rentals.ca. "We encourage our clients to highlight any extra space such as a den which can be used for office space or amenities such as fast internet, which can make working from home easier."
READ: Toronto Homeowners Could Face Displacement Due to Ontario Line Construction
On a local level, Toronto was home to the highest average monthly rent for a one-bedroom property in September at $1,967 and third most expensive for average monthly rent for a two-bedroom.
Month-over-month, average rent for a one-bedroom was down 2.2% and down 3.3% for a two-bedroom, while year-over-year, average monthly rent for a one-bedroom was down 14.9% in September and down 12% for a two-bedroom.
As for apartments and condo rentals, Vancouver posted the highest average annual rent at $2,249, followed by Toronto at $2,158; Etobicoke next at $2,095; Mississauga at $2,066; and Vaughan at $2,044. North York is the only other municipality showing average annual rents of above $2,000 per month at $2,025.
What's more, in Toronto, single-family rental rates are also down, falling 20% year-over-year in the third quarter, while condo rents are down 16% annually. The average rent for purpose-built apartments is $2,122 per month, down 3% from the third quarter of 2019.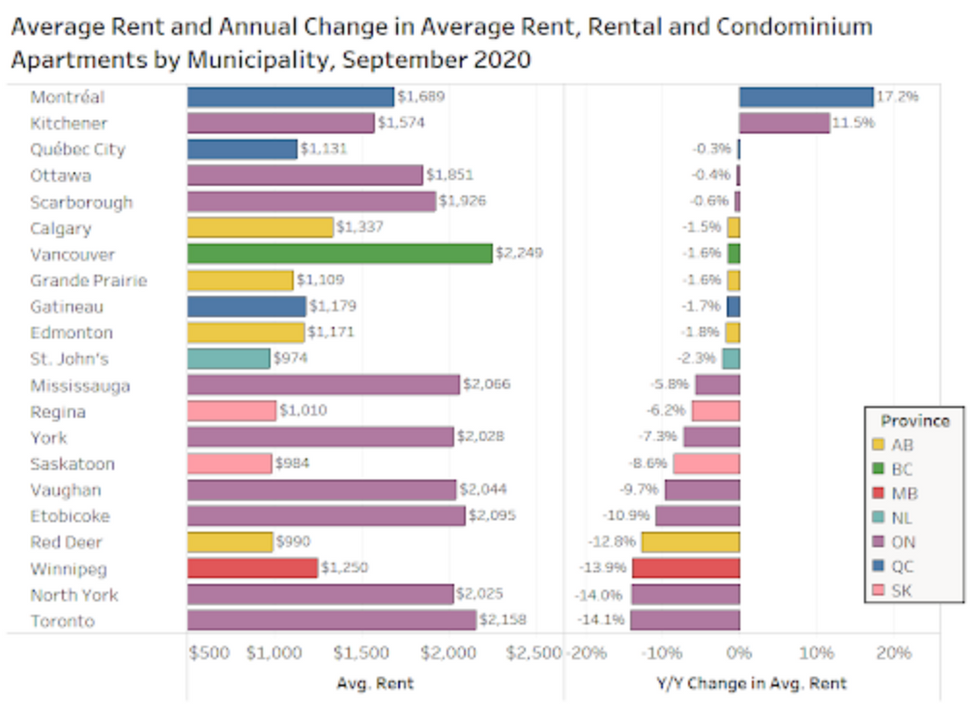 "Toronto is seeing the biggest decline in rental and condo apartment rental rates on average among major municipalities in Canada; this is driven by the rapid decline in downtown condo rents, with many recently completed buildings seeing rates drop by 10% to 15% annually," said Ben Myers, president of Bullpen Research & Consulting.
"Several of the condos experienced listings growth of 100% to 200% annually -- a textbook example of what happens with less demand and more supply."
According to the report, rents have dropped in downtown Toronto for many reasons including the shutdown of many of the office towers, and a reduction in demand for short-term rentals from tourist and out-of-town contract workers.
With Ryerson and the University of Toronto downtown, as well as several other colleges, many students decided to stay with their parents to save money, stay safe and learn virtually.
As a result, the average rent in the M5B-area, which is where Ryerson University is located, has declined by about 9% annually to $2,212 per month, while the M5S-area, where the University of Toronto is, has seen average rents decline by 5.7 % annually to $2,564 per month.
Renting