Ridership on Toronto's public transit is down sharply, as many residents are opting to work from home or avoid taking transit to minimize their exposure to COVID-19, the disease caused by the novel coronavirus.
On an average day, the TTC moves nearly 1.7 million passengers on all its services, which includes subway, streetcars, and busses. But given the current state of the coronavirus outbreak in the city, that number has dramatically declined.
---
RELATED:
Urban mobility app Moovit has revealed how the coronavirus has impacted public transit usage in major cities around the world, including Toronto.
Moovit first began tracking ridership numbers on January 15, with the most current numbers provided up to today, March 19.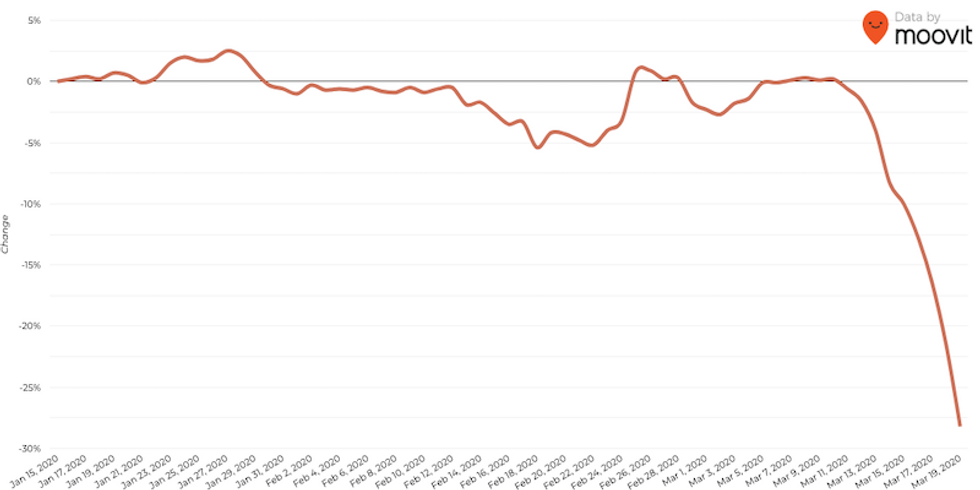 Toronto Public Transit Ridership Numbers/Moovit
In January, you can see that Toronto's ridership numbers stayed fairly consistent, with a slight spike in ridership recorded on January 27.
However, on January 29, ridership declined slightly, before dropping -5.4% on February 18, which was the lowest recorded ridership since the data first began being collected. Ridership did increase by the end of February, before dropping slightly (-2.7%) on March 2nd.
However, on March 10th, ridership began to significantly decline, dropping to a full -28.2% below average on March 19.
Moovit says the percentage decrease in public transit usage is relative to typical usage prior to the COVID-19 outbreak. However, despite the obvious low number of passengers, the TTC says it will maintain its usual service as long as possible.
Metrolinx starting running fewer vehicles on March 18 due to the reductions in ridership, but also to facilitate the rotation of staff to make sure they remain healthy and able to work if the pandemic worsens.
Ontario News