As cases of COVID-19, better known as coronavirus, continue to increase in both Canada and here in Ontario, transit agencies are reminding the public that exposure to the virus on public transit remains low.
This comes after Toronto Public Health officials announced one of the city's latest confirmed COVID-19 cases had recently travelled on public transit for multiple days while symptomatic.
---
READ: Latest Coronavirus Patient Took TTC and GO Transit for Several Days While Symptomatic
According to Toronto Public Health, a man in his 40s who recently returned from Las Vegas and subsequently took various forms of public transit before being tested for the virus, including the TTC, GO Transit, and Mississauga's MiWay Transit.
Metrolinx, which oversees GO Transit buses and trains, and transports more than 300,000 people every day, said on Friday that the transit agency has since identified the vehicles the man used on those days, and as a precaution, they are being taken out of service and are being given an extra cleaning.
"The Metrolinx COVID-19 response team is monitoring the situation very closely – and at this time, the risk for both customers and staff remains very low," said Matt Llewellyn, senior advisor, Media Relations and Issues for Metrolinx.
To provide an additional level of protection for staff and customers, Metrolinx has begun applying a long-acting, anti-microbial agent to the entire bus and train fleets.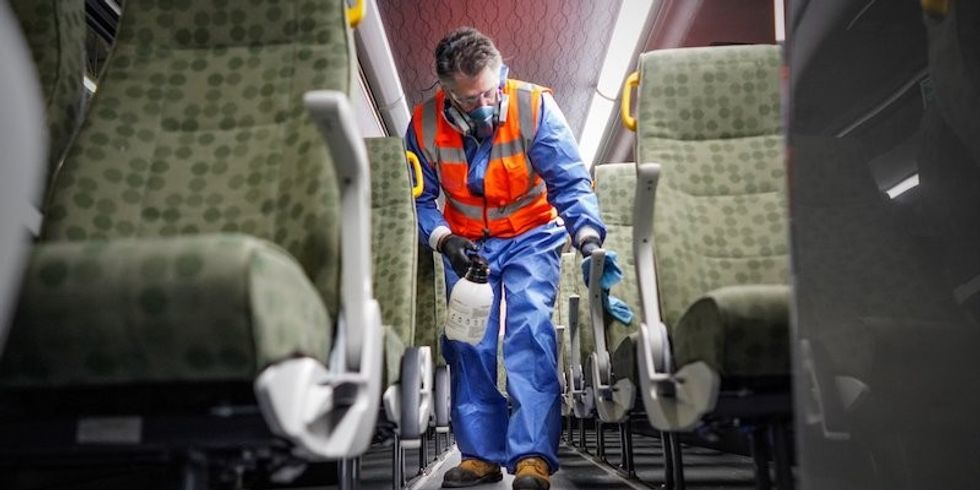 @Metrolinx/Twitter
Metrolinx says to date, more than 150 buses have been treated, with an additional 40 more being completed each day. Furthermore, all UP Express trains were treated earlier this week and crews continue to apply the microbial agent to dozens of GO train coaches each night.
"The agent is proven to be effective at killing bacteria, mould, yeast and some viruses – with further lab testing underway now," said Llewellyn.
This is in addition to the thorough cleaning each vehicle already receives at the end of each day.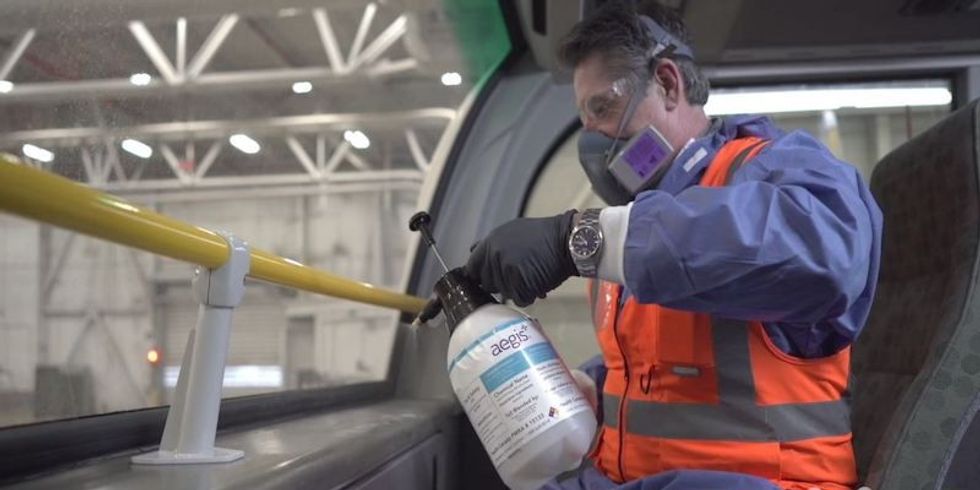 GO bus being cleaned/Metrolinx
As the City continues to combat the spread of COVID-19, Metrolinx says it is "very prepared."
Metrolinx says that for the past six weeks, an experienced team has been developing a strategy to respond to the outbreak of the virus. The strategy includes regular communication with staff and customers and ensuring that everyone receives the best advice from public health experts rather than rumours and misinformation.
The regional transit agency has also been distributing gel-based hand sanitizer and disinfectant wipes throughout all workplaces and GO stations including on its buses.
"Stations and buses should all be fully installed with hand-sanitizers over the next week or two," said Llewellyn.
READ: What Metrolinx and the TTC Are Doing to Protect Customers from the Spread of Coronavirus
In the case that public health officials call for additional measures and precautions, Metrolinx ensures it's ready for that, too.
"The organization recently procured enough respirators for all front line staff, as well as gloves – but at this point, public health officials say that type of personal protective equipment is not required. They maintain that the risk of transmission is extremely low unless you are in sustained contact with an infected person," said Llewellyn.
Furthermore, Metrolinx says it's continually reviewing its current protocols and systems very closely for any changes to recommendations and risk levels from public health authorities.
Currently, there are 26 confirmed COVID-19 cases under investigation in the province.
Ontario News