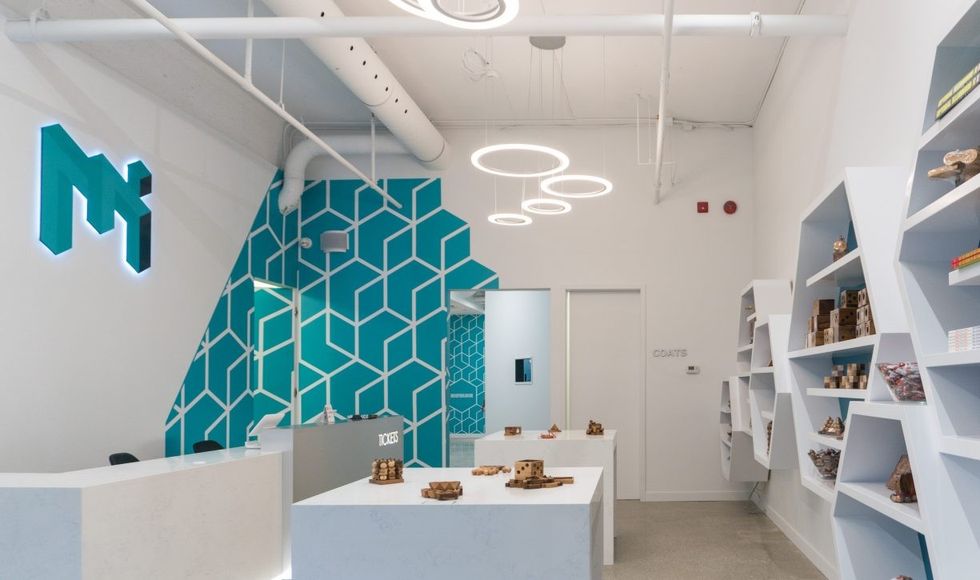 All photos courtesy of Maaz Khan
The world's fastest growing museum chain, Museum of Illusions, recently opened its doors in Toronto. This marks the brand's first ever Canadian location. The 4700 square foot space at 132 Front Street East (close to St. Lawrence Market and the Distillery District) is the second largest in the world, just after Dubai.
---
The first museum of its kind opened in Croatia three years ago. The brand now has 14 locations around the world. Michaela Radman, owner and curator of Museum of Illusions Toronto, bought the rights to bring the museum to Canada. She's set to open a  second location in Vancouver next year.
The museum offers multiple visual deceptions and educational exhibits. It's designed to tease the senses and challenge the mind for guests of all ages.
Museum of Illusions Toronto is made up of more than 80+ exhibits which are all based on science, mathematics and psychology. It has photogenic exhibits such as tilted rooms, vortex tunnels, reverse rooms, and holograms, all of which are designed to educate you in the process.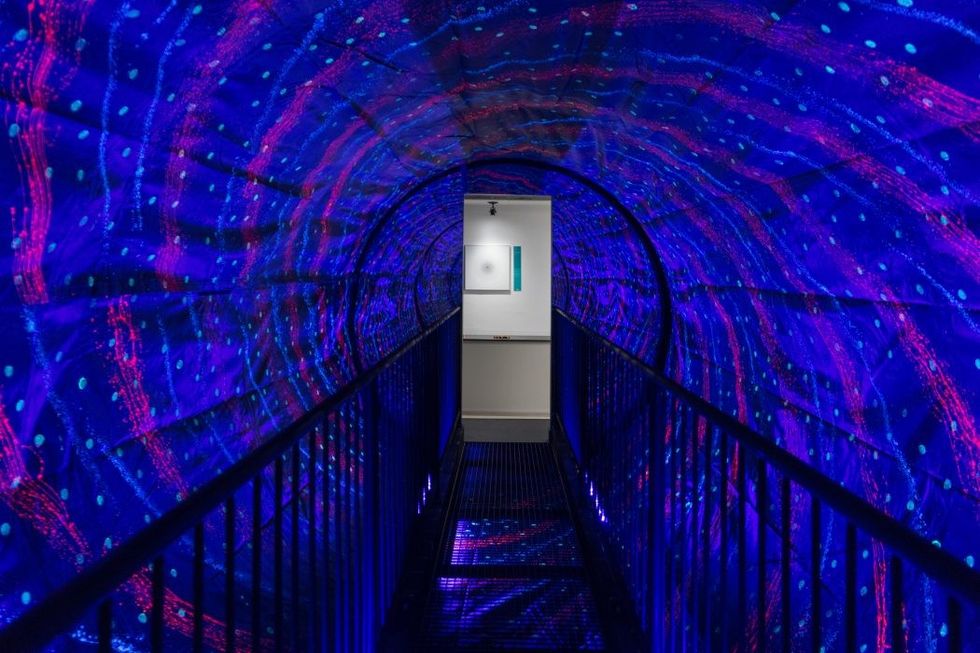 Toronto has housed numerous pop-up exhibits over the past year — think Yayoi Kusama: Infinity Mirrors at the AGO, and Happy Place Toronto at Harbourfront Centre — though those spots are great for tourism and buzz in the city, Radman wanted to offer something more permanent and perplexing.
When news broke about the museum opening, publications were quick to write about it being another place in the city for the selfie-savvy and Instagram-obsessed.
But Radman insists these opinions go against what she's trying to achieve.
"Our museum brings a playful spin to classical illusions. We wanted to create a space where guests are drawn to each illusion, raising curiosity about each installation's educational element. Guests will not only share the experience amongst each other but also over social media, creating brain-teasing illusions where seeing is not always believing."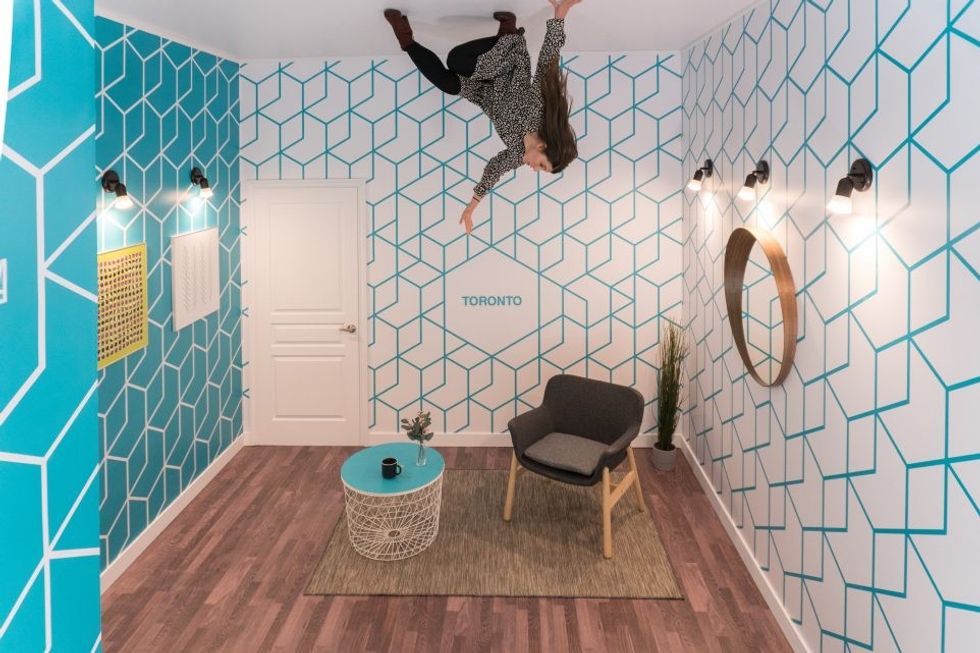 There's no doubt that this trippy and curious museum is like no other in Toronto. But finding just the right location to house it was no easy feat for Radman.
She went with the location at Front and Jarvis (outside of the usual downtown core near the CN Tower where tourists tend to congregate) because it was the only available space that offered elements that could work to her benefit.
"My husband and I had been searching for a commercial real estate space for over a year," recalled Radman. "We never expected the process to find a space in such a big city to take as long as it did. We thought we'd have all these options and were shocked at the lack of inventory in Toronto. We heard that this space opened up by Front and Jarvis. The size was perfect and the height was just what we needed, but we chose this space because of a clear lack of options."
The next step was finding the right designer and architect to work with. Ones who would able to get everything done from conception within nine months.
"We worked with designers and architects from Croatia to design the Museum and plan the layouts for all the rooms," Radman said. "Each room and area was designed with the installation and exhibits in mind. As a franchise, we cooperated and partnered with the global team responsible for all the Museum of Illusion franchise brands."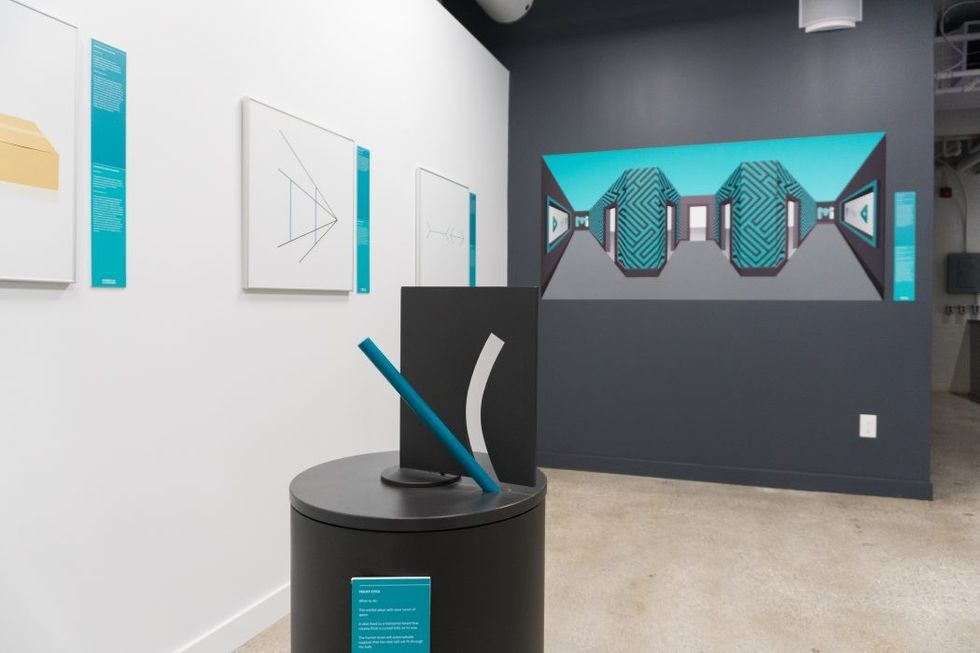 Another retailer previously occupied the Front Street space. So, Radman and her team had to completely overhaul it to plan for the Museum of Illusions.
"The entire process was made easier through the work and planning of our global team based out of Zagreb, Croatia," explained Radford. "They helped us by finding an architect (also from Croatia) who had assisted them in designing and building some of their other locations globally."
Ultimately, she's happy with how everything worked out and came together, including the locale.
"I've had an incredible experience working with the landlord and I'm happy now. We're bringing great visibility to Old Toronto, and it offers something else to do and see for all the nearby Condo residents and people visiting the Distillery District."
When it came to choosing the exhibits, Radman worked with the brand designers who develop the exhibits for each museum. She wanted to showcase various types of illusions to ensure the quality of experience for their visitors.
"The Museum of Illusions is a global brand, and we have to adhere to brand requirements," explains Radman. "Saying that I did push for a clean and modern aesthetic especially in the lobby which is airy and bright."
Radman chose to work on the lobby with local architect and owner of Portage Design, Nick Goddard.  Together they transformed the main reception into an ethereal space that welcomes you immediately.
The Museum of Illusions is open seven days a week, from 10 a.m. – 8 p.m. Tickets for adults are priced at $23.50 + HST and children $19.50 + HST. Family tickets are $78.50 + HST (two adults & two children up to age 15). The Museum of Illusions can also be booked for private and corporate events, as well as for school excursions across all grade levels.
Toronto