Toronto's historic Massey Hall officially reopened after closing its doors in 2018 for a massive revitalization project. Industrialist Hart Massey, of the Massey Family, commissioned the concert hall and it was built as a gift to the City in honour of his late son Charles Albert Massey. The purpose was to build an interest in music, foster patriotism, and educate.  
---
"Canada's Carnegie Hall," opened in 1894 and is the oldest in Canada. The National Historic Site has seen famous artists perform including U2, Prince, Justin Bieber, Rush, Neil Young, Gordon Lightfoot (who is reopening the venue tonight, Thursday, November 25) and more.
In 1946, a 13-year-old named Glenn Gould stepped onto the iconic stage to make his Massey Hall debut alongside the Toronto Symphony Orchestra. While this was his first performance at the venue, the young musician had already been performing publicly for seven years, wowing patrons across Ontario. It was clear to those witnessing his concerts that they were in the presence of a musical prodigy.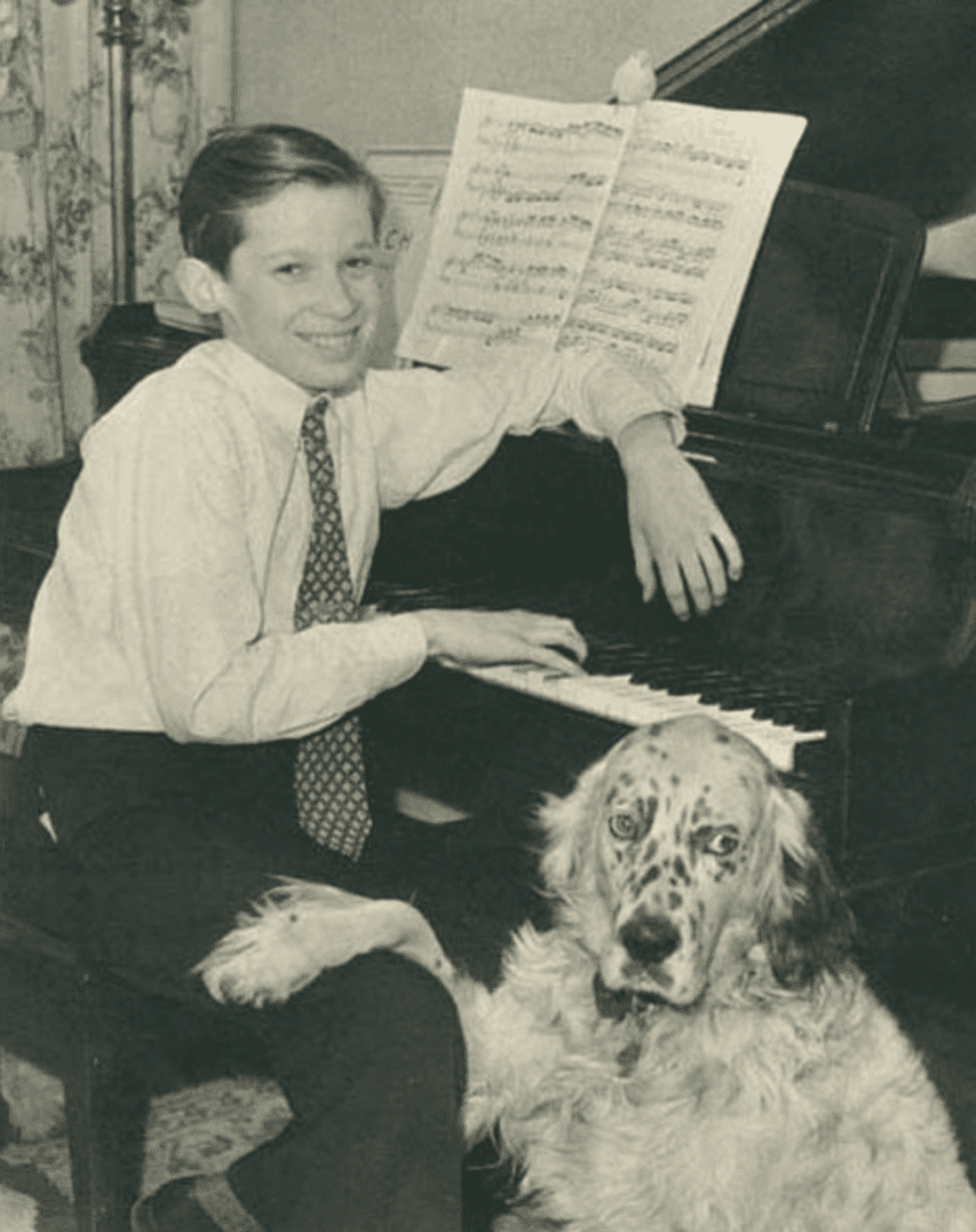 Glenn Gould with dog, courtesy of GlennGould.ca
The Best Canadian-born Instrumentalist in the World
Glenn Gould gave the world a lot to talk about. Whether it was his mannerisms while performing, his musical interpretations of Bach and Mozart, or the ventures he pursued, his life was quite extraordinary.
Gould was born into a musical family in 1932. His parents, who both could sing, quickly engaged him in the arts. At three, he began piano lessons and it was discovered he had perfect pitch -- the rare ability to "identify or re-create a given musical note without the benefit of a reference tone."

Glenn Gould as a child, courtesy of Bibliothèque et Archives Canada
Before he was a teenager, Gould had performed at multiple venues and wrote compositions. At six, he gave his first public performance at an Uxbridge church and entered his first competition at the Canadian National Exhibition. At eight, he conducted his first performance and at 12-years-old passed his Associate of the Toronto Conservatory of Music piano exam.
Throughout his concert career, he played venues including Eaton's Auditorium (now the Carlu), Hart House, and the Art Gallery of Ontario (AGO). His interpretations of works by Bach and others were called shocking, while his stage presence also drew attention. Gould performed on a custom piano seat, lower than the typical one, and while performing rolled his head, contorted his face and on occasion conducted himself -- even with a conductor present. There are reports of concert goers bringing opera glasses or binoculars to observe his stage presence.
He became internationally recognized after releasing a recoding of J.S. Bach's Goldberg Variations. The recording, according to GlennGould.ca, is "the best-selling classical instrumental recording of all time." This opened touring opportunities in America and Europe.
The piano virtuoso retired from live performances in 1964 at just 32. Many thought this was the death of his career, but he only continued to thrive and innovate.
After his retirement from the stage, Gould pursued a career in recording and broadcasting. He created radio documentaries, television essays, and performed broadcast performances on radio and television. He also wrote periodicals, scripts, and reviews. He focused intensely on his recording career to which he said, "My idea of happiness is spending 250 days a year in a recording studio."

Glenn Gould playing the piano, courtesy of Library and Archives Canada, credit Walter Curtin
Gould has multiple honours (some posthumously) to his name, including three Juno Awards, four Grammy's and a Grammy Lifetime Achievement Award, which he received in 2013. He was selected for the Order of Canada, but declined the nomination. In Christopher McCreery's book The Order of Canada; Its Origins, History and Development, it was noted he refused due to "'personal reasons' remarking that he was too young to receive the same award as Sir Ernest MacMillan," a conductor and composer.
Glenn Gould filled the world with music from the stage to the airwaves and even the hallways of the homes he lived in -- giving his neighbours a concert at home.
Homes Full of Music
Gould had two homes located in Toronto, one in The Beaches and the other in Dear Park. His childhood home in The Beaches was located at 32 Southwood Drive. With soaring trees lining the hilly street, Gould's former house is steps from the Glen Stewart Ravine and William Road Junior Public School, which he attended. It is a short walk to Queen Street East, which is filled with shops that gave the area a summer beach town vibe, not to mention the proximity to the waterfront and beaches that give the area its name.
The home is a two-storey brick structure. Its doors, window frames, and stairs are painted blue, while the front windows are hidden behind trees. Sitting on the front lawn by the sidewalk is a historical plaque informing passersby of Gould's legacy.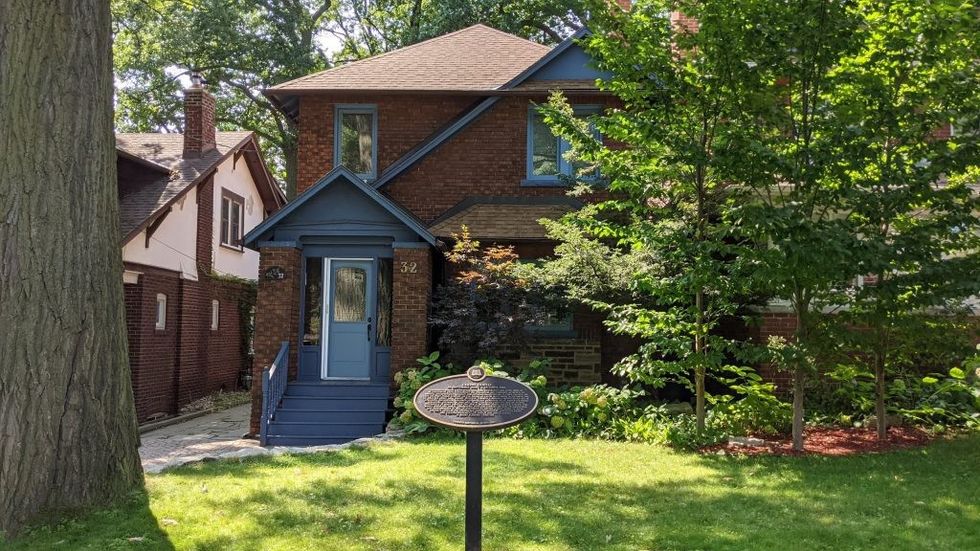 Glenn Gould's childhood home at 32 Southwood Drive in 2021
Ten kilometres from Southwood Drive is 110 St. Clair Avenue West, another home of Gould's. Known as the Park Lane Apartments, the nine-storey brown brick, u-shaped art deco structure was completed in 1938. The apartment, located in Toronto's Deer Park, is steps away from Yonge Street and across from the historic Imperial Oil Building.
Gould lived in apartment 902. He'd be seen in the building wearing gloves and hats year round and could be heard playing, especially at night. His apartment was filled with thrifty finds from Goodwill and many accounts note residents gathering around his door for a private concert.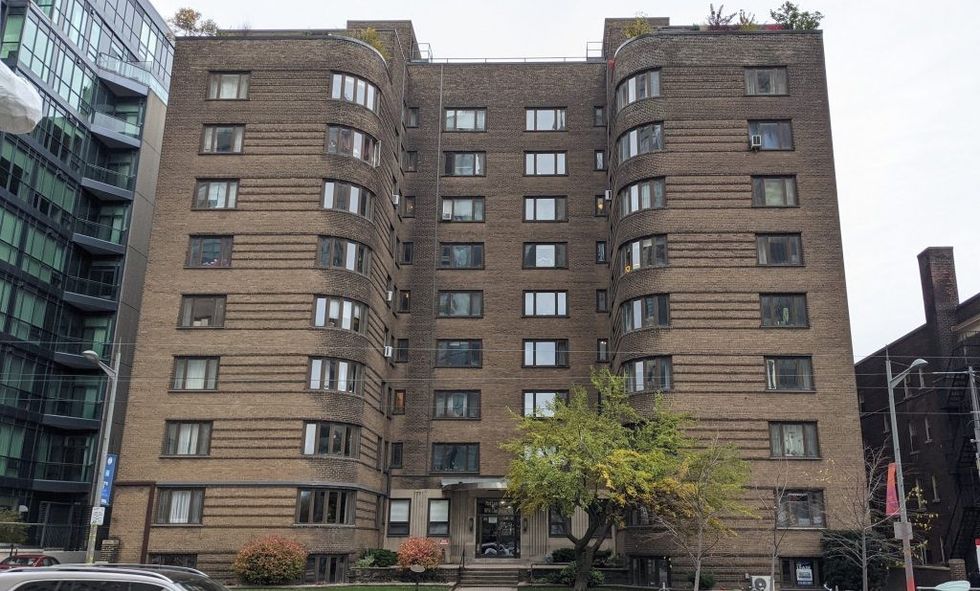 Park Lane Apartments at 110 St. Clair Avenue West in 2021
He was famously known for leaving his apartment around 2:00 am some nights and heading to Fran's Diner, which had a location on St. Clair Avenue West. He'd visit the establishment to order scrambled eggs.
Both his homes are immortalized with heritage plaques and even Fran's Diner notes his 2:00 am routine on its website. Beyond that, Gould has influenced generations of artists and his presence still resinates around the world. 
A Musical Legacy
Though he died at the age of 50, Gould's accomplishments and his legacy continue to help encourage and redefine music.
The Globe and Mail and Toronto Star dedicated pages and multiples stories to Gould when he passed. They looked at his life, dissected his career, and presented quotes from musicians. Up to 3,000 people attended his memorial at St. Paul's Anglican Church and he was buried at Mount Pleasant Cemetery.
The name Glenn Gould is found at a Toronto park on St. Clair Avenue West, a school in Woodbridge, and a studio in Toronto's CBC building. Walk along King Street West and you'll likely step on his Canada's Walk of Fame star or see his piano in the lobby of Roy Thomson Hall. You can even sit with Glenn Gould on a bench in front of the CBC on Front Street West.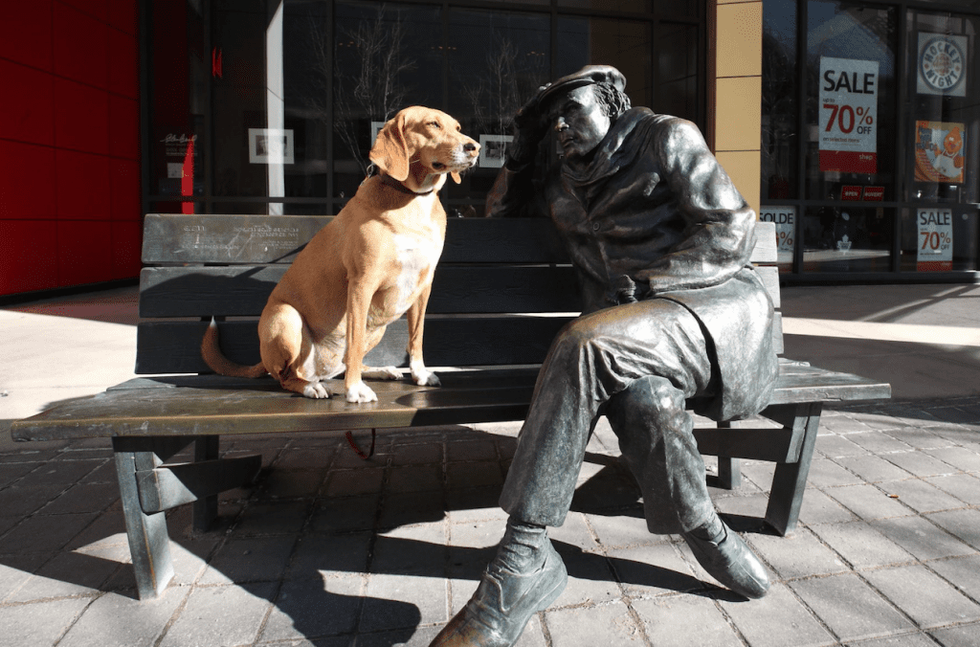 Glenn Gould statue with dog on Front Street, courtesy of GlennGould.ca
There is also the Glenn Gould Foundation founded a year after his death. Its mission is to expand Gould's influence through programming and projects. It hosts the coveted Glenn Gould Prize, which has been awarded to artists including Philip Glass, Leonard Cohen, Yo-Yo Ma, Oscar Peterson, and more.
Throughout his life, Gould had many memorable quotes about the weather, classical composers, the audience and more. One quote stands out in particular and says a lot about how the pianist approached music:
"The purpose of art is not the release of a momentary ejection of adrenaline, but rather the gradual, lifelong construction of a state of wonder and serenity."
Legendary Houses