In a city of sky-high home prices -- coupled now with climbing interest rates -- a growing number of Toronto residents are jumping aboard and embracing the full-time nautical lifestyle. 
---
While Toronto's marinas fill with boats of all varieties during the summer months before disappearing for the winter, some remain in the water all year, functioning as permanent homes for their occupants. 
Year-round boat living has become increasingly attractive to Toronto buyers, says Denise Doucet, a Royal LePage real estate agent who herself lives year-round on a floating home in Scarborough's Bluffers Park Marina.
"I definitely see a growing number of Toronto residents embrace full-time boat living," says Doucet. "I have been selling houseboats that are under the $300K mark for the past five years, and I've definitely had over 400 showings with the seven or eight I've shown. The price point attracts everybody. When I list a houseboat, I know that I'm going to get flooded with all sorts of young people. There's even right-sizers who are looking to right size their place."
In the past week, Doucet had two houseboat listings in the picture-perfect Bluffers Park Marina hit Toronto's real estate market. One, listed for $149,000, is bright and airy and -- though it's decades old -- features modern upgrades. The open-concept property has a living area, kitchen with an eat-in island, separate bedroom, bathroom, and deck.  
"I listed it on Friday and have already had 15 showings," said Doucet on Thursday.
Another, listed for $298,000, features a large and open layout, with a full kitchen and two bedrooms. Perhaps the star of the show, however, is the massive deck, which offers plenty of room for outdoor furniture, a dining table, a firepit, and a barbecue.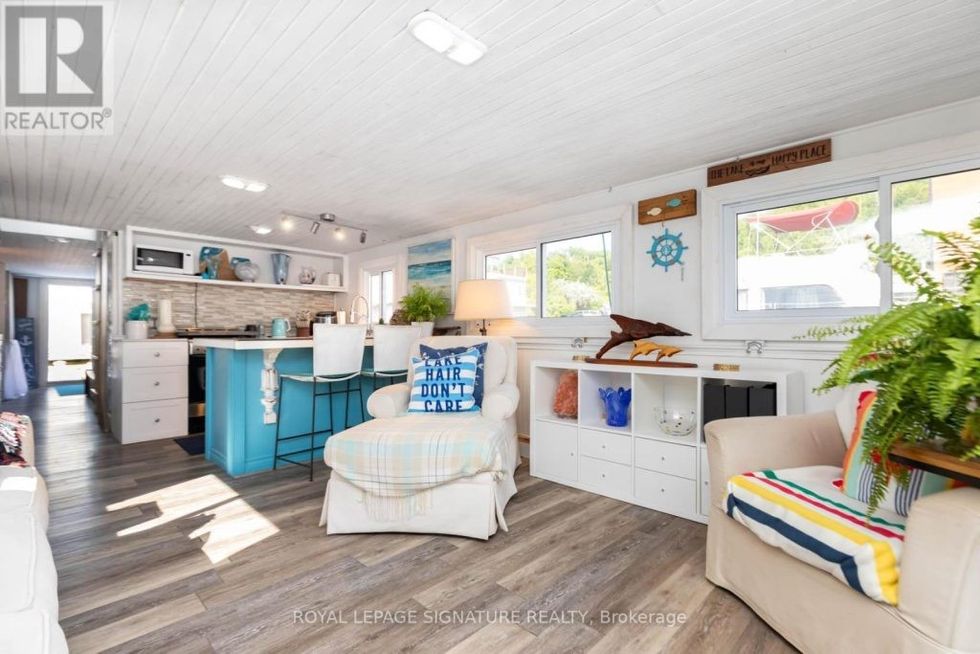 "You have the backdrop of the Bluffs, which I think is one of the nicest places on the water in Lake Ontario," says Doucet of boat living at Bluffers Park Marina. "We have ten miles of park to our left and to our right. We have a sandy beach one kilometre away. We have onsite restaurants. It's a three-minute drive or 10-minute walk to the Scarborough GO station, which is two stops from Union Station."
According to Doucet, the Bluffers Park Marina has about 250 live-aboards in various types of vessels -- houseboats, yachts, or sailboats -- and about 700-800 seasonal boaters. 
Staying Afloat Financially 
At a time when Toronto rents have reached record-breaking levels, the city's home prices remain unattainable for many, and interest rates keep climbing, full-time boat living makes economic sense.
After all, you can't find another Toronto property for under $300K, let alone a freestanding one.  In fact, it takes roughly 25 years to save for a down payment on a median-priced home in the city. At just $149K, Doucet's listing at E-17 - 7 Brimley Road is roughly equal in cost to a 20% down payment on a Toronto house. Its estimated mortgage, however, is just $548 per month. The owners will still have to pay $880 per month in maintenance fees to the marina, but with that said, $1428 per month is well below the average monthly rent for a Toronto apartment, which reached $2,572 in June. 
Mike Donis spent 12 years of his life living on a cruiser boat in a downtown marina before selling it last year. "Slip fees are a lot more affordable than apartment rentals or mortgages, and you're still living wherever your marina is -- for me, it was downtown Toronto, so it was great -- for less money," he says. "Not to mention, the boating community joke is that if you don't like your neighbours, you can get up and move without moving anything inside your house."
Both of Doucet's listings are comparable in size to Toronto's condos -- in some cases, even bigger. 
"To have the same size condo in the sky, you're not one with nature," says Doucet. "You're not feeding the ducks or swans. You can't sit on the front deck and dangle your feet in the water when you're 20 storeys up."
Not to mention, at its relatively low price point, a boat can function as a starter home for young people that will one day become a cottage or seasonal retreat.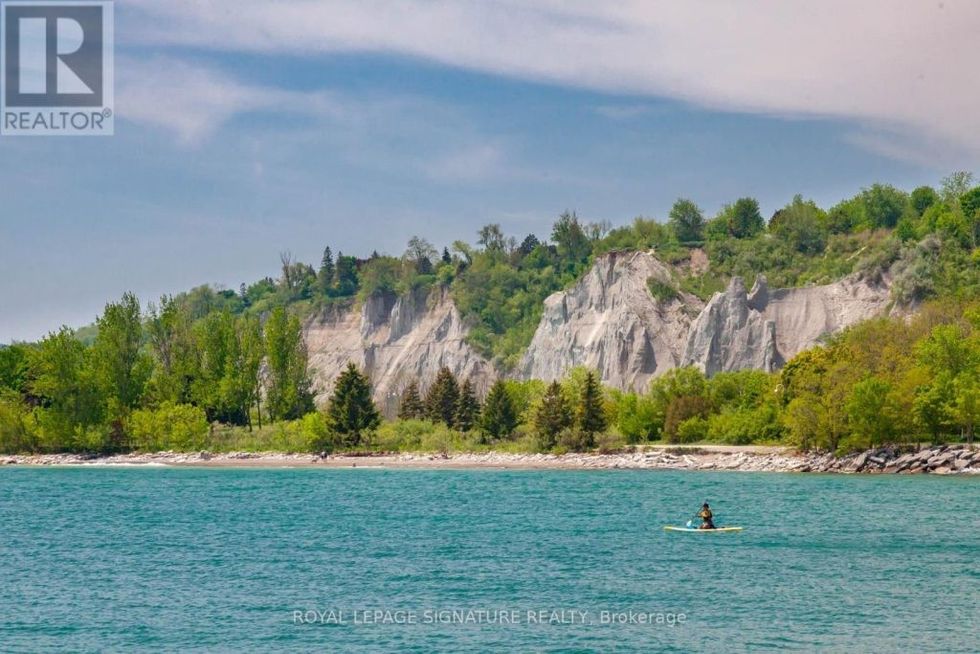 The Scarborough Bluffs
It's Not Always Smooth Sailing 
While it's easy to romanticize living year-round on a boat (especially if you tour the property in the summer), it isn't without its challenges and is definitely not for everyone – the seasick set or not. 

Donis moved aboard during the winter season. "A couple of weeks in, we had a big storm," he says. "I was outside at 3 am, with the wind and the rain, and the boat was crashing against this concrete wall that I was tied to for the season. I was trying to figure out how to keep everything tied down. One of the cleats had been torn out of the side because the wind was so crazy, and I remember thinking, 'What the hell have I gotten myself into?'"
As Donis highlights, boaters are always at the whim of the weather -- and the wind, snow, and rain are no joke in the winter months. "Of course, you know that when you get the boat, but to actually experience it is something else, and you have to make sure you stay very adaptable," he says. 
With older boats, repairs and updates will inevitably be required. "You need to make sure you can do the work -- or, at least, budget for it," says Donis. "It helps to be handy so you can take care of a lot of things yourself. Google University was my saviour many times."
At just 24 years old when he moved aboard, Donis didn't come from a huge boating background. "There are many things you don't think of that now make sense in hindsight; engine issues, things not working how they're supposed to, learning how to winterize everything," says Donis. "But there was a great community there that taught me a lot."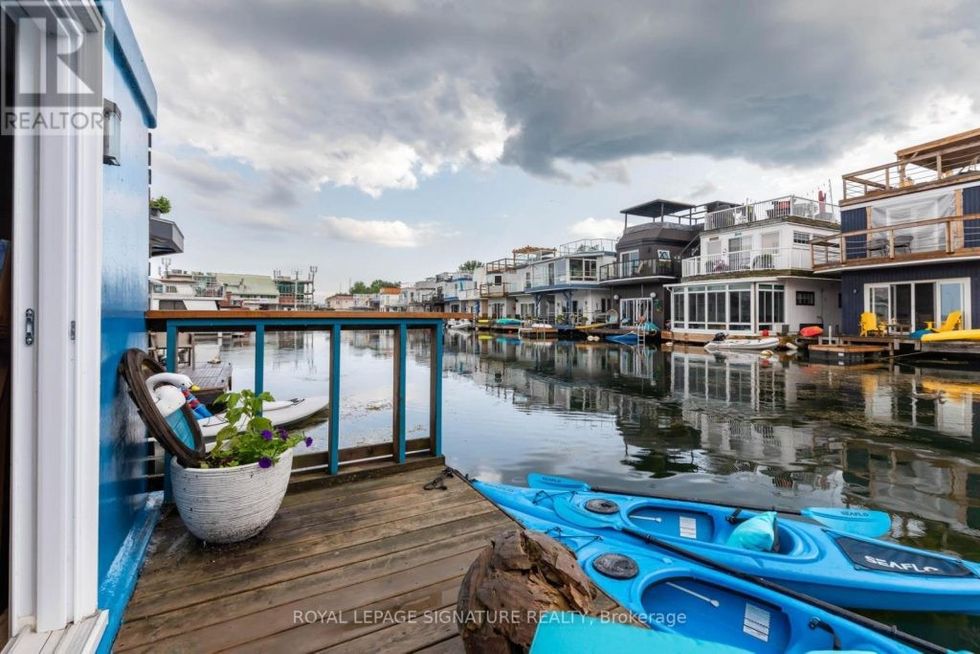 Bluffers Park Marina
Community is Key 
Both Doucet and Donis say the best thing about year-round boat living is the community that comes with living aboard. "It's a different community than those who only summer with their boats," says Donis. 
Doucet says that she now leaves for work 15 to 20 minutes earlier than she did while living in a bricks and mortar house because the commute inevitably means run-ins and chats with her nautical neighbours. She says that the community at Bluffers Park Marina is like no other in Toronto. "It's inclusive, energetic, supportive, and spontaneous," says Doucet. "We do all sort of group events: water activities, dodgeball, potlucks."
But it's not all fun and games. The boating community also bands together to help one another out when it comes to doing the work. "In the spring and fall, we help one another prepare our boats and houseboats for winter," says Doucet. "So, we tighten ropes, blow up fenders, plug in heat trace lines, put bubblers in, and go in and help others if they can't reach things like smoke detectors or need help. On a particular day, we go up and down the docks and prepare all the boats for winter. It's the reverse in spring and have a gathering after that."
Aside from the community, as Donis highlights, having a boat is also a conversation starter. "You have a boat; all of the fun reasons that people have boats as pleasure crafts, you still get to have," says Donis. "In the summer, it's constant vacation mode."  
Sounds pretty good to us.
Toronto