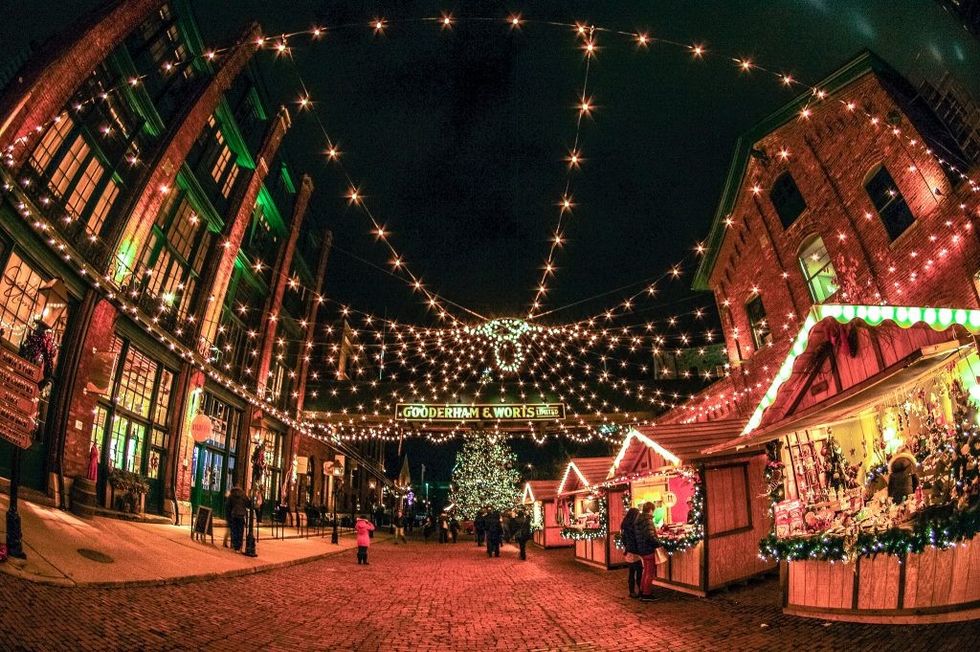 Photo courtesy of Shaheen Karolia via Flickr
More than 650,000 people are slated to attend The Toronto Christmas Market during the 2019 Holiday Season. But the popular holiday festival, which is celebrating its 10 anniversary, isn't just the largest event to grace Toronto's Historic Distillery District every year, its mere existence was once integral to the Distillery's survival as a neighbourhood.
---
It was 2010 and Matthew Rosenblatt and his co-investors, who bought the former Gooderham & Worts Whiskey Distillery from its British owners in 2001, had a big problem.
No one knew The Distillery existed.
From the very beginning, It was always the plan to turn The Distillery into a thriving tourist destination and neighbourhood with unique shops, restaurants and culture. Rosenblatt remembers walking through the grounds on that first tour envisioning where the now iconic cafes, galleries and shops would go.
It was easy to see that dream fulfilled in the summer. Festivals were thriving and patios were open. But the winter was another story.
"A lot of people only associated us with summer at that time," says Rosenblatt.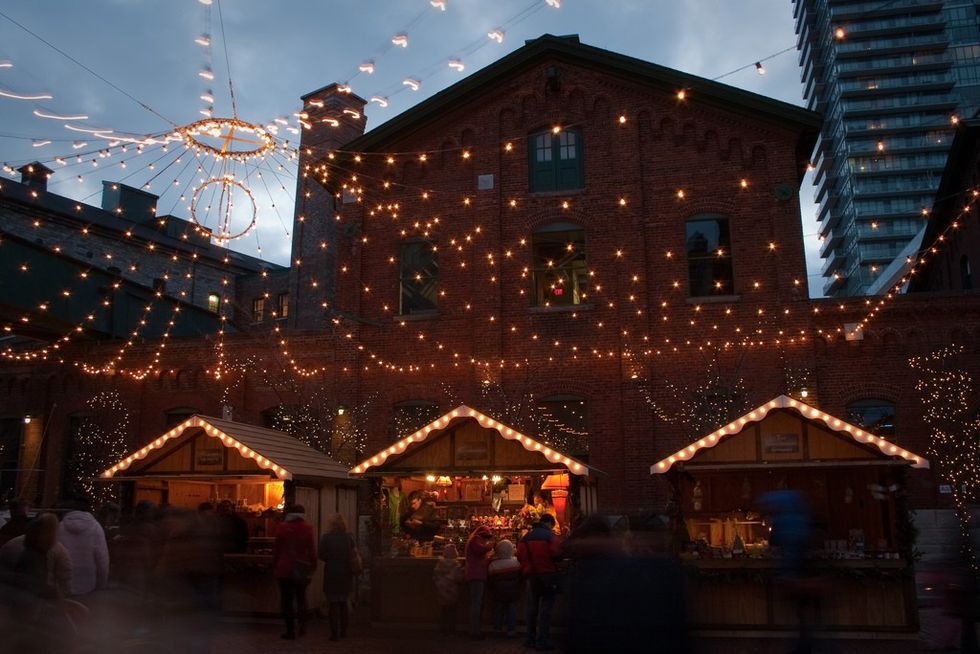 Photo courtesy of Stephen Weppler via Flickr
"They didn't know whether we were open or not in winter. They thought of us as seasonal, but we were, in fact, a neighbourhood that operates all year round."
If they didn't get that message out soon the merchants, residents and office workers that were already in The Distillery would suffer and the dream of turning those 44 buildings into a thriving neighbourhood would be dashed.
So, Rosenblatt and his partners turned to the holidays for a solution, but in a way that took advantage of The Distillery's status as Canada's largest example of Victorian architecture and the unique community they were starting to create.
"Given the other things going on in the city, we didn't want to compete with the mall on a shopping vs. shopping basis. This is a neighbourhood where we like to have connections with our customers and we believed we could bring the feeling of Christmas to The Distillery and that is what we went about doing," he says.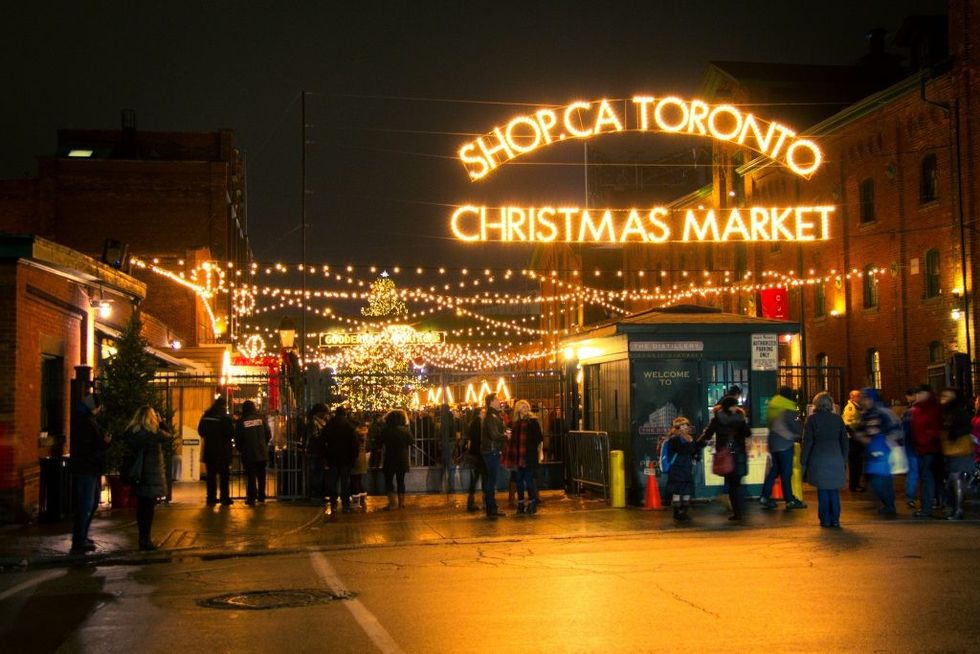 Photo courtesy of Tibor Kovacs via Flickr
Though it's unknown whether Gooderham and Worts had any Christmas traditions while in operation, (Rosenblatt imagines the occasional company Christmas party, but an otherwise tough industrial attitude) that didn't preclude him from turning to history for inspiration. Specifically, the German Christmas markets of the 1400s.
"The history of the European markets and the reason they still exist there is to have people in cities and towns across Europe come together to celebrate the holiday season with their community, their family and their friends. That's exactly what we wanted to do here," says Rosenblatt.
The idea was to take the sentiments and spirit of the traditional European Christmas Market and use them to transform The Distillery into a holiday destination where people could connect with friends and family.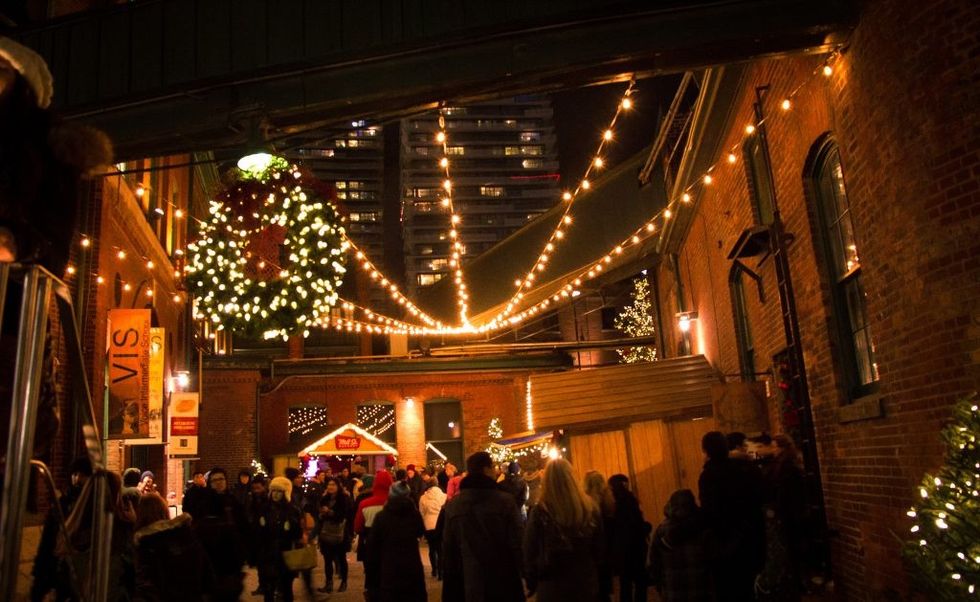 Photo courtesy of Tibor Kovacs via Flickr
These days visitors to the Christmas Market say the holidays in the Distillery are truly Dickensonian. With the Victorian backdrop transporting them to their childhood or an idealized former time. But at first, Torontonians didn't understand the vision.
"The first question was always, 'What's a Christmas Market?' and when we explained it, people stared back at us with this look like we were crazy and this idea wouldn't be very appealing," says Rosenblatt.
As a result, the inaugural 10-day event did not attract many people on the first day, but thankfully word spread and the Christmas Market went viral through the city.
"By the eighth or ninth day we were already quite busy and our second year was expanded into a 17-day event. That became even busier and we continued to expand the Christmas market in the length of time it operated and the area of the Distillery it took up until we got to where we are now," says Rosenblatt.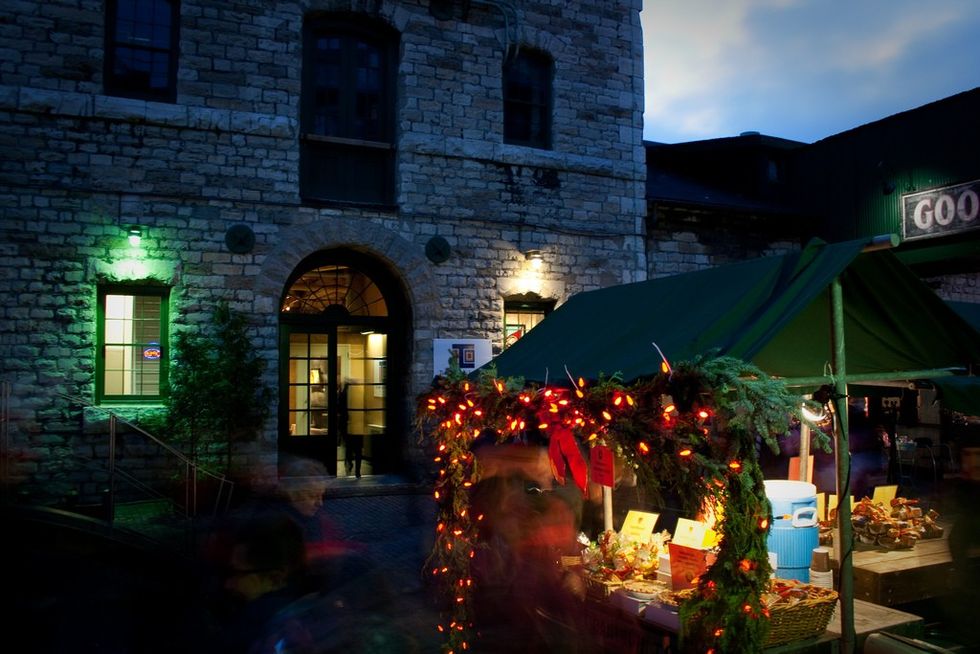 Photo courtesy of Stephen Weppler via Flickr
Where they are is bursting at the seams. It's to the point where Rosenblatt now believes they can't make it any longer, any bigger or have any more people.
Still,  Rosenblatt predicts this 10th anniversary edition will be "the most magical yet." There will be even more music and entertainment on the main stage and throughout the Market, featuring nearly 500 performers including carollers, choirs, dancers, musicians, holiday elves, and, of course, Santa Claus.
The iconic ferris wheel is back and so is the enhanced, dramatic 100-foot light tunnel. And, of course, what makes the market so special is the unique shopping experiences, holiday-inspired foods, warm beverages and seasonal spirits. This year's Christmas tree, donated by Forests Ontario, will rise more than 50 feet above the visitors.
Plus, there's good news for the visitors who drive to the Market. The City of Toronto and the Market organizers will launch a new, detailed traffic plan to reduce some of the recognized congestion and frustration caused by the festival's success.
The Market will end on Dec. 22 and admission is free of charge on weekdays until Friday at 6 p.m. Weekend entrance fees this season will be $8 for tickets bought online in advance, and $12 dollars when purchased day-of.
The money raised goes to the operational costs of the market with any surplus donated to charity. One of the charities the market happens to benefit is The Toronto Star Santa Claus Fund. Not only did the Toronto Star play a big role in getting the word out in those early days, but Rosenblatt himself coincidentally shares a deep connection to the charity and the holiday season. His father was a recipient
"The Toronto Star Santa Claus Fund would go around helping poor families by giving out a pair of socks, a sweater and a very small toy. I'm sure they weren't luxurious in any way, but when you are a poor child like my father was, those gifts are very important. He still supports that charity to this day because of what it meant to him," says Rosenblatt.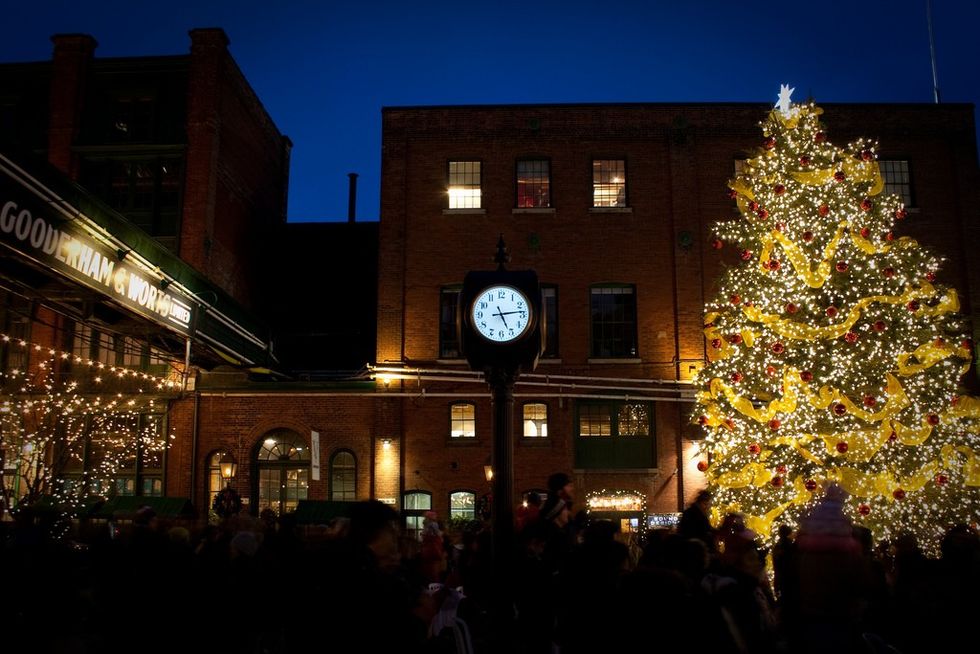 Photo courtesy of Stephen Weppler via Flickr
Though it's their busiest time of year, every merchant and resident still gets excited for The Christmas Market. As a resident myself, I can tell you this place is always a buzz as the decorations go up and when the 50-foot Christmas Tree is lit for the first time. It's very much a testament to the hard work of Rosenblatt's event planning team and the feeling he and his partners are still able to create to this day.
"When people leave the Christmas Market they leave with a feeling created through atmosphere and environment," says Rosenblatt. "All of it combined to create something special and the consistency of what we were able to do turned an event into a tradition."
Hours for the 2019 Market are Tuesday to Sunday, noon to 9 p.m. (and 10 p.m. on Friday and Saturday) from Nov. 14 to Dec. 22. The shops and restaurants of the Distillery Historic District are open seven days a week, starting at 11 a.m.
Toronto