City staff presented their recommended operating and capital budgets on Friday morning.
Staff said $13.53 billion will go to the operating budget, while $43.46 billion is designated to the 10-year capital tax and rate supported budget. Rate budgets were already approved by city council at its meeting on December 17, 2019, according to the report.
---
Under the 2020 budget, property taxes are set to increase with the rate of inflation, and when combined with the increase to the City Building Fund, which addresses transit and housing, 2020 property taxes for residents will go up 4.24% to $3,141.
READ: Toronto's Social Housing Waitlist Has Grown More Than 50% In Last Decade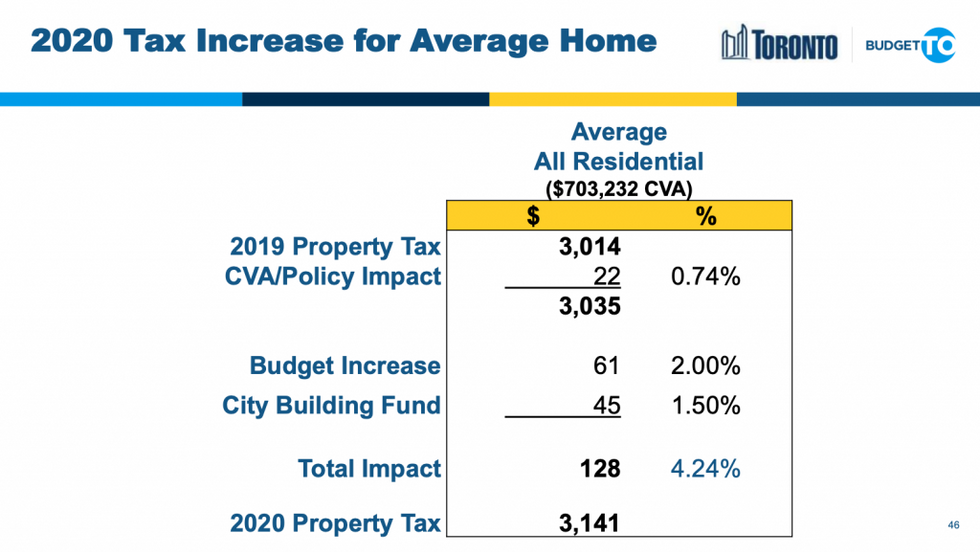 Property Tax Increase/City of Toronto
According to the budget, for the average residential home assessed at $703,232, residents will be paying an additional $128 on their $3,141 property taxes in 2020. This amount includes a $61 increase for city operations, a $22 increase for reassessment and rebalancing, and a $45 increase for the City Building Fund.
What's interesting to note is that of the $3,141 taxes, just $62 goes toward children's services, which explains why childcare is often so hard to come by and the most expensive in the country.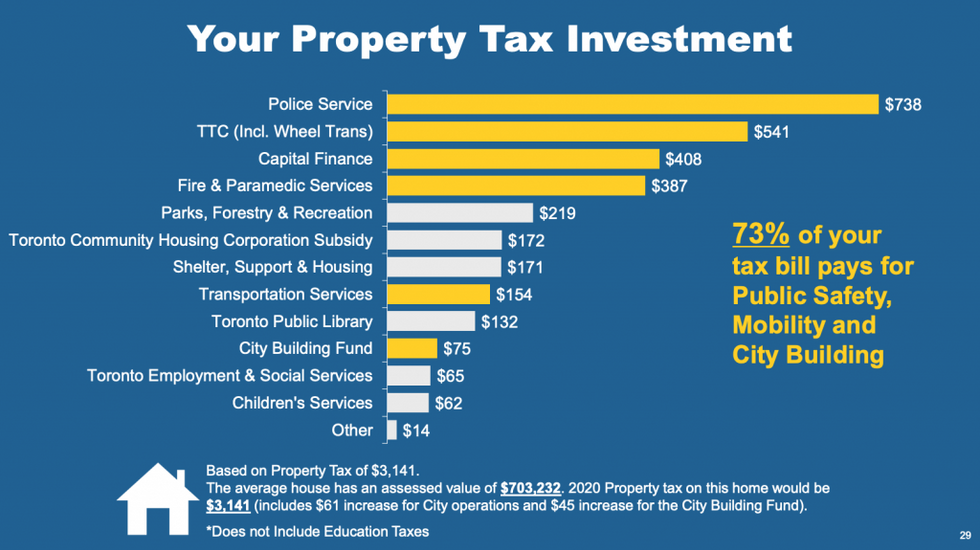 Toronto Property Taxes/City of Toronto
Included in the 2020 operating budget are $67 million in new expenditures, which are said to go toward address key city commitments, including poverty reduction ($15.3 million) and addressing climate change ($5.9 million).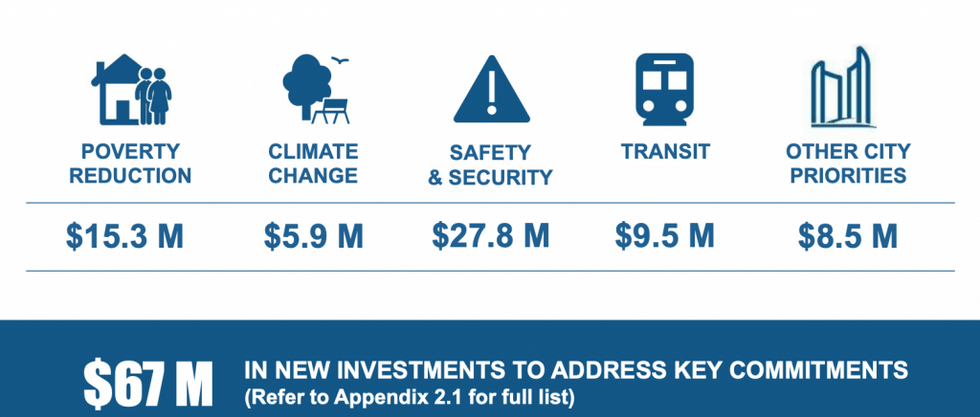 Operating Budget New Expenditures/City of Toronto
Another big focus of the Budget is on partnerships, with staff expecting the federal government to continue to support the city's refugee program, $77 million is already factored into the Budget.
READ: The Average Home Price In The GTA Crept Closer To $1M In 2019
Other partnerships include the provincial upload of subway expansion, which allows the city to redirect funding to transit state-of-good-repair, and the federal government's co-investment of $1.3 billion for building repair for Toronto Community Housing Corporation.
Following today's meeting, Mayor John Tory's executive committee will meet about the budget again on February 13, before it goes to council on February 19.
Real Estate News