Architects and building designers beware, renowned architecture critic and veteran journalist, Christopher Hume, is reviving his condo critiques, exclusively for storeys.com.
Developer: TCHC and the Daniels Corporation
---
Architect:Wallman Architects
Finished: December, 2019
Address: 150 River St.
Grade: A
If what you see is what you get, 150 River Street looks much like any recent residential building in the city. The only thing about this 11-storey slab that stands out is its multi-coloured façade. Rather than the usual grey, its exteriors are red, white and grey.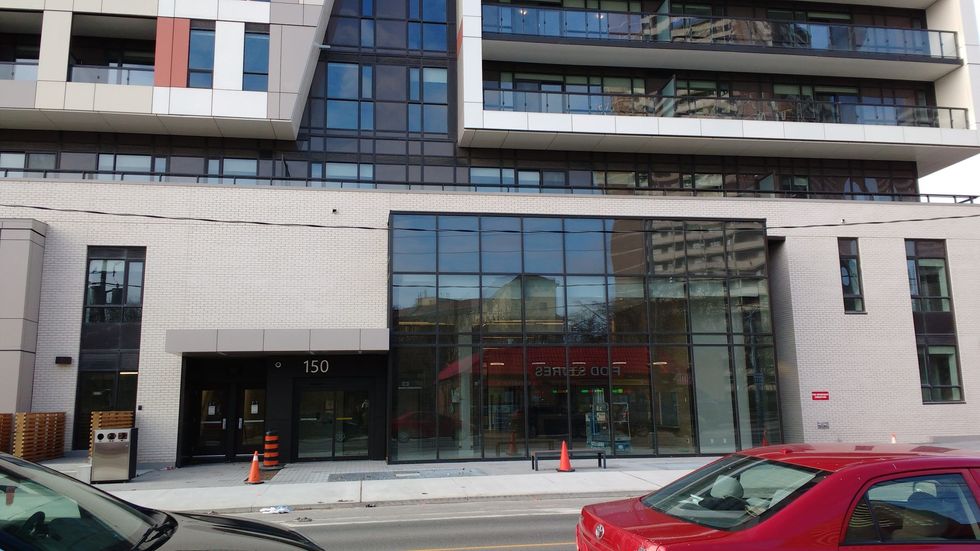 The designers, Wallman Architects, have also gone to some length to ensure the building blends in with the fast-changing Regent Park neighbourhood in which it is located.
READ: Regent Park Condo Makes History With $1 Million Sale
But when the building was officially opened last month, virtually every media outlet in Toronto showed up for the occasion. It wasn't the architecture that attracted them, or just the presence of Mayor John Tory. What interested them was the fact that this project comprises 125 rent-geared-to-income and 33 affordable rent apartments. Though owned by Toronto Community Housing Corporation (TCHC) and built by Daniels, the real story was that 150 River avoids that meanness of appearance and finish so characteristic of traditional public housing in Toronto.
Old ideas about exactly what the poor deserve are answered here in a new 21st-century way. And what it says is clear: the poor should have what we all have or want -- a decent place to live, not some half-brained Utopian community conceived by well-intentioned bureaucrats and misguided architects acting as social engineers.
READ: 40,000 Affordable Housing Units Could Be Built In Toronto
Divided into a series of discrete sections, Wallman's elegant design fits snugly into a site most Torontonians would rather avoid. Facing River St., not one of the city's most appealing thoroughfares, it brings a wonderfully refreshing sense of domesticity to the sidewalk.
The U-shaped structure looks onto an inner courtyard while rows of townhouses bring life to River and Oak St. to the north. Balconies provide additional connection to the complex.
Unlike the buildings it replaces, which turned their back on the city, this affordable housing addition embraces its surroundings and helps set the stage for what's to come, as the revitalization of Regent Park continues.
READ: Mayor John Tory Discovers That Taxes Buy Us Civilization
Hume with a View