---
While some may be, Mayor Bonnie Crombie is not a fan of the Ford government's dramatic and disruptive plan to get homes built in Ontario.  

The Mayor of Mississauga says that the Ford government's controversial Bill 23, or the More Homes Built Faster Act, will be a hard hit to the wallet of the region's residents, thanks to the rising property taxes that will inevitably result. At a press conference held earlier this week, Crombie said that the average property tax could increase by 5 or 10%, or $300 to $600 in Mississauga.

The sweeping legislation is a hot topic among everyone from environmentalists and local residents, to the province's mayors. Officially passed earlier this week, Bill 23 is intended to facilitate housing development, however, critics say it will leave municipalities high and dry billions of dollars, diminish the much-needed role of conservation authorities, and increase property taxes.
At the centre of the controversy on the municipality front is that Bill 23 allows for freezing, reducing, or eliminating fees paid by developers. These fees provide much-needed dollars to municipalities for the support of infrastructure, community centres, parks, and new homes. And it's taxpayers who will pick up the tab, say critics. Crombie says that there is nothing in the legislation to guarantees that costs would not be passed on to homeowners.
On Wednesday, Ontario's municipal affairs and housing minister Steve Clark announced that the Province would launch a third-party audit of finances in select communities that's centred on reserve funds and housing fees paid by developers. The Province also promised to cover the shortfall experienced by municipalities.
"I welcome the province's commitment to making cities whole by engaging an independent, third-party auditor to examine our finances and the impacts that Bill 23 will have on our taxpayers," Crombie told STOREYS. "I understand Mississauga will be part of this process and I look forward to the opportunity to demonstrate that we are strong fiscal managers that respects taxpayers' dollars. I am confident the audit will show the same."
Crombie says that she will continue to reiterate that cities must be compensated for any and all losses as a result of Bill 23 -- including lost funding or parkland acquisition -- throughout the process. "I ask that the province begin this audit immediately and that a final report be delivered as soon as possible to avoid any financial shortfalls," says Crombie. "We are currently planning for our 2023 Budget, and without certainty, we will be forced to raise taxes to close the funding gap."
In the meantime, Crombie says she looks forward to learning more details about the audit, including how housing enabled infrastructure is defined. "Development charges not only fund hard infrastructure such as road, water and sewers for new housing, but also amenities like community centres, transit, fire stations and libraries, and so much more that keep our city safe and help us build complete, healthy communities," she says. "Cities are not adding to the cost of housing or development. We only collect what we need to build the infrastructure developers need to get shovels in the ground -- no more, no less."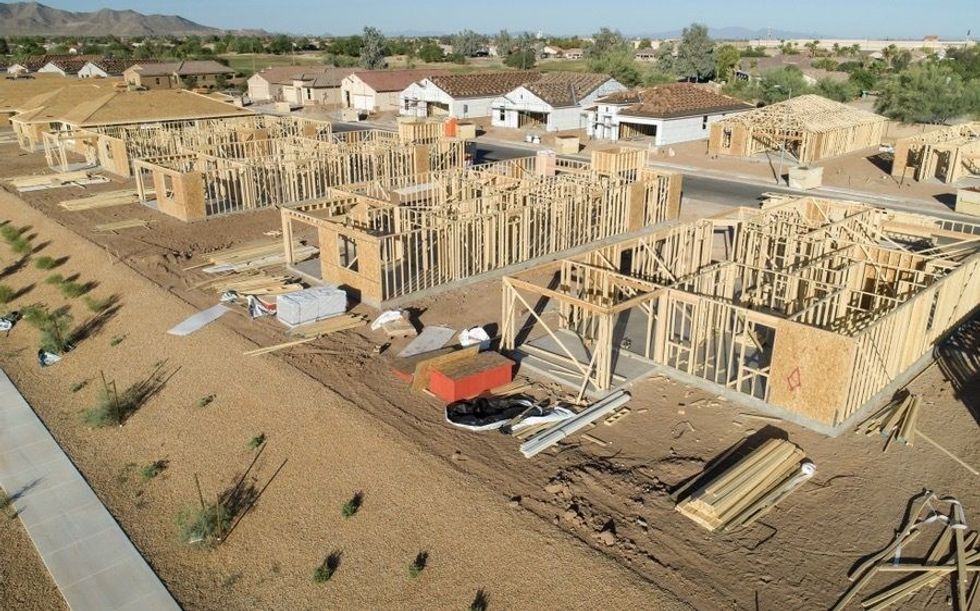 New homes under construction/Shutterstock
That's not to say that Crombie doesn't recognize the importance of building more homes as quickly as possible. "I want to be clear that Mississauga shares the same goal as the province -- to build more housing that is affordable and within reach -- and we need to work together to achieve it," she says. 
"Mississauga has a plan for growth, one that we believe will help developers and the province deliver on their goal of building more homes in Mississauga. Cities can help cut red tape and speed up approvals, but ultimately, developers are the ones that need to get shovels in the ground and build homes."

Crombie expressed gratitude to the Province for committing to exploring alternative tools for growth that will not impact taxpayers, and pausing the implementation of development application refund requirements which will help improve the quality of developments in our City. 
"Everyone must play their part in addressing the housing affordability crisis and that includes developers," says Crombie. "If they are being incentivized to build more affordable housing, there needs to be legislation in place to ensure those savings are passed on to the homebuyer. Taxpayers should not fund developer profits."

Crombie says that the Mississauga City Council will continue to stand up for their city and ensure it has the tools it needs to build and maintain a city with a great quality of life -- "a place you want to live and raise your family for generations to come."
Crombie remains optimistic that an effective solution and sustainable pathway forward can be attained. 'I am confident that we do that by working together with the provincial and federal government, and look forward to engaging with my counterparts in the next stage of this process," says Crombie. 
Real Estate News