---
Progress has been made on the 5-acre mixed-use community 2 Tecumseth planned for Toronto's Niagara neighbourhood, just west of the city's downtown core.
Last fall, Toronto-based developers TAS received zoning approval to build five buildings: two towers, one mid-rise, and two low-rises. The buildings would house nearly one million square feet of mixed-use developments including a mix of commercial, employment, and residential uses.
Now, it's been confirmed that TAS has sold a 75% interest in its five-building, 825,000-square-foot 2 Tecumseth development to Woodbourne Capital Mgmt. Together, TAS and Woodbourne will co-manage the redevelopment of the zoned, high-profile site near King and Bathurst Streets into a globally leading mixed-use campus.
Woodbourne is also a partner on an even wider-scale project, (and is handling the rental component of) The Well, a 3.1-million-square-foot, multi-tower development in downtown Toronto that has been touted as the most ambitious mixed-use project in the country.
READ:5-Acre Master-Planned Community Poised to Rise at 2 Tecumseth
"We are thrilled to partner with Woodbourne, an established leader in the Canadian multi-family residential space, to transform one of the last major revitalization opportunities in the downtown core," said Mazyar Mortazavi, President & Chief Executive Officer, TAS. "2 Tecumseth will be an incredible new community that seeks to embrace the complexities that make neighbourhoods great."
Over the years, the site has formed a storied history. 2 Tecumseth sits on land that was originally part of the Ancestral Traditional Territories of the Ojibway, the Anishinaabe and the Mississauga of the New Credit. The site currently is home to a municipal-turned-commercial abattoir named Quality Meat Packers that was closed off from, and increasingly in conflict with its local neighbourhood.
The project will preserve key elements of the site's industrial past, including portions of the former abattoir and existing historic smokestack and scale on the site. The neighbouring Wellington Destructor project, of which TAS was recently approved as the long-term head lessee, will also be incorporated into the project.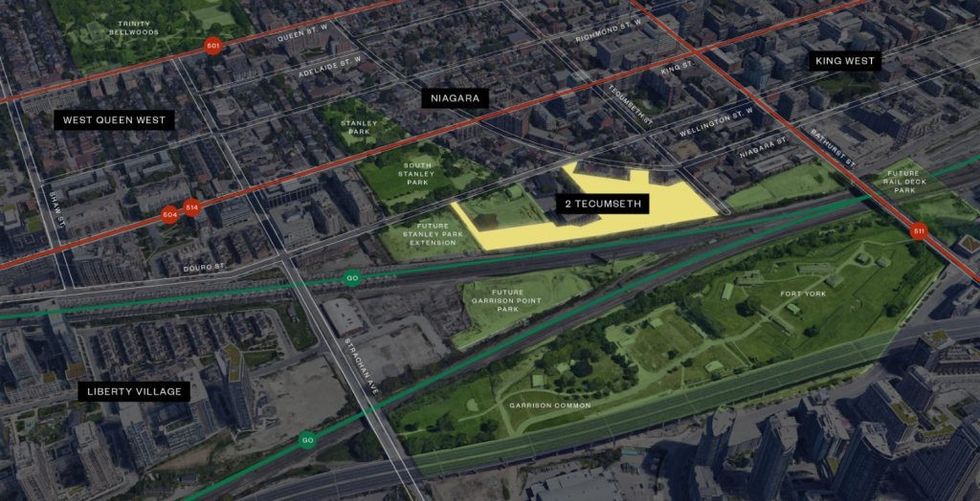 Upon completion, the sprawling site will feature a four-building, mixed-use master-planned campus-style community and 920 new homes, including both purpose-built rental and for-sale condominiums. A sustainable aspect of the project will be a planned geothermal district energy system.
Over an acre of public realm improvements and new parks, including a four-metre-wide bike path along the site's southern boundary, will also be constructed. And, as part of a second development phase, a mid-rise office building will also be built on the site.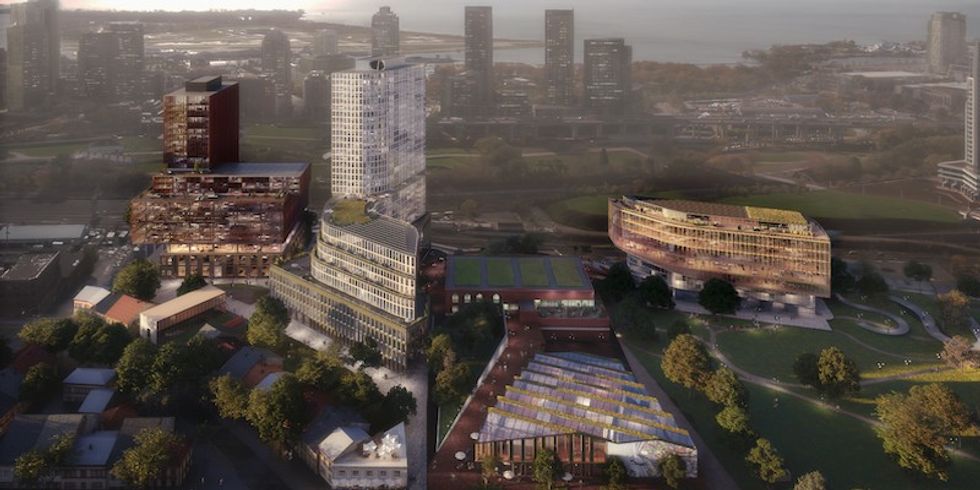 2 Tecumseth/TAS
Centrally located in Toronto's South Niagara neighbourhood in the heart of the arts and entertainment corridor, 2 Tecumseth is well serviced by higher-order transit, including a future Metrolinx Ontario Line station under a five-minute walk away at King Street and Bathurst Street.
Ample new pedestrian and cycling infrastructure will also connect the campus to King and Queen Streets West to the north, the Financial District to the east, Fort York and The Bentway to the south, and Liberty Village to the west.
"This project is a once-in-a-lifetime city-building opportunity," said Neil Vohrah, Chief Operating Officer, TAS. "The site housed a municipal-turned-commercial abattoir since the early 1910s and has historically been closed off from the vibrant neighbourhood that's grown around it. We are excited to open it up to the public, deliver on TAS's impact strategy, and create a new iconic destination where people from many walks of life can live, work, learn and connect."
TAS submitted a Site Plan Approval application to City planners earlier this month, and construction is expected to begin in 2023.
Future Developments