The year is off to a "strong start" where the GTA's housing market is concerned, as home sales across the region were up by more than 50% year-over-year last month.
This is according to a new Market Watch report from the Toronto Regional Real Estate Board (TRREB), released Monday.
---
Per the report, home sales reached 6,928 in January, a 52.4% increase from the 4,546 reported 12 months prior.
"This strong start to 2021 included sales growth across all major segments including condominium apartments, both in the City of Toronto and surrounding GTA regions," TRREB says.
READ: Here's How Long it Takes to Save for a Down Payment in Toronto Right Now
Meanwhile, new listings were up year-over-year in January as well, albeit not by the same annual rate as sales were. The result of this discrepancy was a tightening of market conditions when compared to January 2020, leading to the continuation of double-digit growth in the MLS Home Price Index and the average selling price.

Indeed, the average selling price reported this January reached $967,885 -- a 15.5% increase from the same month last year. The MLS HPI Composite Benchmark -- a measure of real estate prices that provides a clearer picture of market trends over traditional tools such as mean or median average prices -- was up by 11.9% through the same period.
Where home-type specific activity was concerned, detached homes in the 416 region saw 522 sales in January 2021, up 30.2% year-over-year. Semi-detached homes saw 162, an increase of 84.1%; townhomes saw 259, up 46.3%, and condos saw 1,703 -- an increase of 85.5% from the same month in 2020.
Prices grew for ground-level homes: $1,581,400 (up 16%), $1,204,857 (up 21.5%), and $814,396 (up 4.1%) for detached, semi-detached, and townhouse-style properties respectively. Meanwhile, condos saw prices decrease by 8% year-over-year, reaching $624,886 in January.
"Price growth was driven by the low-rise market segments, while the average condo apartment price was down in Toronto," says the TRREB report. "However, if we continue to see condo sales growth outstrip condo listings growth, we could start to see renewed growth in condo prices later this year."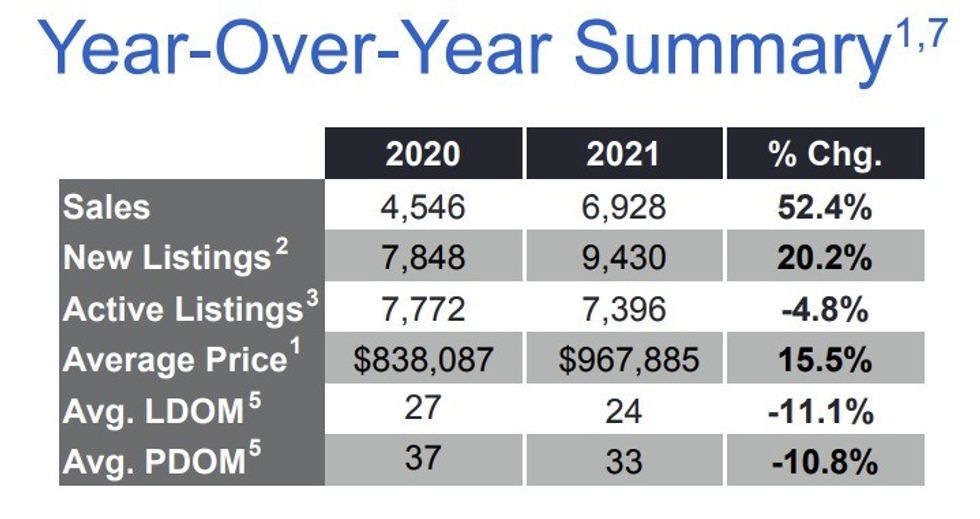 And even before prices start to stir, the condo market is showing evidence of a revival -- if only in activity for the time-being. In late 2020, we cautioned downtown condo investors (and, really, anyone interested in jumping into the sector) that the time was not ideal to strike, but instead to watch and wait. A mere three months later, it seems, patience has proven itself a virtue; interest in the condo sphere is growing once again and, for now, costs aren't creeping up.

January's decrease in year-over-year condo prices follows the trend noted in December, when average prices hit $600,840 -- a 2% decrease from December 2019. That's a drop of -4.7% in the 416, alongside a rise of 6.3% in the 905 region.
Now in January, again, the 905 condo market has outperformed that of Toronto in price, rising 4.8% to an average of $547,488 last month. While the expectation is that interest in the condo sphere will continue as 2021 rolls on, it's uncertain when price rises will catch up with an increase in demand.
But it's the prices hanging low — at least for now — that could actually bolster continued activity in the condo sphere, according to a recent report from RBC.
"Downtown condo prices still bucked the trend due to ample inventories in Canada's largest cities—the downturn in the rental market has prompted many condo investors to sell," the report says, in reflection of 2020's closing performance. "Active listings were up 159% in the GTA, and 172% in the 416 area alone. Yet it was condo sales that caught our attention. They surged 75% y/y (with similar advances in both the 416 and 905 areas), suggesting buyers were out in full force looking for bargains."
Everybody loves a bargain. And if those steals happen to drive recovery in one of the city's most distinct, unique sectors of real estate? All the better.
Homes