It's often said that a certain amount of constraints can spur one's creativity, and that's exactly what has happened with the industrial real estate market in Vancouver and the advent of "stacked" industrial spaces.
---
Industrial real estate spaces -- warehouses, manufacturing plants, assembly lines -- have traditionally been sprawling single-floor spaces. Moving products around a warehouse is much simpler when it's a single-floor space, and the space itself does not need to be built with freight elevators, ramps, or floors that can bear the substantial weight.
That's still mostly the case in many places, but not so much in Vancouver nowadays, where the constraints of the market are getting tight.
According to CBRE's Q3 Industrial Report, Vancouver had an industrial space availability rate of just 0.8%. Aside from Waterloo (0.7%), which has nearly half as much inventory, Vancouver has the lowest availability rate in Canada, nearly half of the 1.5% national average.
It's a new low, but it's been at or below 1.0% for well over a year now, and while new space is being constructed, most of it gets pre-leased before construction even completes. In a Q3 Industrial Report of their own, Avison Young said that "approximately 3.1 million sq. ft of new inventory will be delivered in the next six months, but 90% of that space is already preleased/presold."
RELATED: "A Perfect Storm": Why BC Industrial Real Estate Demand is Migrating to Alberta
Land to build industrial space is also getting increasingly harder to come by.
In 2020, Metro Vancouver -- the federation of 21 municipalities -- conducted a Regional Industrial Lands Inventory Report. It found that the municipality of Vancouver had approximately 644 hectares of industrial land. Aside from the North Shore, which is much less popular for industrial operations, Vancouver had the lowest inventory in the region. Additionally, that land was split amongst 1,450 parcels, the second-most after Surrey, meaning the average size of a parcel of industrial land in Vancouver was 0.4 hectares, the lowest across all cities.
Those are the constraints. (Before we even get to prices.)
What did the market do in response? Well, when there's no space to build horizontally, the only place to look is up.
Stacked Industrial
In 2016, San Francisco-based Prologis -- the largest industrial real estate company in the world -- built the first multi-story warehouse in the United States, in Seattle. "Major urban areas are running out of industrial space," Prologis' CEO said at the time, as the reason for the choice.
Sounds familiar.
"In the Pacific Northwest, that's when we first started taking notice of stacked industrial," Louise Tagulao, Vice President of Sales and Marketing at PC Urban, tells STOREYS.
Based in Vancouver, PC Urban develops residential, office, and industrial projects, the latter of which includes multiple stacked industrial spaces. Most notable is Evolution Block, located on 1055 Vernon Drive, in the Strathcona neighbourhood of Vancouver, just north of the False Creek Flats. PC Urban calls it "an elevated solution to soaring demand for commercial and office space."
The Evolution Block building, which completed construction in Fall 2021, is four storeys, with industrial space on the lower floors and office space above. And you get what you typically would in traditional industrial spaces: 18 ft-high ceilings, wide corridors, and ample amounts of loading bays. On top of that -- figuratively and literally -- is office space, also with many of the features you'd expect for that kind of space: an open floorplan, interesting views, a shared rooftop amenity space.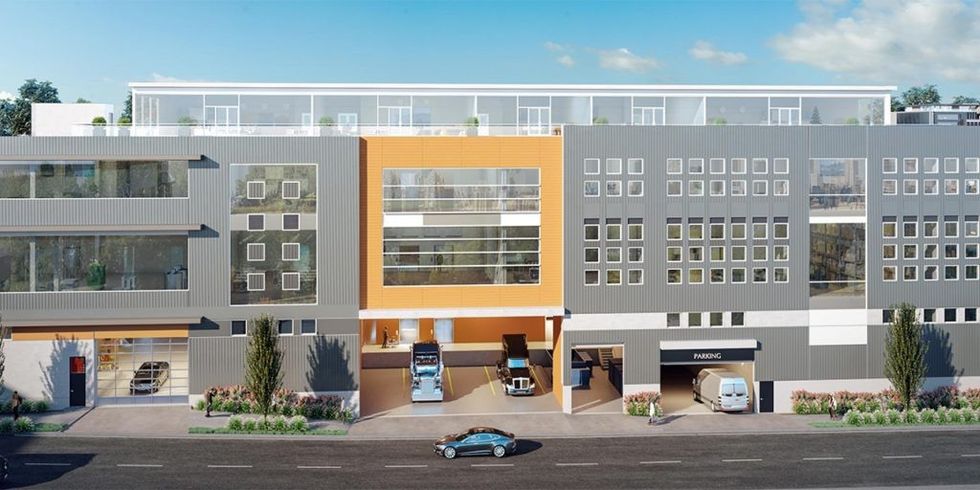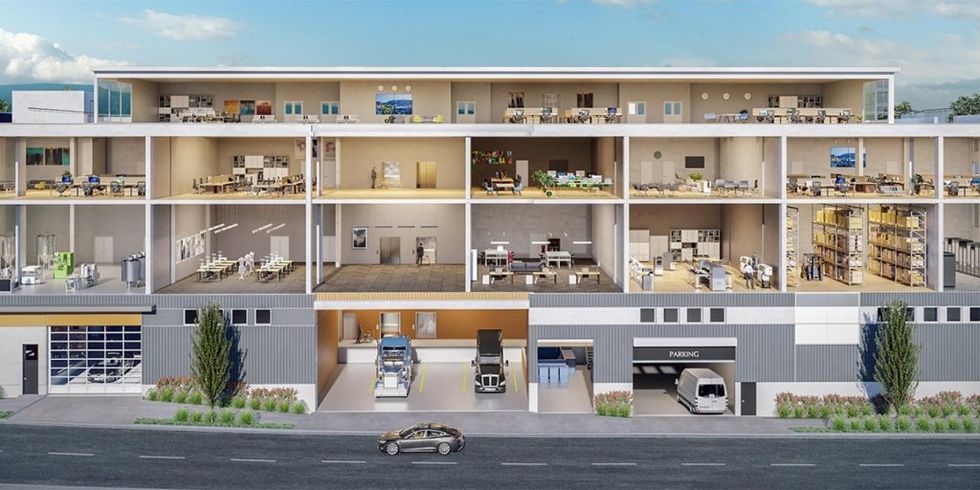 Evolution Block. (PC Urban)
A stacked industrial space PC Urban has applied to develop on 8696 Barnard Street in the Marpole neighbourhood of Vancouver -- called IntraUrban Southlands -- follows a similar structure. Different buildings accommodate for the multiple floors of industrial space differently -- some use freight elevators, some use ramps -- but this is what stacked industrial spaces typically look like.
Tagulao notes that these industrial spaces are not quite what people may typically think of when they imagine industrial sites. "These are usually light industrial, such as last-mile distribution centres, services providers, furniture stagers, cabinet-makers, assembly spaces, or contractors," she said, "not factories."
Many of PC Urban's industrial projects -- stacked and non-stacked -- are in urban nodes near residential areas, which Tagulao says is one of the benefits of these kind of stacked industrial spaces. This also helps tenants or owners (some of PC Urban's industrial spaces are strata) who provide services and can benefit from being close to the area they serve, she says. She has also noticed that users of these kind of spaces are often different than those of traditional industrial spaces and "have an eye for how they want to get to work, what they want to do on their break."
In other words, users of this kind of industrial space are more lively than those stereotypical monotonous, worker-drone kind of industrial sites. Because of the mix of industrial and office space, developers of these kind of spaces also often emphasize the added benefit of tenants being part of a community.
In Canada, there is no bigger example of that -- figuratively and literally -- than Marine Landing in South Vancouver.
Developed by Vancouver-based Wesbild and expected to complete construction in 2024, Marine Landing consists of twin six-storey stacked industrial buildings, again with industrial spaces below and office units above. Again, the spaces have the expected features: industrial spaces have six-ft-wide corridors and freight elevators, office spaces have standard-office ceiling heights and shared amenities.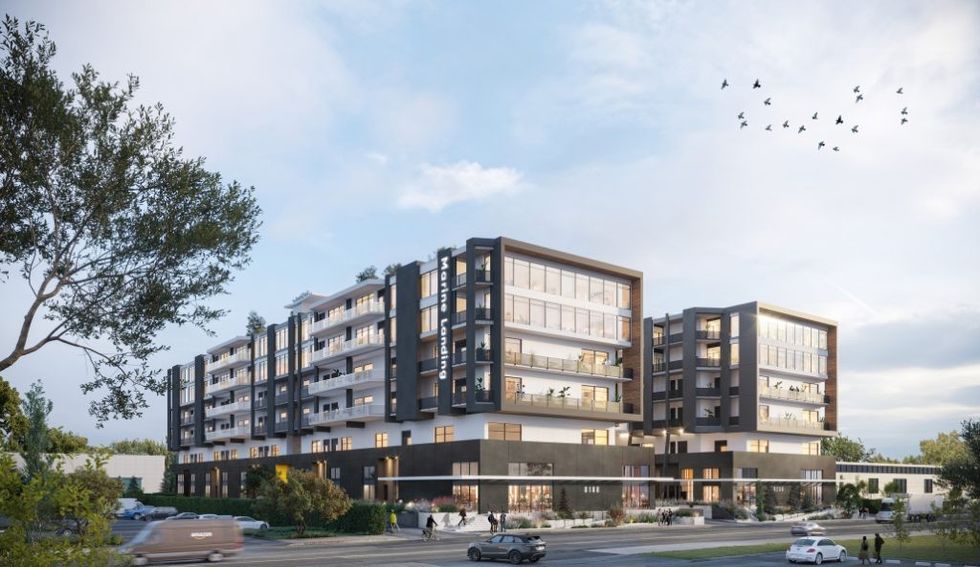 Marine Landing. (Wesbild)
Wesbild's Senior Vice President of Development, Lilian Arishenkoff, tells STOREYS that stacked industrial spaces like Marine Landing are "the next evolution of industrial development" as a result of land constraints pushing density upwards rather than spread out. She also points out that the definition of "industrial" is changing, and now includes companies like design studios and food kitchens, on top of logistics and distribution, e-commerce, and tech.
Wesbild calls Marine Landing "a true work community," so much so that Arishenkoff says the project was born as much out of Wesbild wanting to build communities as providing a solution to Vancouver's land constraints. She says that kind of community is rare in traditional industrial spaces, and adds that it's also rare for industrial spaces to be close to transit, like Marine Landing is with Marine Drive SkyTrain Station a short walk away.
The Future
If sales are any indication -- space at Marine Landing is available for strata purchase -- these kind of stacked industrial spaces are here to stay. Arishenkoff says Marine Landing's first building is nearly sold out, and that two consultants who Wesbild worked with on the project even ended up buying space themselves. Sales also went so well that the two buildings are now being built simultaneously rather than the originally-announced two phases.
She says rising interest rates have slowed things down a little, but that there is still a lot of interest in industrial space in Vancouver, and that industrial spaces at Marine Landing have been selling better than office spaces.
In a previous interview with STOREYS, Susan Thompson, an Associate Director of Research at Colliers, says that she expects stacked industrial projects to take off more and more as the region sees more success stories.
"Four years ago, it was a question mark, and the question was: If we build it, will they come?" says Tagulao, from PC Urban. "They did."
Both Tagulao and Arishenkoff say their respective firms will continue looking at stacked industrial projects, and Tagulao says she can see the trend eventually moving outside of city cores as well. In other words: from here on out, it's up and up we go.
Vancouver