---
The Marpole neighbourhood of Vancouver is the focus of yet another development application, but this time it isn't for a residential project, school redevelopment, or new community centre, but a mixed-use industrial and office building.
The application -- published this week because the City of Vancouver is now accepting public input on the project -- was filed by PC Urban, for 8696 Barnard Street, next door to the Vancouver Montessori School and a few minutes away from the Fraser River.
The proposal is for three mixed-use buildings with manufacturing, office, and storage uses, for a total 160,000 sq. ft of space.
The site is zoned for Industrial (I-2), and currently is occupied by a packaging solutions store, custom t-shirt store, and a self-storage centre. There is also a Canada Post facility further down Barnard Street, but site plans for the new project indicate that it won't be affected.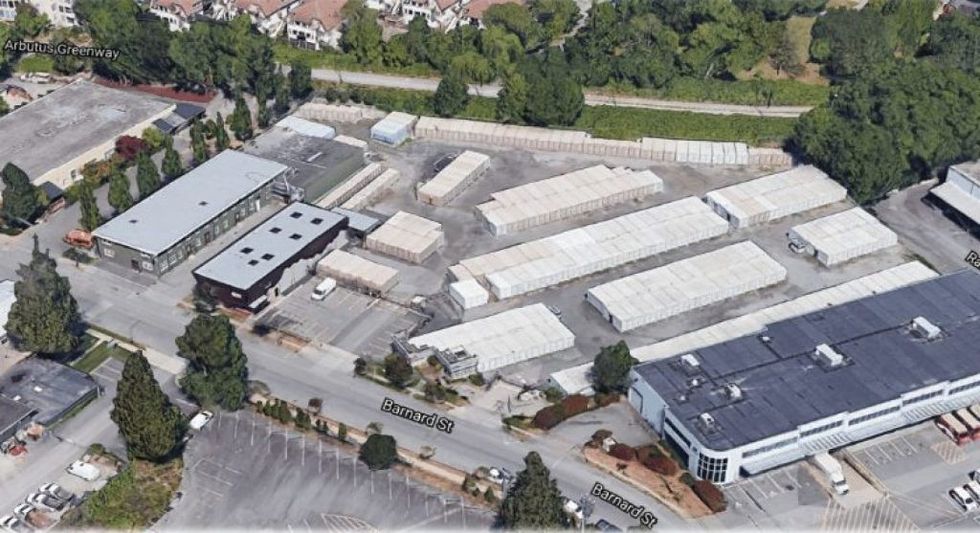 Current site. (PC Urban)
According to the applicants, the two northern buildings will primarily be for industrial use, with elevated office space as well, while the southern building is "best suited to a lower industrial use due to the triangular shape."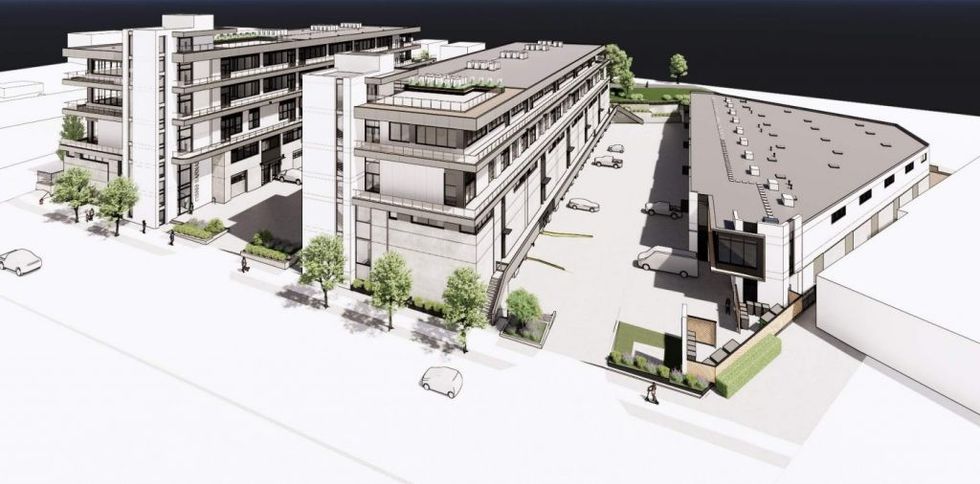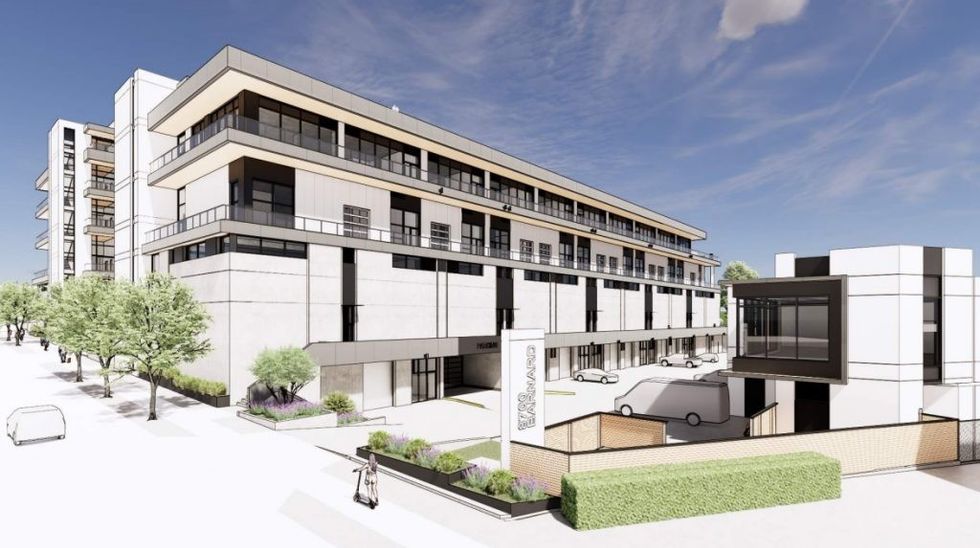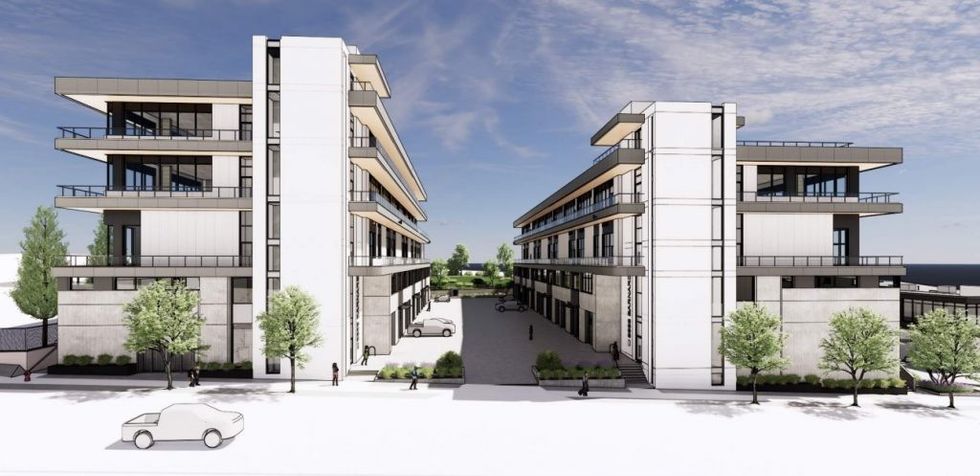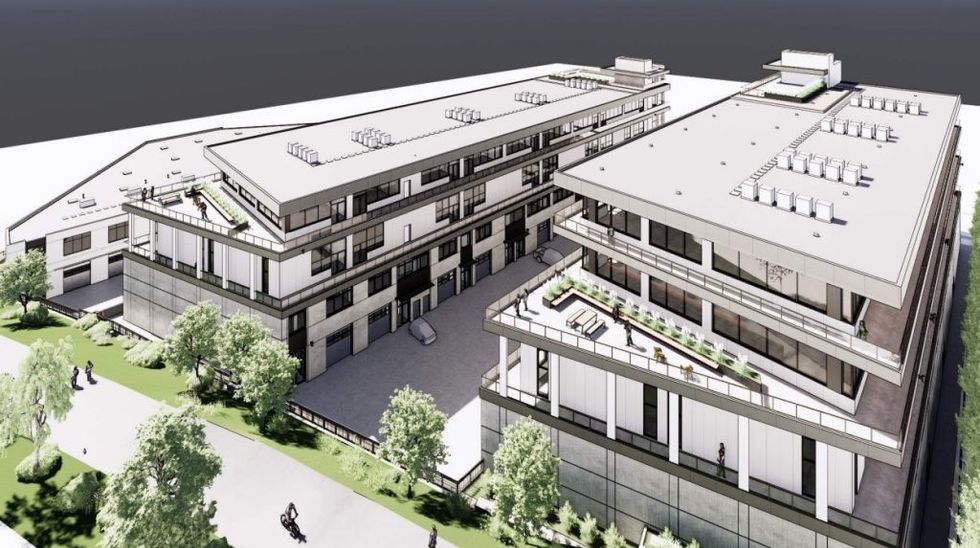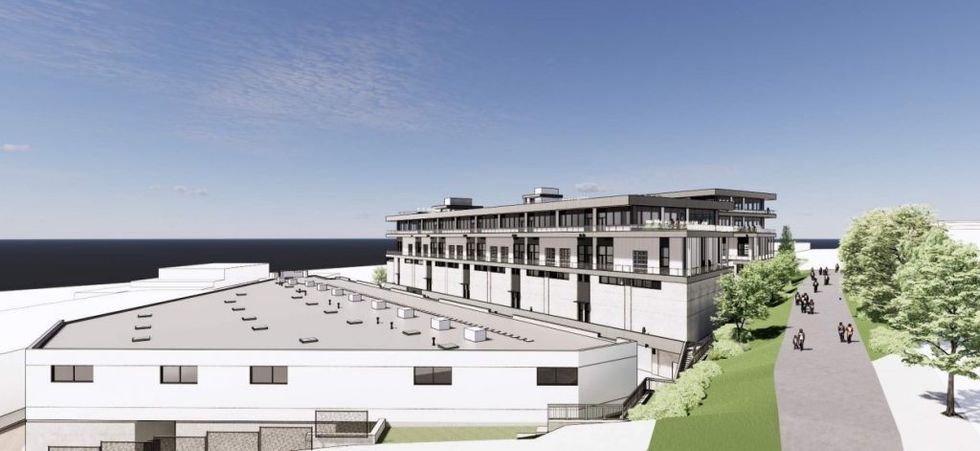 Renderings: PC Urban
The two northern buildings are designed to be mirrors of one another, and the two upper floors will also have amenity patios facing the Arbutus Greenway "as a way of activating and engaging the busy commuter and recreational path."
RELATED: "A Perfect Storm": Why BC Industrial Real Estate Demand is Migrating to Alberta
The Arbutus Greenway is a project the City of Vancouver started in 2016, which -- once fully complete -- will be a walking and biking path that extends all the way from the Kitsilano neighbourhood near Granville Island down to the Fraser River, ending near the site of this development. According to the City, they are still actively looking for ways to enhance the Greenway, such as safety improvements and connections into the areas the pathway passes through.
PC Urban is a Vancouver-based developer with residential, rental, office, and industrial projects across British Columbia, the most well-known of which is perhaps the "reimagining" of the Lightworks Building in Mount Pleasant. According to PC Urban, this project, which they are calling IntraUrban Southlands, is set to be completed in Q1 2025.
Future Developments