As Vaughan's highly-anticipated downtown hub steps into its next phase, those seeking a brand-new luxury suite that's as welcoming as it is well-connected will be smart to make a move.
---
Serving as the newest juncture of SmartVMC -- SmartCentres' flagship 100+ acre master-planned community, rising in the heart of Vaughan -- SmartLiving is poised to introduce a host of new suitesto the neighbourhood via Park Place condos.
Standing at Highway 7 and Commerce Street, this pair of mixed-use towers will bring 1,100 residential units to the area, alongside more than 10,000 sq. ft of retail space at grade.
With the project's launch just around the corner, the time for getting acquainted with all the lavish livability, comfort, and connection this development has to offer is right now.
With SmartCentres Real Estate Investment Trust at the helm of Park Place condos, future residents can trust their homes are in (read: being crafted by) good hands. As part of SmartCentres' major project of the moment – a $15.2B intensification program wherein rental apartments, condos, seniors' residences, and hotels are being developed under SmartCentres' residential sub brand, SmartLiving – all eyes are on Park Place.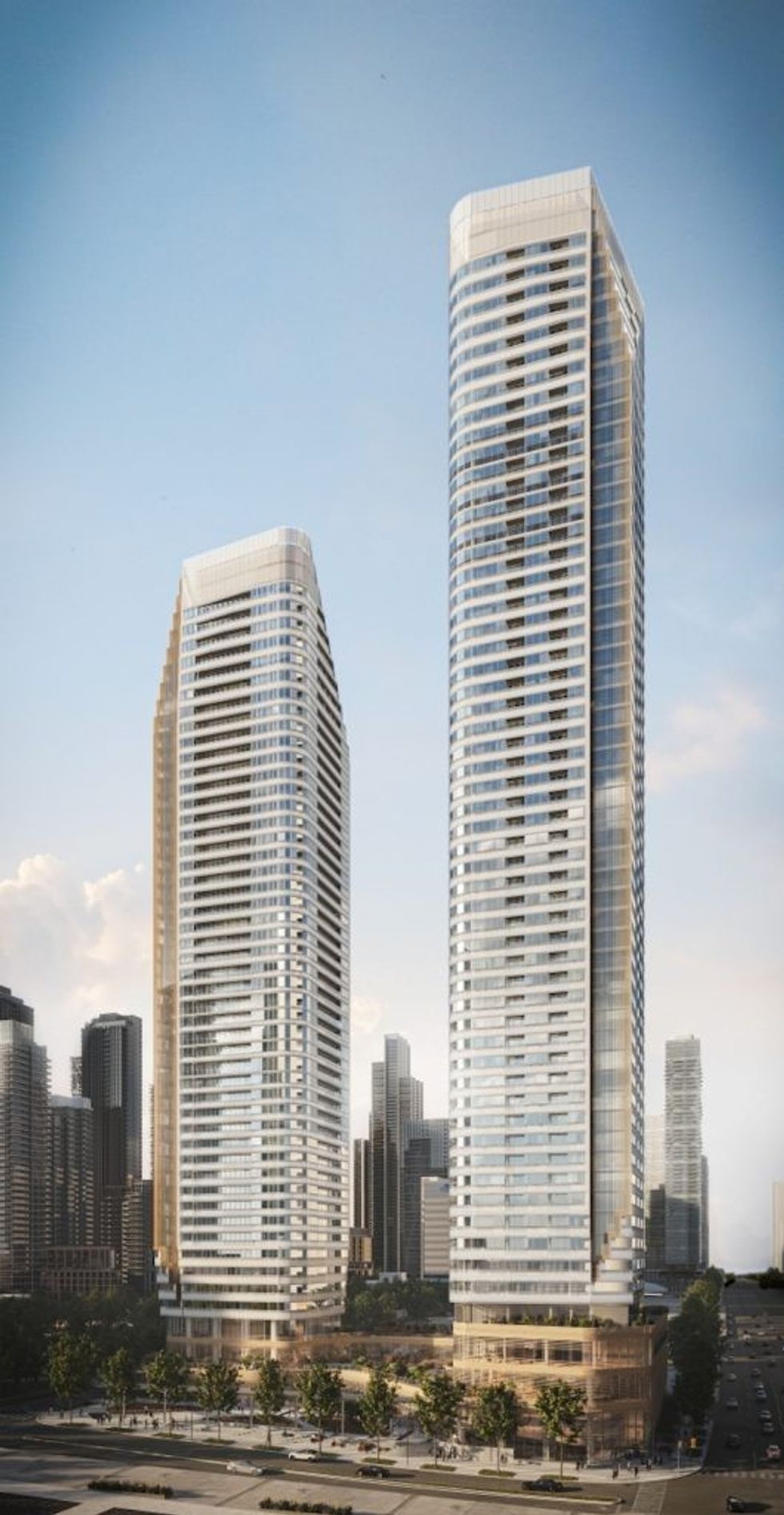 Park Place (rendering)
The fast-approaching condominium launch will introduce two buildings -- one soaring 48 storeys, and the other 56 -- directly adjacent to SmartVMC's nine-acre central park. Designed by Hariri Pontarini Architects, the towers will feature a suave curving design, rising over a three-storey podium that connects their bases. With thanks to their ultra-connected location, the builds will offer ease of access to transit, amenities, retail, and an expansive public realm.
Indeed, the ground level of the buildings will serve as a communal hub; its generous retail plaza and public space considered. With thoughtful architecture that seamlessly integrates the development with the surroundings planned for the area, this shopping and gathering space celebrates form as much as it honours function. 
With suites ranging in size from 470 through to over 1,100 sq. ft, luxurious layouts from one- up to three-beds will be available at Park Place. Furthermore, the buildings will be smart, with special features including touch-free entry, smart thermostats, app integration, and Wi-Fi available throughout common areas.
Amenities on site will include a lounge and games room, a fitness area complete with a dedicated yoga and wellness hub, a cycle lab, and a large outdoor terrace that comes complete with plenty of greenery, ample space for seating, and an outdoor cooking area.
Complementing all the elegance and ease to be found throughout Park Place, the community surrounding the condominium is overflowing with just as many comforts. Already, SmartVMC has emerged as a location not just of the moment, but as a location for life. The master-planned project boasts swoon-worthy green space, residential and office builds, and cultural offerings ranging from art exhibits to music to festivals. 
What's more, additional SmartLiving residential projects and a brand-new, soon-to-open YMCA are all neighbours to the rising Park Place towers.
And, for those who love downtown Toronto's buzz, and crave visits to the core for a Raptors game or a Kensington Market crawl, access couldn't be easier: with Vaughan Metropolitan Centre TTC station -- not to mention the SmartVMC regional bus terminal and Commerce Street VIVA station -- sitting at the community's centre, it's a breeze to get into the city's core.
Whether you travel via transit for work or for play, or your sunlight hours are spent stomping the pavement of this burgeoning community, Park Place is perfectly positioned to welcome you home at the end of the day. If you ask us, to plant yourself here sounds like a pretty smart move.
To learn more about Park Place, and to register, visit theparkplacecondos.ca.
Cover image via: @smartvmc/Instagram
---
This article was produced in partnership with STOREYS Custom Studio.
Future Developments