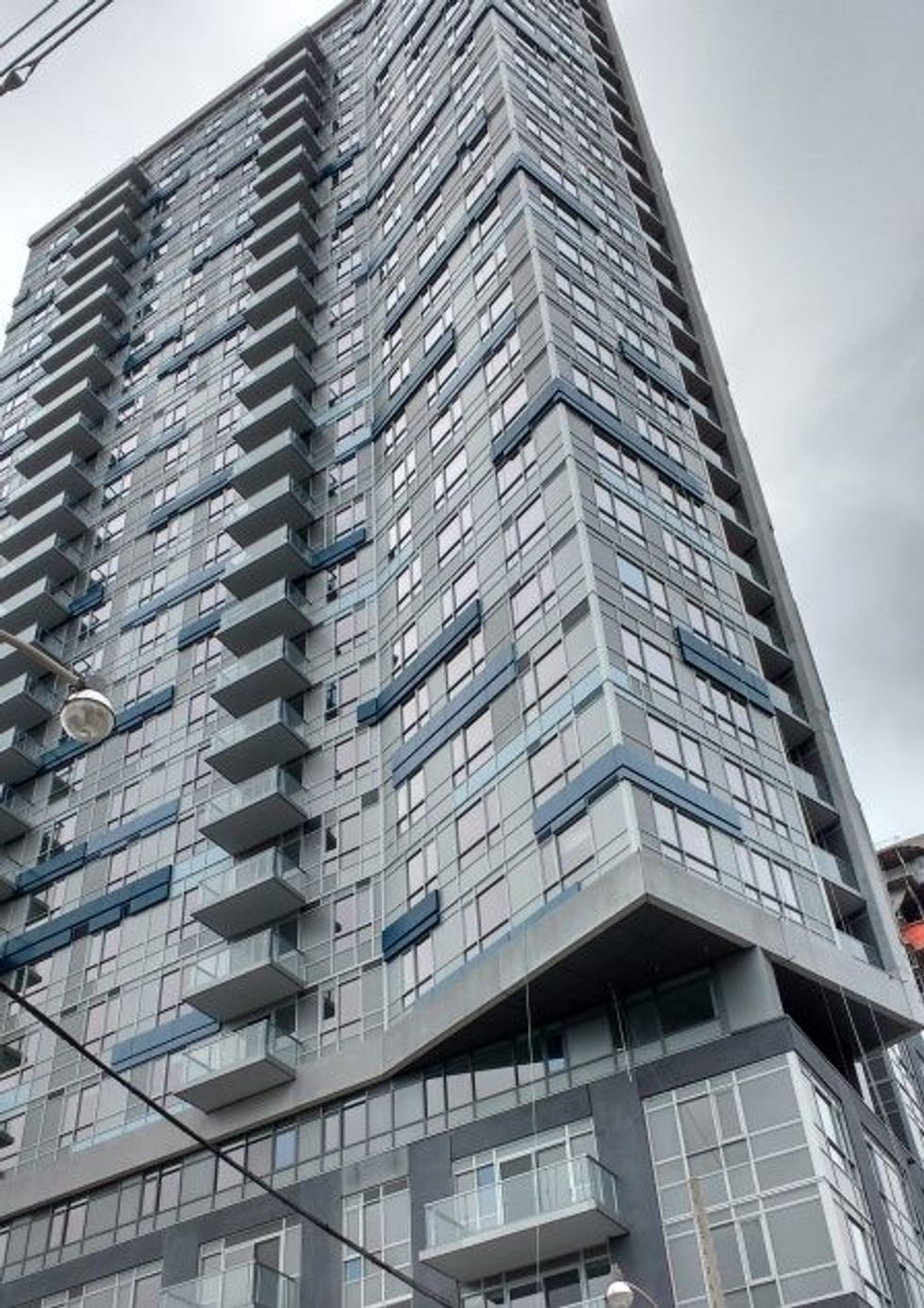 Architects and building designers beware, renowned architecture critic and veteran journalist Christopher Hume is reviving his condo critiques, exclusively for storeys.com.
Block 27
Developer: Daniels
Architect: RAW
Completion: 2019
Address: 699 Dundas St. E.
Grade: B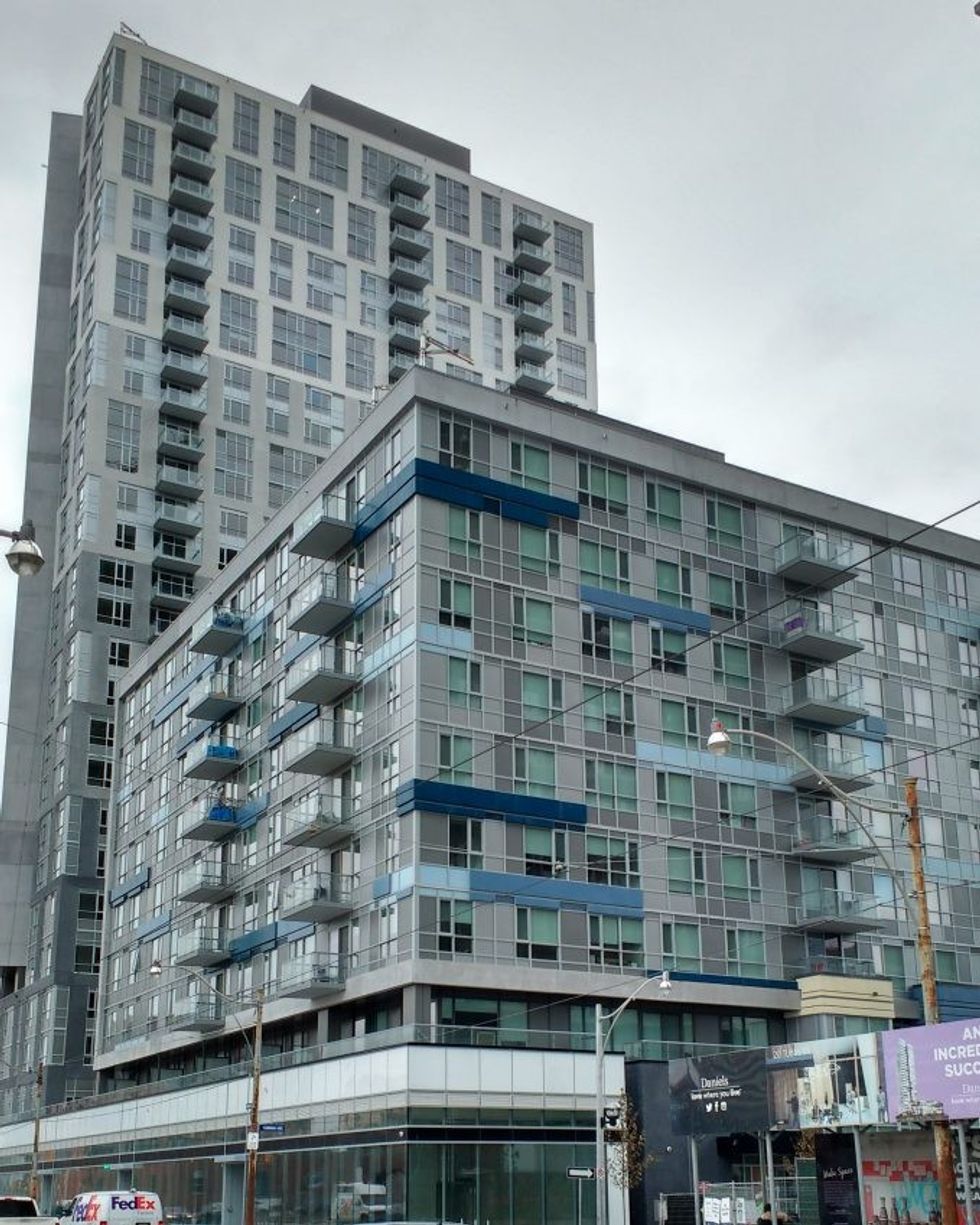 ---
As its name implies, Block 27 at Dundas and River seems more like a density machine than an ordinary residential tower. Except for a welcome street-level retail strip, it's all about creating places for people to live. Nothing wrong with that, of course, given that it will add 276 units of affordable rental housing, that's good news. But somehow this project brings a more business-like approach to high-rise domesticity than usual. Perhaps it's the grey glass and metal cladding, the rigid geometry of the architecture or the attempt to lighten the exterior with the occasional blue balcony, whatever, the result is a no-nonsense complex that inspires confidence but little joy.
Its two towers, 10 and 29 storeys, share a podium that faces north onto Dundas and the revitalized Regent Park's fabulous Aquatic Centre. It connects to the corner emphatically; already one can see the Shoppers Drug Mart. The south and west sides are well grounded by rows of townhouses that add a welcome homeyness to the ensemble, especially on Wyatt Ave.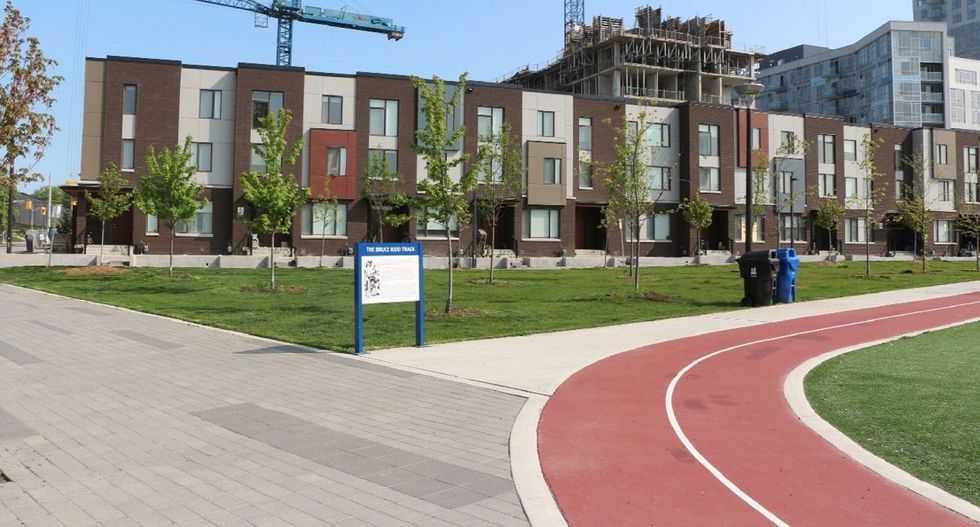 (Photo courtesy of Toronto Community Housing Corporation)
The exterior is not exactly exciting, but it possesses a certain dignity. Indeed, this is as upright a pair of towers as Toronto has seen in decades. Unlike earlier projects at Regent Park, where brightly coloured towers have a decidedly playful character, these are earnest and sincere. Still, it's early days; in the years ahead when Block 27 is home to hundreds and the retail spaces tenanted, it will bring much-needed vitality to this important and fast-evolving corner. One thing is clear; the best is yet to come.
---

Hume with a View