---
A developer with sights set on the Annex has filed a revised proposal with the city, this time seeking a greater proportion of market rentals and a number of bicycle-related amenities.
The proposal, which comes from Toronto developer Tenblock, calls for a 28-storey mixed-use building to replace an existing apartment building at 145 St. George Street. Three-hundred-and-ninety-eight residential units are now planned, 142 of which would be dedicated rentals, including 130 rental replacement units and 12 new affordable units.
The original submission, filed in May 2021, called for just 341 units, with only 130 being rental in tenure.
Documents prepared in support of the new application show changes to nearly every aspect of the proposal -- a reflection of "extensive consultation" with tenants, city staff, external reviewers, nearby property owners and residents, and the public at large.
The building height, for instance, has been downgraded from 29-storeys to 28, and the number of parking spaces has been slashed from 94 to five visitor-only parking (which includes two car-share spaces). Meanwhile, the gross floor area (GFA) and amenity spaces have been increased. A Privately-Owned Publicly Accessible Space has been axed from the proposal at the city's request, and replaced instead with a publicly-accessible outdoor patio. As well, both a P2 level and parking ramp have been removed from the proposal in an effort to speed up construction and reduce carbon emissions.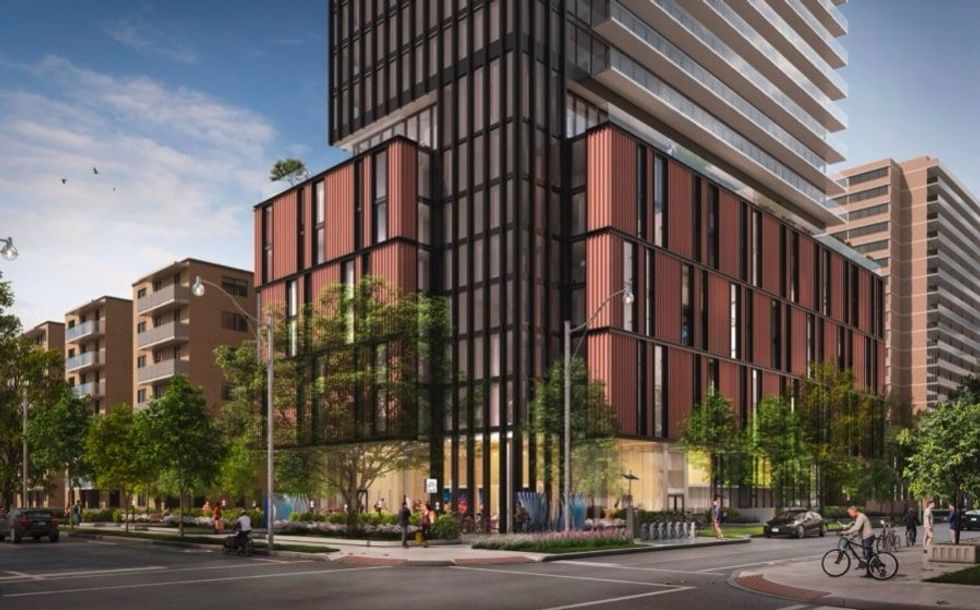 architects—Alliance
The application as it stands now proposes 23,965 sq. m of total GFA (23,748 sq. m for residential and 131 sq. m for retail) and 1,592 sq. m of total amenity space (796 sq. m to be located indoors and 796 to be located outdoors). A spokesperson for Tenblock also reveals that the revised proposal stands to reduce embodied carbon emissions by 24% from the first proposal, which paves the way for the proposed development to be carbon positive in 8.6 years -- 4.4 years faster than originally planned. At its highest point, the development would reach 95.64 metres.
But more notable still is the proposal's focus on bicycles. The revised proposal calls for 478 bicycling parking spaces -- 133 more than in the original submission -- including 398 long-term spaces and 80 short-term spaces, with 40 spaces to be located at grade and the remainder to be located in the basement. All long-term bicycle parking spaces are to be located with a best-in-class cycling facility designed by MJMA architects, slated for the basement, with facilities for various types of bicycles, including cargo bikes and e-bikes. A bicycle ramp "providing direct and independent access to the bicycle parking facility in the basement" is also proposed.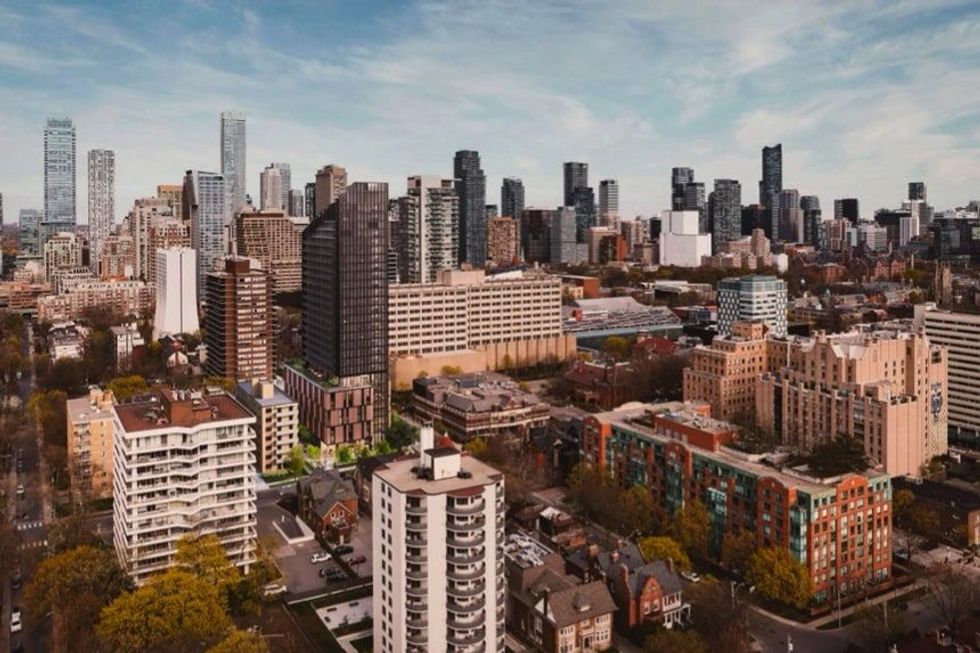 architects—Alliance
In addition, the retail space fronting St. George Street is expected to be leased as a "bike cafe and repair shop" -- to be used, in part, to host casual and organized cycling-related events -- while a Bike Share station, to be located south of the retail space, will cater to residents and the surrounding neighbourhood "further promoting the use of bicycles as an alternative means of travel and as a conveniently located gathering space."
Architectural plans prepared by architects—Alliance show a seven-storey base podium clad in vertical screens to "visually separate" from the tower above and provide improved privacy for the podium apartments. Balconies serving the podium level are inset within the building face. Projecting balconies are planned for the tower element.
Toronto