Despite continuous conversations about the need to build 1.5 million new homes, Ontario's housing stock grew at a slower rate over the last year compared to 2020.
According to preliminary estimates from the Canadian Housing Statistics Program (CHSP), the province's residential property stock grew by 1.3% from 2021 to 2022, a slowdown from the 1.5% seen from 2020 to 2021.
---
The trend played out on a local level, with a similar deceleration seen in the Toronto census metropolitan area (CMA). From 2020 to 2021, the stock of residential properties in the city edged up by 1.9%, representing 33,520 net new abodes. From 2021 to 2022, though, Toronto's housing stock rose by 1.6%, or 29,905 properties.
Meanwhile, provinces on Canada's coasts have seen growth in their residential property stock accelerate over the same time period.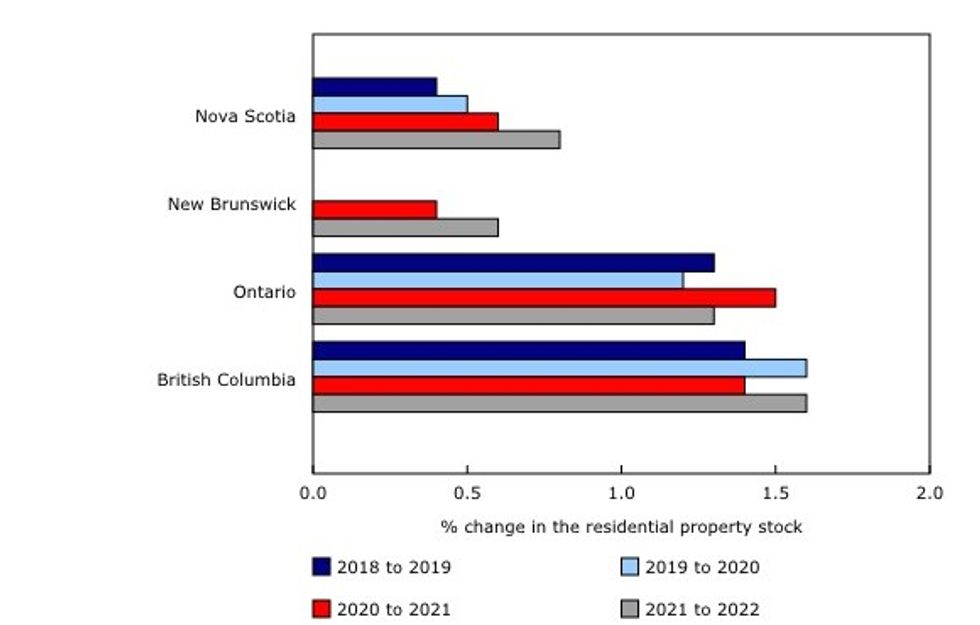 Statistics Canada
In British Columbia, the number of residential properties increased by 1.4% from 2020 to 2021, and by 1.6% from 2021 to 2022. The Vancouver CMA added 16,705 residential properties from 2021 to 2022, representing a 2.1% growth rate; in the period prior, the housing stock increased by 1.6%, or 12,945 homes.
The number of residential properties in New Brunswick grew by 0.6% from 2021 to 2022, and increased by 0.8% in Nova Scotia. Compared to a year earlier, both provinces saw the pace of growth accelerate by 0.2%.
Locally, the residential property stock grew by 1.3% in Moncton from 2021 to 2022, an increase from the 1% growth rate seen from 2020 to 2021. In Halifax, though, the rate of growth slowed slightly from 1.1% to 1% over the same time period.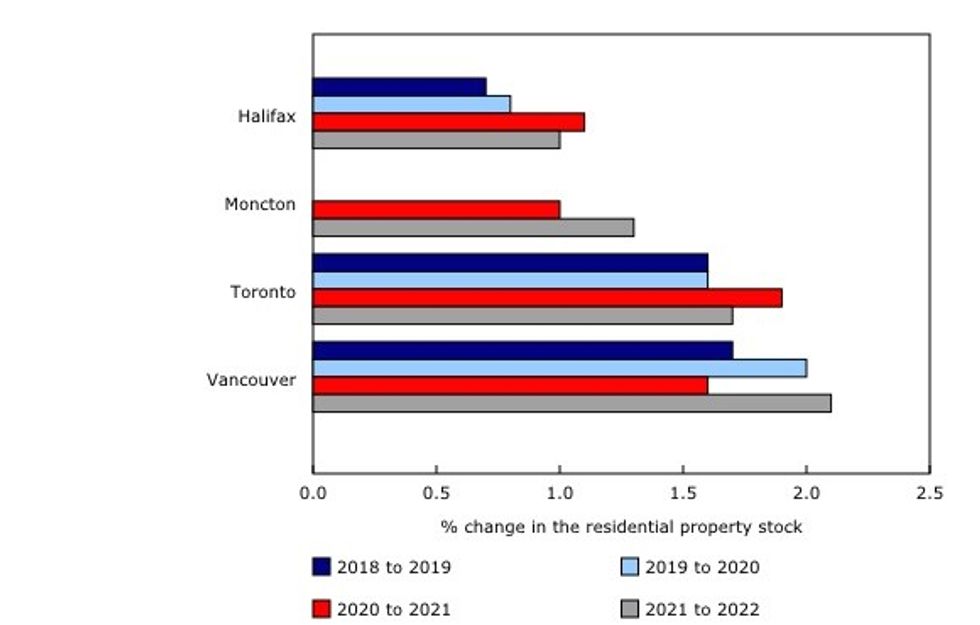 Statistics Canada
According to a recent report from the Canadian Centre for Policy Alternatives, developers are currently investing less in new residential construction than they were in April 2020.
Compared to the height of the pandemic-era lockdowns, during which construction was difficult if not entirely impossible, investment in new single-family homes has declined by 21% across Canada, while investment in new apartment construction has dipped by 2%.
But compared to February 2022, just before the Bank of Canada began raising interest rates, investments in the property types have fallen by 36% and 19%, respectively.
With the preceding CHSP data unaffected by the onslaught of interest rate hikes, and the most adverse effects of rate increases yet to hit the housing sector, "the worst is yet to come."
Real Estate News