Real Estate News
As Ontario and BC Home Prices Sink, These 4 Provinces are Becoming More Expensive
Since the February market peak, home prices in Canada's most expensive provinces — Ontario and British Columbia — have taken a substantial hit. But not all provinces are on the same track. In fact, four have seen a jump in prices over the past eight months.
A new report from Zoocasa analyzed the change in the average home price in all 10 provinces from February 2022, when the market hit its high, to October 2022. As to be expected, Ontario suffered the biggest loss, with the average home price there falling $196,400 — an 18.26% change. It was followed by BC with an 8.5% drop, representing a difference of $89,300.
With interest rates up, and likely to continue rising, Canada's most expensive provinces have unsurprisingly been hit the hardest by decreased demand due to buyers holding off on purchasing now rather than taking on a substantially larger interest rate on an already pricey home. In fact, a recent analysis by Ratehub.ca found that homebuyers with a mortgage in 2022 would pay 250% more in interest alone in the first year of their mortgage compared to a buyer in 2021.
The relatively more affordable provinces of Quebec, Manitoba, Saskatchewan, and Alberta have also seen their prices fall over the past several months, although much more moderately than BC and Ontario. Quebec's fell by $27,500 while Alberta's prices are down just $2,100 — a 0.46% decline.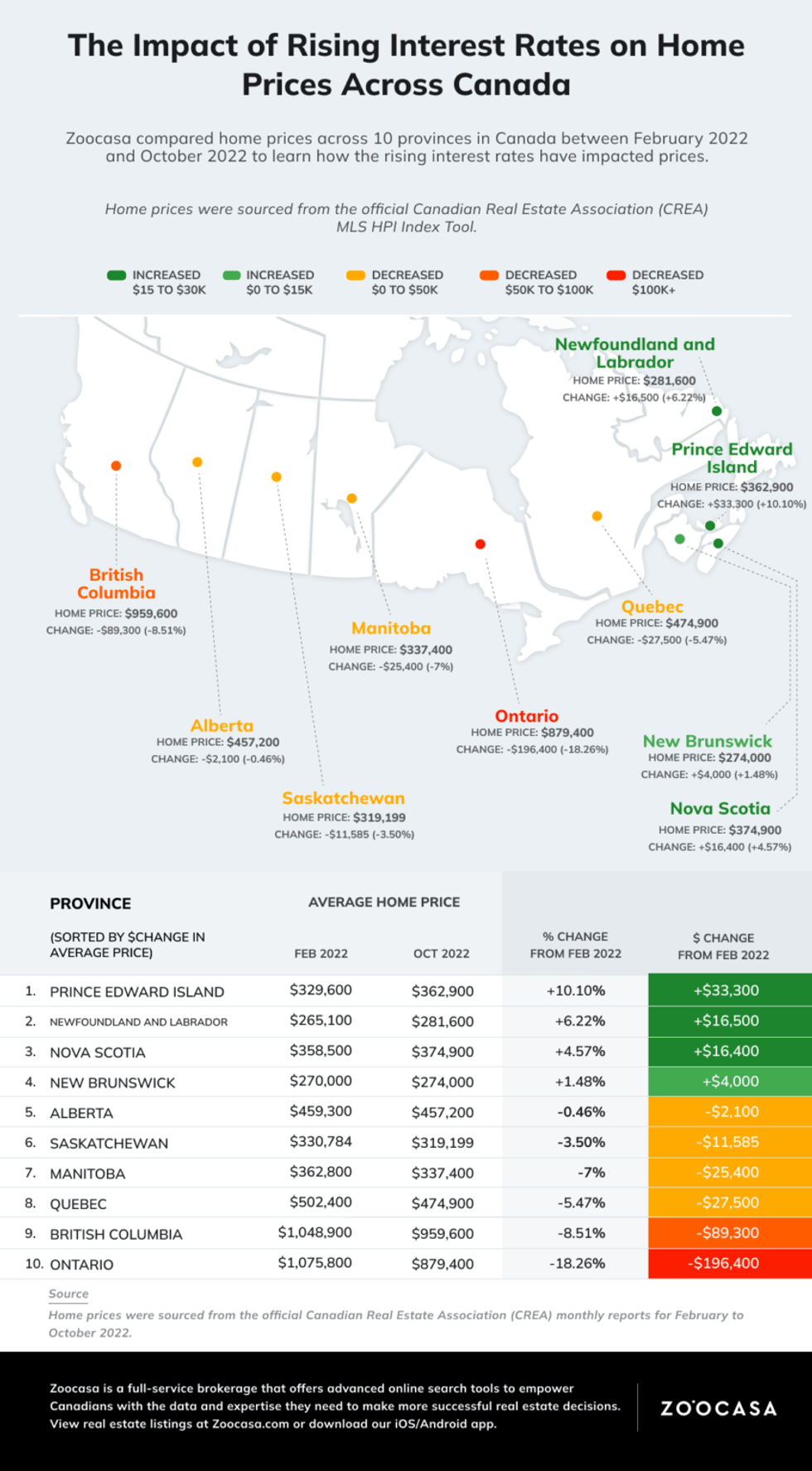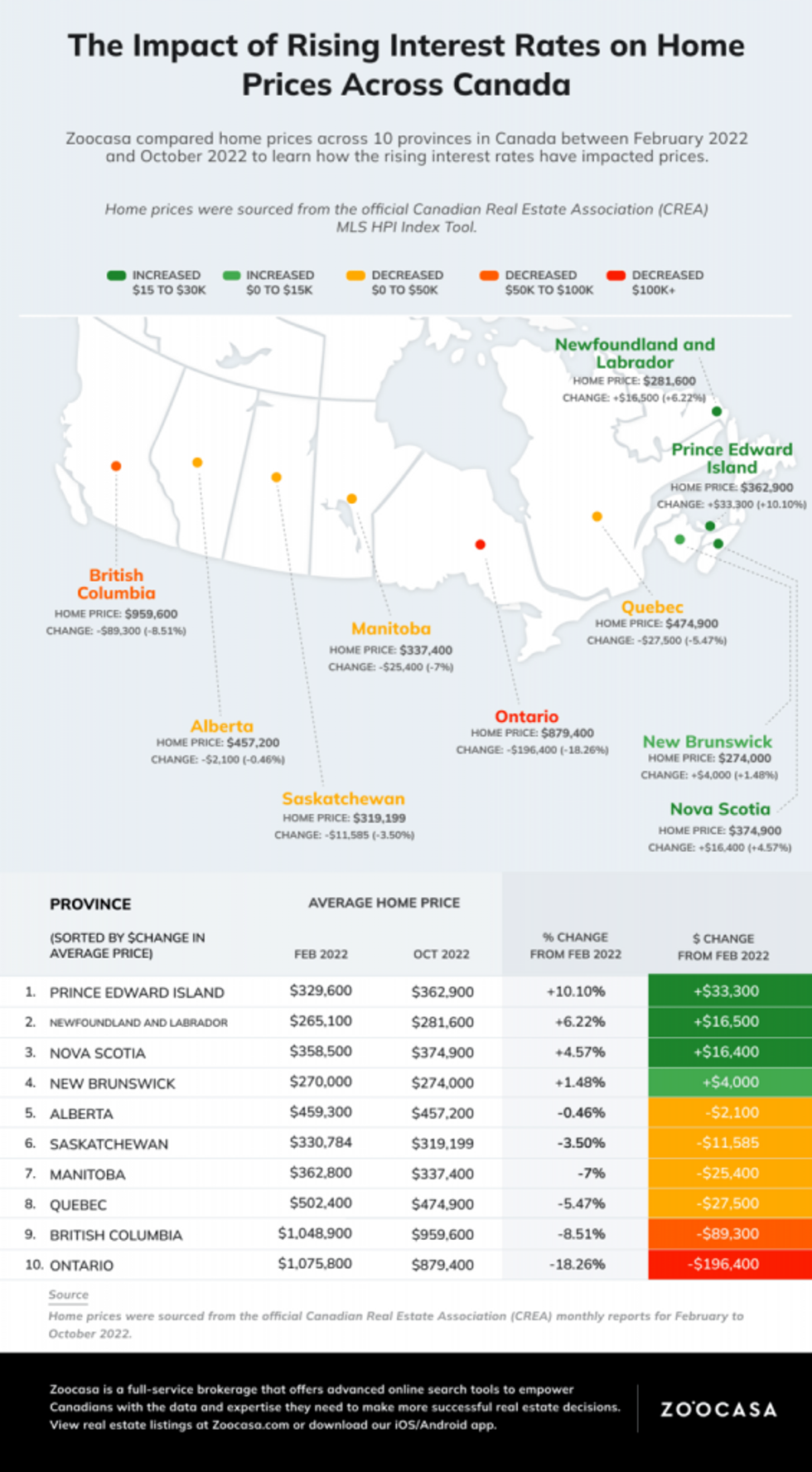 Amidst these losses, Atlantic Canada's home prices have been resilient, with Prince Edward Island, Newfoundland and Labrador, Nova Scotia, and New Brunswick's average prices having gone up from February to October. According to the report, this is likely a reflection of "the increasing demand for more affordable housing, as well as out-of-province buyers migrating to more affordable areas."
PEI has seen the biggest increase, with prices there up $33,300 since February — a 10.1% jump. Newfoundland and Labrador and Nova Scotia have seen an almost identical increase in the dollar amount of their homes, going up $16,500 and $16,400, respectively. New Brunswick has seen the smallest increase, with prices there up $4,000.
Looking at prices at a municipal level, Ontario has still seen the most significant losses, and is the only province with major markets that have had their average home prices drop by more than $200,000. The Greater Toronto Area, Hamilton-Burlington, and Kitchener-Waterloo are all down by more than $220,000.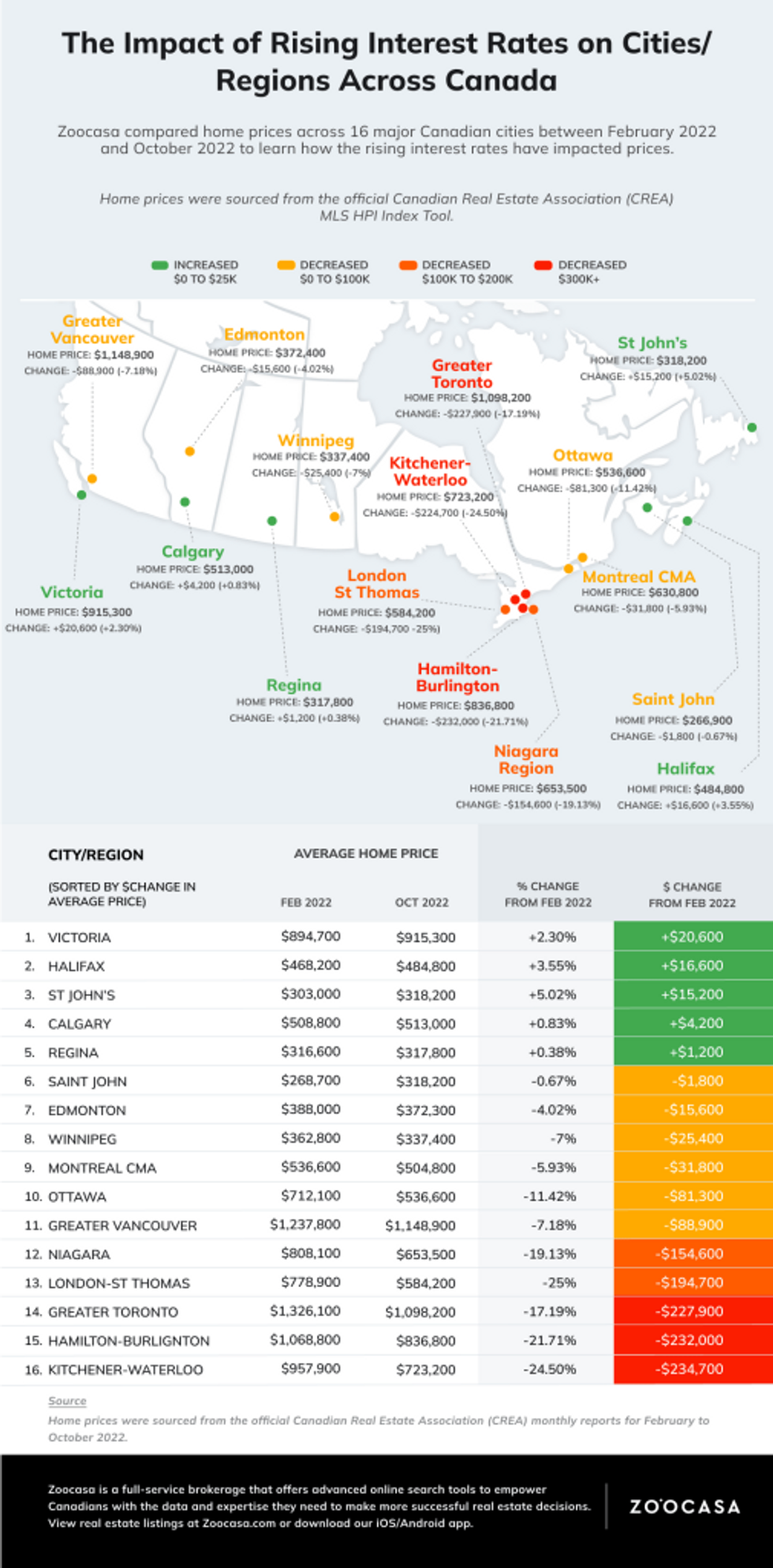 But when it comes to cities that have seen price growth, unlike the provinces, they're not exclusive to Atlantic Canada. In fact, Victoria, Calgary, and Regina have experienced price growth, with Victoria's average home price up a substantial $20,600.