Toronto has come a long way in the last two centuries.
From the Town of York to Drake's 6ix, a lot has changed in the city of neighbourhoods – which is why we think it's important to take a look every once in a while at what was, what is, and what will be. And there's no better way to do that than by looking at the buildings, architecture, and development that has helped shape Toronto into the world-class city it is today.
---
READ: Now and Then: Queen and Parliament, Southwest Corner
So let's get to it – Eastern Avenue and the Don River.
Past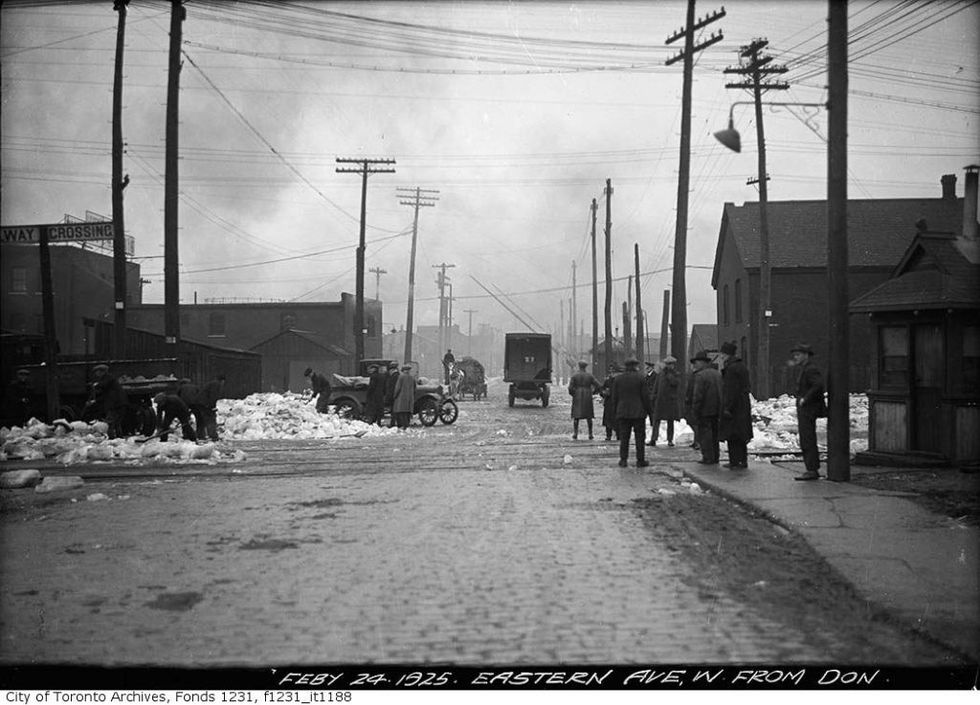 Eastern Avenue, west from the Don River, in February 1925. (City of Toronto Archives, Fonds 1231, Item 1188.)
A cold, grey February day from 95 years ago: Torontonians are shovelling snow and chatting with each other, probably complaining about the weather. Some of the smallest details are fascinating here — the uneven bricks in the road, the utility poles still shaped like gently curving tree trunks.
This is 1925, during a brief reprieve between the First World War (seven years prior) and the Great Depression (four years later). It does put our current predicament in perspective .
READ: Now and Then: King and Spadina, Northeast Corner
Toronto was making some gains during the 1920s: its population had reached half a million, and the Toronto Transportation Commission was created to move people around. Union Station was ceremoniously opened in 1927 — cutting the ribbon, Edward, the Prince of Wales, compared the structure's soaring halls to a cathedral . Today, Torontonians might quip that this cathedral is under constant construction.
Present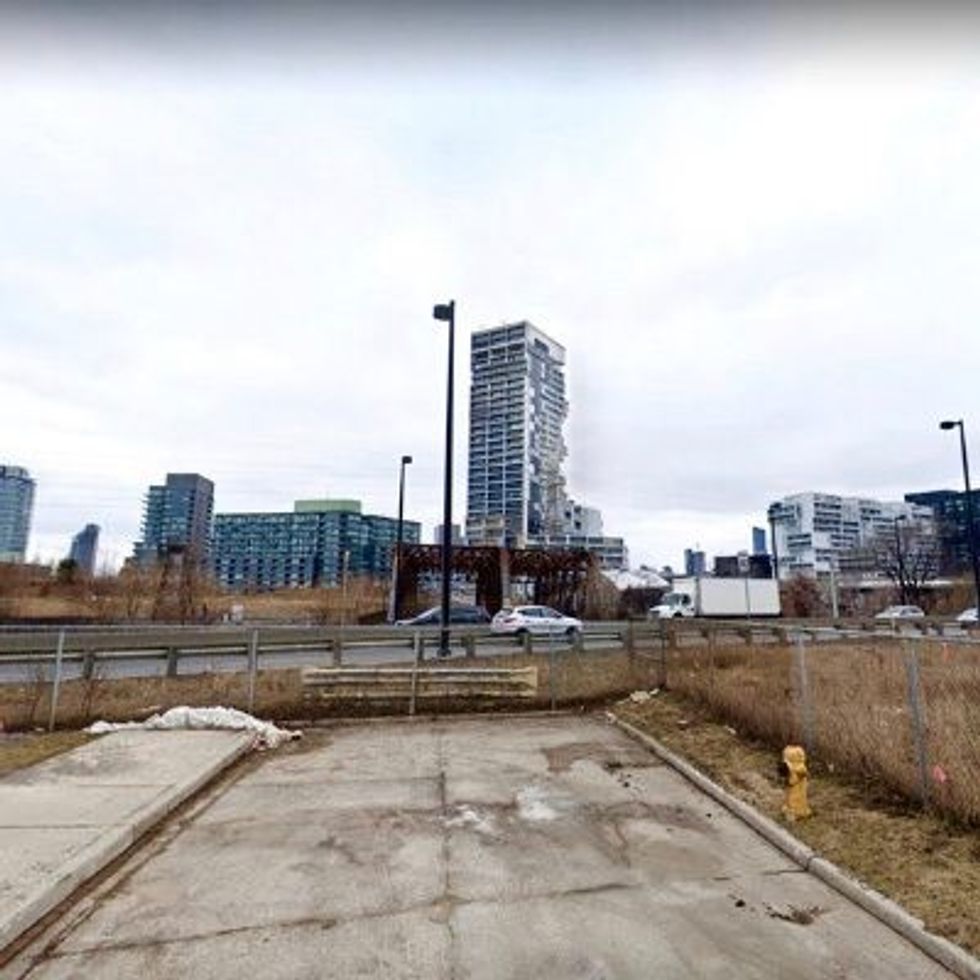 Present-day Sunlight Park Road, Google Maps 2018.
Here we are at the end of Sunlight Park Road in 2018. Beyond, the Don Valley Parkway moves traffic in and out of the city, the Don River runs below, and a rusted bridge spans over the water. Eastern Avenue used to cross the river here — now it runs north of this spot.
This is as far as Google Street View gets us before the Old Eastern Avenue Bridge , roughly where our 1925 image starts, west of the Don River. Although there's a brief gap in our perspective, we can see the beginning of West Don Lands in the distance.
Neighbouring the Distillery District, West Don Lands is a fascinating little pocket of recent development — a mixed-use, mixed-income utopia rising out of post-industrial ash.
READ: Now and Then: Spadina and Bremner, Southeast Corner
Dubbed "Toronto's next great neighbourhood" by Waterfront Toronto, the area features parks, public space, retail, student residences, affordable housing , townhomes and condominiums. From a series of derelict lots, all of this arrived in just 20 years.
Future
West Don Lands seems like a slower, gentler CityPlace — old industrial spaces evolving into vibrant communities, but without the sky-scraping mega-towers.
Currently in construction: Canary Commons, Canary Block Condos and Harris Square , all less than 15 storeys. Some denser projects are in pre-construction: Cherry Place (29 storeys, including affordable condos), Block 10 Indigenous Hub (mixed use, including condo and rental), and West Don Lands Block 8 (three towers, including affordable rental), among others.
As you tour through West Don Lands developments the words "mixed" and "affordable" show up a lot. It seems Toronto is trying to gentrify gently — revitalize the core , without hollowing out the community.
Community