Toronto has come a long way in the last two centuries.
From the Town of York to Drake's 6ix, a lot has changed in the city of neighbourhoods -- which is why we think it's important to take a look every once in a while at what was, what is, and what will be. And there's no better way to do that than by looking at the buildings, architecture, and development that has helped shape Toronto into the world-class city it is today.
---
So let's get to the centre of things -- King and Spadina.
Past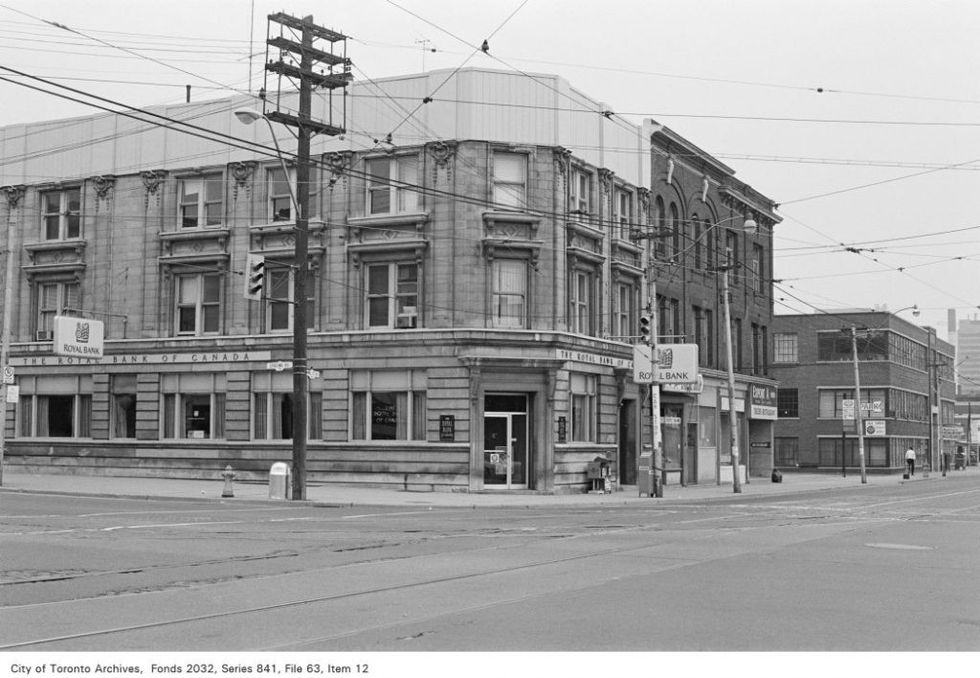 The northeast corner of Spadina Avenue and King Street West in 1972. (City of Toronto Archives, Fonds 2032, Series 841, File 63, Item 12.)
It's 1972: Pierre Trudeau is Prime Minister, Canada is about to ban cigarette ads in film and TV, and David Crombie will become mayor of Toronto. Baby boomers are entering adulthood and bringing Gen X children into the world.
And apparently this is what King and Spadina looked like.
Low density stretching far back into the horizon, the northeast corner hosted a stalwart bank with hardly a pedestrian in sight. It's barely recognizable as Toronto, save for the trademark crisscross of streetcar tracks and wires. Known as the Garment District, the area was home to textile factories and warehouses early in the 20th century.
Just a decade before this photograph was taken — and roughly 5 minutes to the east — Ed Mirvish had saved the Royal Alexandra Theatre from demolition, arguably launching the entertainment and cultural renaissance of the King West strip.
Present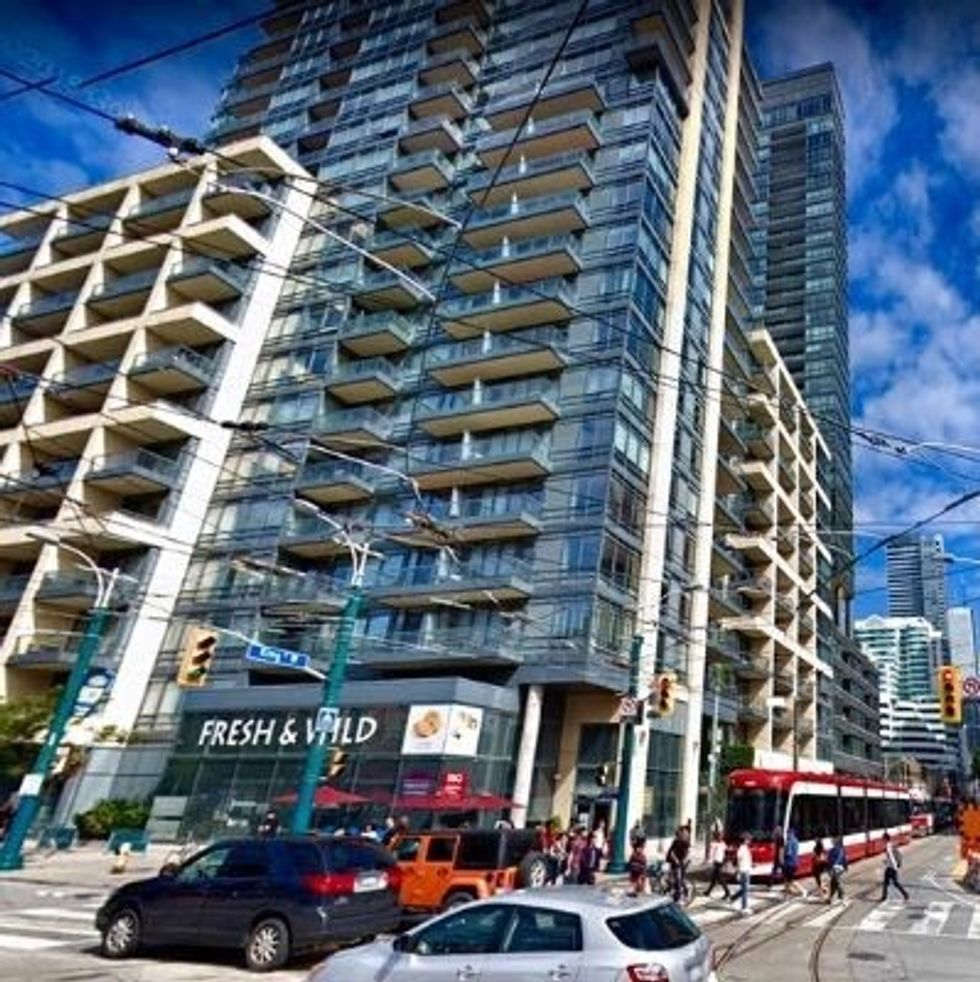 Google Maps/2018
High-rise condos, retail, billboards, transit, traffic and pedestrian crowds — this 2018 street view shows a bustling border between the Fashion and Entertainment Districts.
The development on this corner, Hudson Condos, was designed by Diamond Schmitt Architects and brought to market by Great Gulf in 2008. The RBC branch is still here, just nudged a bit further east within the block, as gourmet grocer Fresh & Wild holds the corner.
According to a pre-construction Globe and Mail feature, Hudson units were starting at $177,900 — a scandalous figure for today's buyers. Now, nearby units launch at $600,000 and rocket upward from there. Rentals within the Hudson hover between $2,500 and $3,500 monthly.
Future
The closest upcoming development is a rental project: The Taylor.
Just south of this corner — at 57 Spadina — developer Tricon House is bringing a 36-storey luxury rental tower, with office and retail, to the rapidly densifying district. Currently under construction, The Taylor is scheduled for completion in spring of next year.
The same architects are back for this build: Diamond Schmitt Architects designed The Taylor with Graziani + Corazza Architects, the latter crafting interiors as well. The development brings 286 rental units to a tight market, though this luxury supply is unlikely to ease affordability demand.
And beyond that? Four Eleven King Condos, promising more than 400 condo units just east of King and Spadina, is still in pre-construction. Pricing and other details to come, but expect another 40-plus storeys to hit the skyline soon.
Community