Toronto
Future Developments
New Quayside Details Reveal Cutting-Edge Green Tech, Affordable Housing
Back in February, Waterfront Toronto — the government body that oversees the revitalization of Toronto's shoreline — selected Dream Unlimited and Great Gulf as the lead developers to create the Quayside community, located on a 12-acre lakeside plot at the foot of Parliament Street and Lakeshore Blvd. East.
The two-developer team beat out four others with their proposal for what would be the largest all-electric, zero-carbon community of its scale, at 3.4M sq. ft. Based around five towers (including one of Canada's tallest residential mass timber buildings), it was announced the community would also include 800-plus affordable housing units (from studios to four-bedrooms), an urban farm, and two acres of forested green space.

It would also pay homage to the Indigenous significance of the site, with performing arts, cultural celebration, and education spaces.
New Development to Use Geothermal Tech
Now, new details are available from the team — which, including Adjaye Associates, Alison Brooks Architects and Henning Larsen as lead architects, is collectively dubbed Quayside Impact — on what exactly these sustainability features will entail, and how the mixed-use development will blend into the city's Portlands.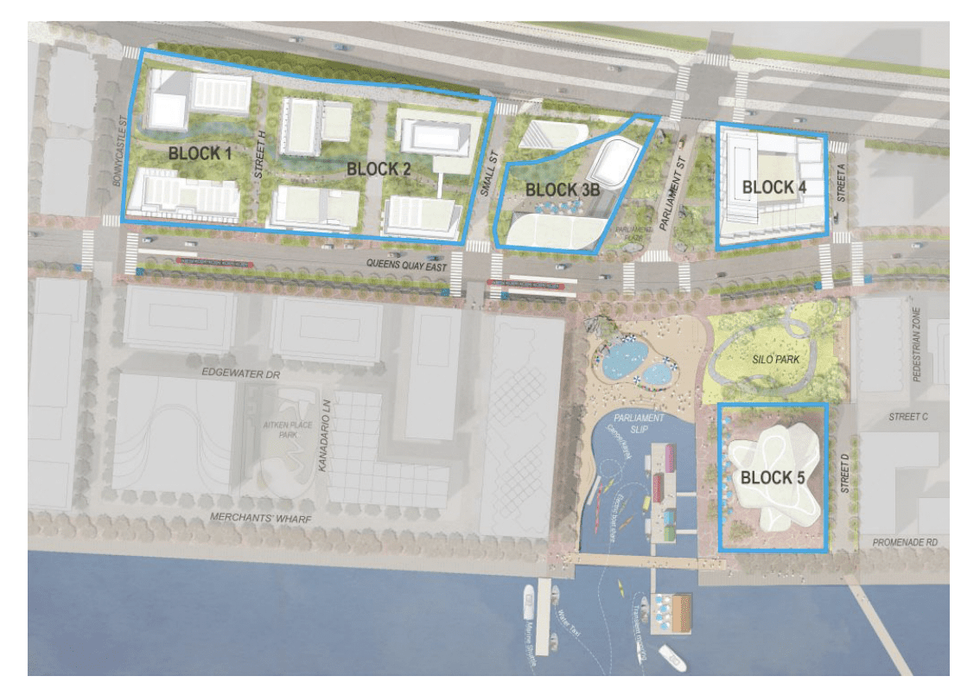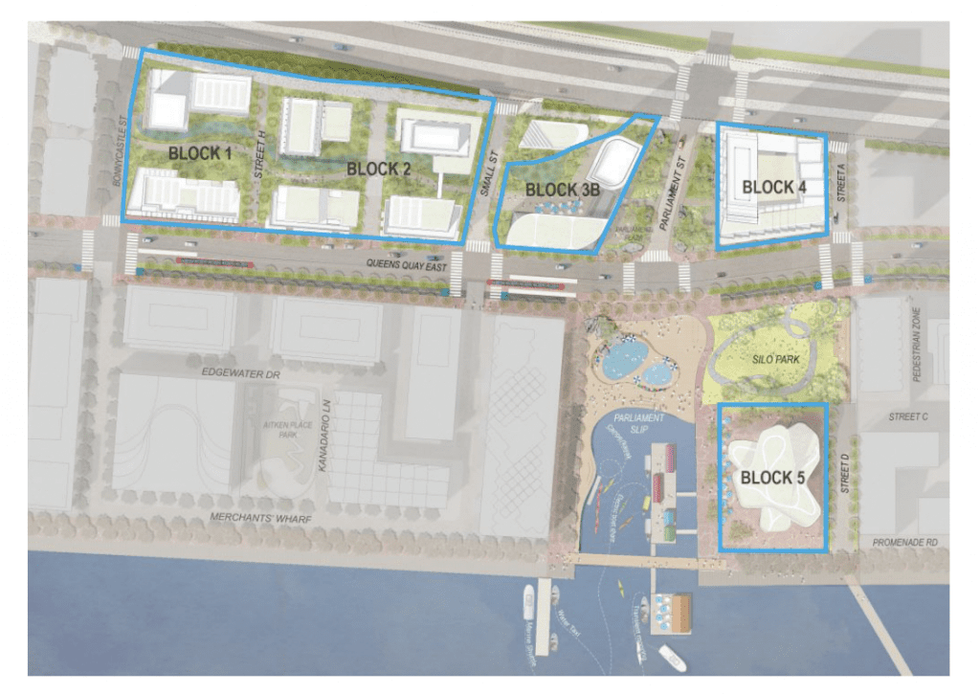 Simon Bredin of Waterfront Toronto, tells STOREYS that Quayside is the "cornerstone" in Waterfront Toronto's vision for the waterfront, and will connect communities to the north and west, as well as the future Villiers Island to the south.
"A key part of our mandate at Waterfront Toronto is to develop sustainable, complete communities and minimize the climate impacts of development. Historically we've pushed the envelope through our Green Building Requirements, and the latest version of these requirements that apply to Quayside include expanded infrastructure for electric vehicle charging and other improvements," he says.
READ: New Cherry Street Redevelopment Plan Could Include an Urban Marsh
"In this case, the Quayside Impact team has gone above and beyond these baseline requirements, to deliver an innovative proposal for Quayside that exceeded our expectations and make it the largest zero-carbon development in Canada. That means going beyond the buildings themselves, and considering all aspects of this future community, from transit to streetscapes to the power grid."
These features will include:
No fossil fuels for heating: Each building will have sufficient geothermal wells to cover all the heating and cooling energy.
Renewable Energy Generation: Energy-generating photo-voltaic solar panels will be built into the south facades of the towers and mounted on rooftops to generate electricity for local use, lowering operating costs and carbon emissions. This will be Canada's largest building-integrated photovoltaic (BIPV) solar project.
High Performing Building Façade: Building skins created from panelized, airtight walls, high performing triple glazed windows and thermally broken balconies. These are all technologies that are available locally and that reduce heat loss and improve thermal comfort.
Geoexchange/Ground Source Heat Pump Thermal (geothermal) System: This is an all-electric heating and cooling plant that uses the bedrock below the building to store and supply thermal energy for the building (both heating and cooling). These systems reduce energy consumption for heating and cooling by two-thirds and carbon emissions by 90% compared to a typical Toronto building.
Battery energy storage for backup/peak shifting: Battery energy storage can provide carbon free backup for short term electricity loss. Batteries can also be used to store excess PV energy, and/or shift electricity drawn from the grid to night when carbon emissions are lowest. This will reduce operational carbon as well as electricity cost for residents.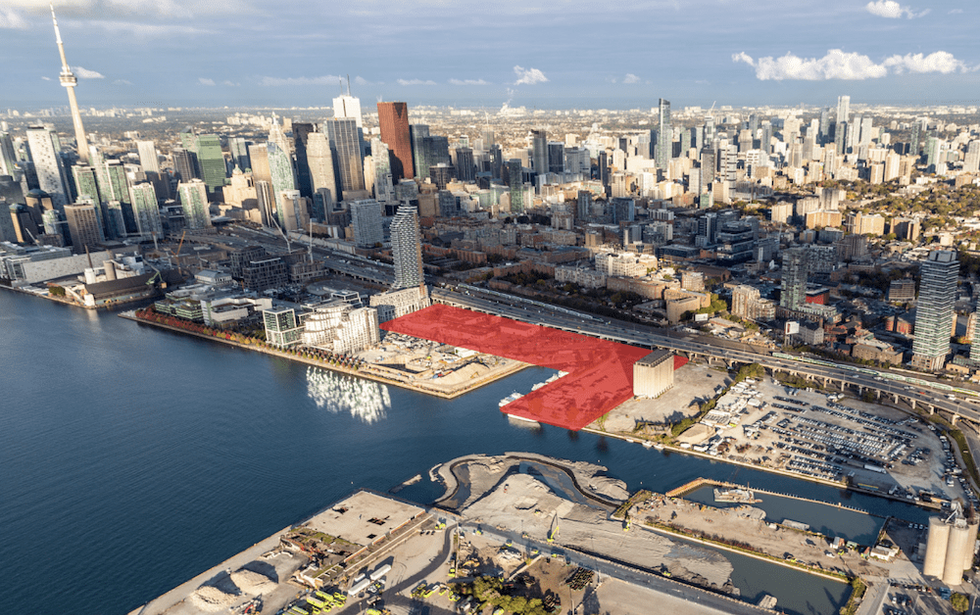 Bringing Affordable Housing to the Forefront
An integral part of the Quayside mandate is that it will be a mixed-income neighbourhood, offering a range of housing options and amenities for individuals and families of all backgrounds and income.
Bredin says that these affordable units will be built in the earliest stages of the development, alongside market-rate units.
"We need affordable housing now and this project will deliver on it quickly," he says.
"Providing affordable housing within a dynamic mixed-income and mixed-use neighbourhood like Quayside ensures housing options for individuals and families, as well as access to vital community-based amenities and services that contribute to its affordability, attractiveness and livability. Communities like the West Don Lands and Regent Park are notable examples of this approach."
The Quayside site was previously to be developed by Sidewalk Labs, a unit of Google Inc. and parent Alphabet Inc., in partnership with Waterfront Toronto. The previous proposal drew considerable controversy over the tech company's plan to collect the personal data of residents in order to establish a "smart city." Sidewalk officially pulled out of the project in May of 2020, citing unprecedented economic uncertainty as a result of the pandemic.