---
As Canadians continue to grapple with a lack of supply, new housing starts of apartments, condos, and other types of multi-unit housing types picked back up in May, rising 3.2% from April.
Canada Mortgage and Housing Corporation (CMHC) said the trend in housing starts (which is a six-month moving average of the monthly seasonally adjusted annual rates (SAAR) of housing starts) hit 280,779 units in May, up from the 278,462 units in April.
During this period, the standalone monthly SAAR for all areas in Canada climbed to 275,916 units last month, up 3.2% from the 267,449 units recorded in the month prior.
"The national trend in housing starts remained elevated in May, registering a slight increase from April," said Bob Dugan, CMHC's chief economist.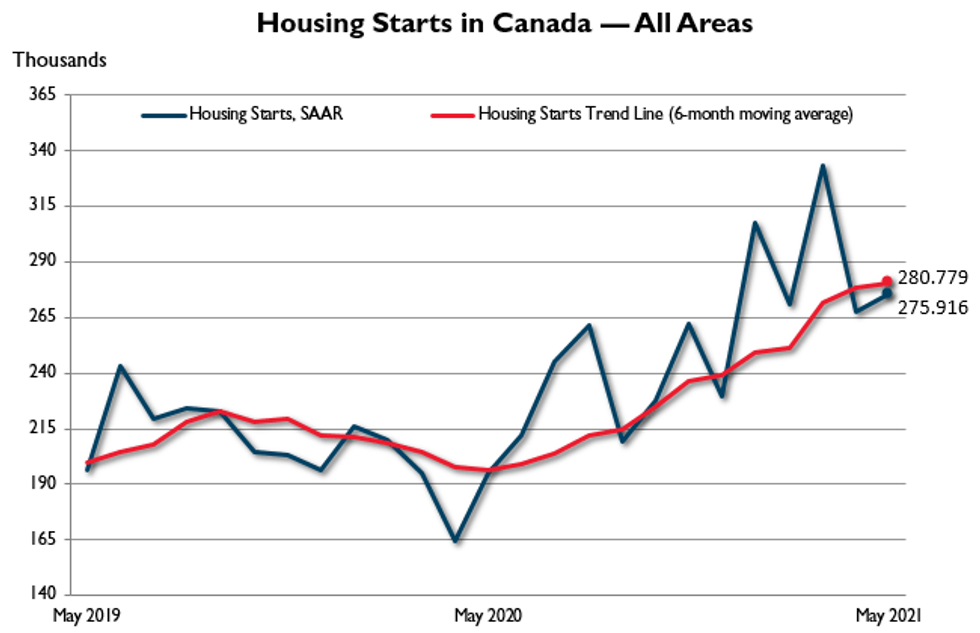 CMHC May 2021
"In May, higher multi-family SAAR starts offset lower single-detached starts in Canada's urban areas, contributing to the increase in the National trend. However, Toronto, Vancouver and Montreal starts trended lower in May, as these markets continued to moderate from the historical highs recorded in the first quarter of the year," said Dugan.
READ: Is Housing Finally Taking a Back Seat? National Data Continues to Show Signs of Moderation
Last month, the annual pace of urban starts rose 1.8% to 254,647, while multiple urban starts increased by 10.9% to 190,530 units and single-detached urban starts decreased by 18% to 64,117 units.
CMHC says rural starts were estimated at a seasonally adjusted annual rate of 21,269 units during this period.
According to CMHC, Ontario recorded the highest number of new housing starts in the country, with 7,946 units started -- a 62% year-over-year increase. In addition, while single-detached homes accounted for 2,507 units (up 52% year-over-year), all other housing starts accounted for 5,439 units -- a 67% increase from a year prior.
Here in Toronto, the city had 2,656 new projects start in May, a 4% increase year-over-year. Single-detached homes accounted for 599 units, up 13% year-over-year, while all other housing types accounted for 2,057 units, a slight 1% increase from a year prior.
Homes