New home prices were stagnant in October, but high interest rates have dragged the measure down over the last year.

Nationally, the New Housing Price Index was unchanged on a monthly basis in October, with local builders reporting weak market conditions in several Census Metropolitan Areas (CMA), according to Statistics Canada.
---
Prices slid slightly in seven CMAs, with the greatest declines — of 0.4% — recorded in Hamilton, Sherbrooke, and Kelowna. For the latter two, October marked the second consecutive month of decline. Meanwhile, five CMAs reported monthly price increases, led by Québec's 0.3%. Edmonton and Kitchener–Cambridge–Waterloo each registered a 0.2% rise.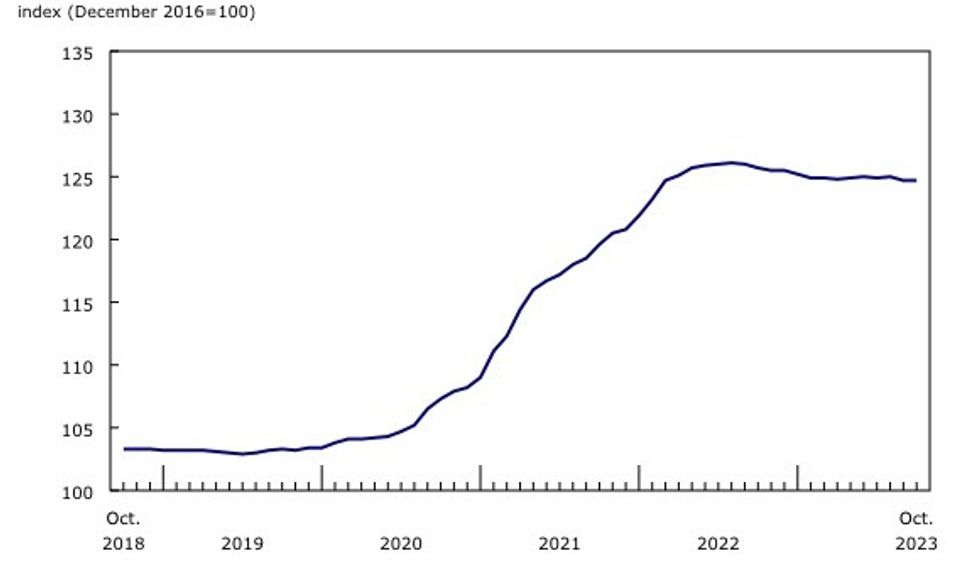 New Housing Price Index/Statistics Canada
On an annual basis, new home prices fell 0.8% nationally in October, following a 1% drop in September and a 0.9% decline in August, as high interest rates weighed on the market.
Of the 27 CMAs included on the index, 18 reported annual price declines in October. Ottawa saw the largest drop, at 4.4%, followed by Victoria (3.4%), Saskatoon (3.3%), and Edmonton (3.0%). Prices rose 3.4% in Québec, 2.6% in Calgary, and 1.2% in St. John's year over year.
Builders continue to be "pessimistic" about current and future selling conditions, which will result in significantly less housing supply in the coming quarters. According to the Canadian Home Builders' Association's latest Housing Market Index, confidence in the single-family sector dropped to 33.9 out of 100 in Q3 2023, while confidence in the multi-family component fell to 33.6.
There is a "well-established link" between the Bank of Canada's interest rate decisions and builder sentiment — in Q1 2022, before rate hikes began, the measure sat at a high of 89.
"The latest HMI readings for the third quarter reflect the impact on current and future selling conditions from further interest rate increases in June and July," the CHBA said.
"The ability for builders to increase their starts over the near term continues to erode, which will be reflected in housing starts in the months ahead. A smaller pool of qualified buyers reduces the sales of a builder's existing inventory and makes any new builds much more challenging. This directly reduces both builders' incentive and capacity to build."
According to data from the Canada Mortgage and Housing Corporation, the national supply of unabsorbed single-family homes — including single-detached, semi-detached, and row houses — was up 48.5% year over year in October.
"Put simply, high borrowing costs for both homebuyers and builders is incompatible with making continued and sustained progress towards the government's target of building 5.8 million new homes, and requires a concerted effort for new housing policies across all levels of government," the CHBA said.
Real Estate News