If one thing's for certain, July was a scorcher in the Greater Toronto Area (GTA), and no, we're not just referring to the weather. The new home market also experienced the strongest July for new home sales since 2007, as a total of 3,544 new properties were sold, according to data released by the Building Industry and Land Development Association (BILD).
According to market intelligence sourced from Altus Group, BILD's official data partner, new homes sold in July were up 36% from the same time last year and 40% above the 10-year average.
---
New single-family homes continued to make strong sales gains in the GTA, with 1,553 properties sold last month. This marks a whopping 187% increase in new single-family home sales — including detached, linked, and semi-detached houses and townhouses — compared to the same month last year.
Compared to the 10-year-average, new single-family home sales were up 78% last month, marking the highest July since 2009.
READ: National Home Sales in July Post Highest Level of Any Month in History
Sales of new condominium apartments — including units in low, medium and high-rise buildings, stacked townhouses, and loft units — also picked up in July after three months of slower activity. With 1,991 units sold, condominium apartment sales were 4% below July 2019 but 19% above the 10-year average.
"Following the opening of several projects delayed by the pandemic, condominium apartment sales improved substantially in July, with newly opened projects experiencing very strong absorption," said Matthew Boukall, Altus Group's Vice President, Data Solutions. "This increased activity suggests that there is pent-up demand for new inventory of both single-family and condominium apartment product, and we expect developers to bring more projects forward through the fall period."
What's more, the benchmark price for new condo apartments sold in July was $993,811, up 18.5% over the last 12 months, while the benchmark price for new single-family homes was $1,182,199, up 8.3% over the last 12 months.
The majority of sales reported in July took place in York, Toronto, and Peel regions — 855, 783, and 809 sales for condo apartment and single-family housing types occurred in each municipality.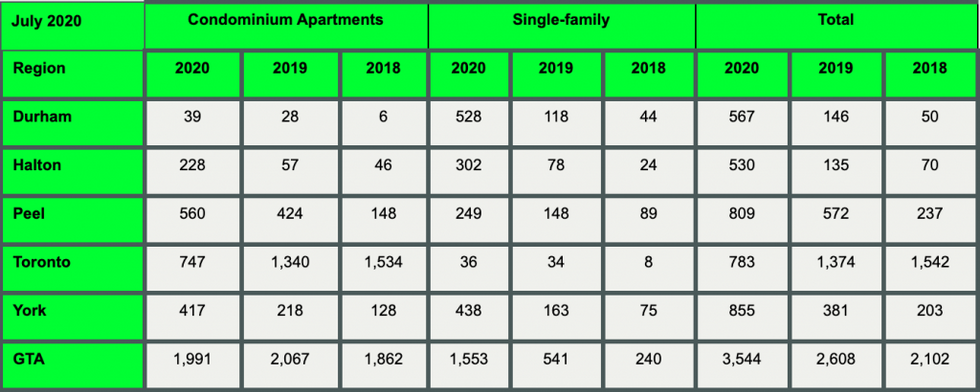 BILD July 2020
What's more, the total new home remaining inventory -- which includes units in preconstruction projects, in projects currently under construction, and in completed buildings --  in July was 13,828 units.
"The strong demand for new homes we saw in July is heartening but not surprising," said David Wilkes, BILD President & CEO.
"Even as our region makes its way through recovery, it continues to be a very desirable place to live and work. The provincial government, with its Housing Supply Action Plan, has put in place a number of changes to help address our generational housing supply shortage."
Wilkes says it's now time for municipalities to work with the industry to "implement these changes for the benefit of the families who want to call GTA home and as a much-needed boost for our economy."
Toronto Condos & Homes