Since the '80s, Queen Street West has been known for its unique mix of local shops, culture, and restaurants. However, a proposed development project that's slated for the southwest corner of Queen and Peter could bring some changes to the popular downtown street.
The project, which is being led by Allied Properties REIT and architects Sweeny & Co., could see a seven-storey mixed-use office building take over the space at 375 Queen Street West.
---
Currently, one of Toronto's last remaining Gap stores is renting the space, however, it's one of the many Canadian locations that are closing their doors for good this year. In fact, right now nearly everything in the Queen Street store is at least 50% off.
Read More: A Wellness Centre, Social Lounge, And Rec Room: Inside Pharrell's Untitled Condo Project
If approved, the proposed project would see a seven-storey mixed-use office building take over the property at 375 Queen Street West and span the heritage buildings, which were built in 1898, up to 381 Queen Street West.
The project proposal includes 21,541 sq.ft of office space, 11,083 sq.ft of retail at ground level, and 24 surface parking spaces.
When completed, the project would function as Phase 2 of the completed, award-winning 16-storey Queen Richmond Centre West (QRC), which is housed just south of the Gap at 134 Peter Street and 364 Richmond Street West.
Phase 1 of the project was completed in 2015 and is an integration of two existing historic buildings with a new high-performance office building and the creation of a stunning 75-foot high public atrium.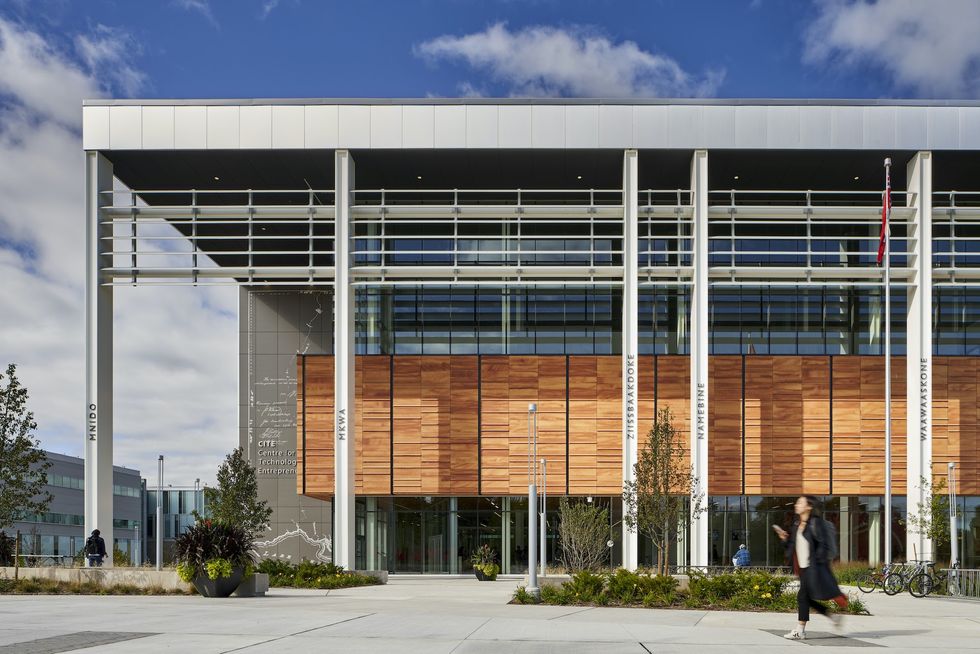 Queen Richmond Centre West/Sweeny & Co.
The two phases are proposed to be connected by a building over Jack Cooper Lane, on the second floor. The proposal also seeks to span over a portion of the u-shaped lane to the west above the second floor.
The initial proposal for the project was first submitted back in 2011, but it was rejected in 2o13 for not complying with the Ontario Heritage Act. However, according to city documents, new plans for the project were submitted in August 2019 and are still pending approval.
Community