---
Transit-Oriented Communities, also referred to as a TOCs, has been at the forefront of development discussions in recent years, with governments at all levels pushing for more high-density housing built near transit hubs. Now, the Ontario government is finally seeing its first TOC move forward into the implementation phase, with developer Vandyk Properties submitting its site plan application to the City of Toronto for part of its expansive Mimico development.
Dubbed Grand Central Mimico, the project includes over 2,000 new residential units spread over 55 acres and across nine towers, as well as a new Mimico GO station building. The newly filed application pertains to two of Grand Central Mimico's three development sites: 327 Royal York Road and 39 Newcastle Street, both of which lie on the northern side of the GO train tracks and encompass the Mimico GO station lands.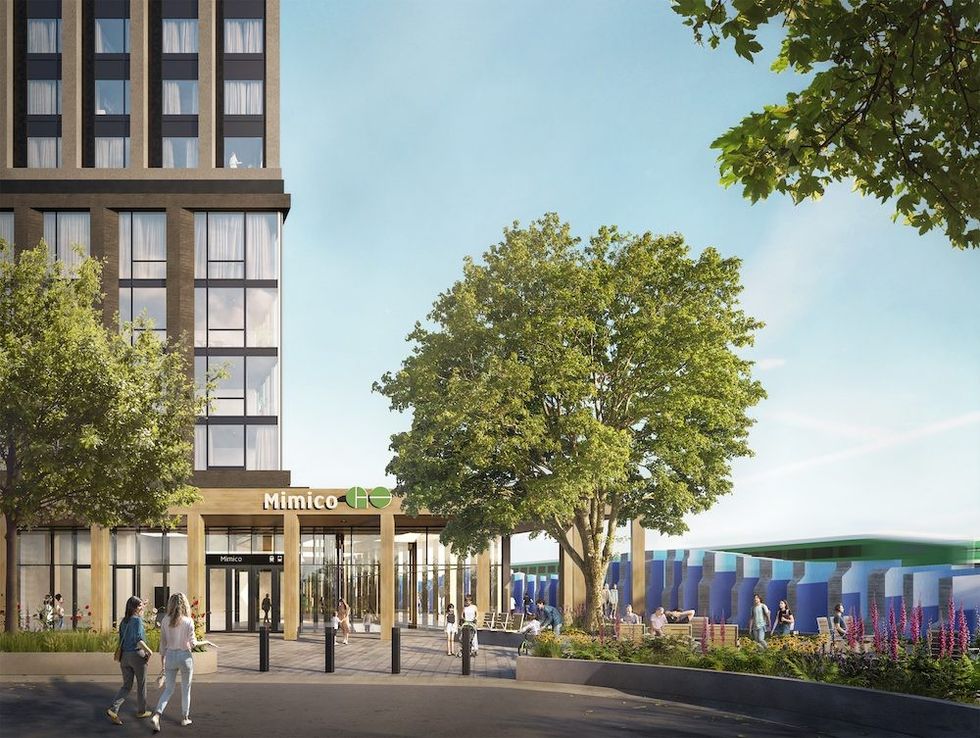 Vandyk Properties
Vandyk Properties and Mextrolinx collaborated on the transit portion of the project, working together on the design and infrastructure requirements for a new station. Plans now call for a new main station building with two station access points, 300 underground parking spaces, 96 bicycle parking spaces, an integrated transit plaza with pick-up and drop-off facilities, a retail plaza, and a greenway path for pedestrians and cyclists to access the station.
READ: Re-Cycle? Revised Annex Proposal Swaps Parking Spots for Best-in-Class Bike Facilities
Two of the towers, located at 327 Royal York, will have an integrated tunnel entrance to the Mimico GO station, while the station itself will be located at 39 Newcastle, alongside four towers.
"Submitting the Site Plan Application for the station lands of Grand Central Mimico is a major achievement for everyone involved, and all those who will benefit from this long awaited critical transit infrastructure investment being made in Mimico," said Sherman Chan, Managing Director of Vandyk Properties.
Chan notes that this will be the first station in Toronto to "achieve true direct connectivity and universal accessibility between the GO station, residential, commercial, and community spaces," and hopes it will become a live-work-play hub.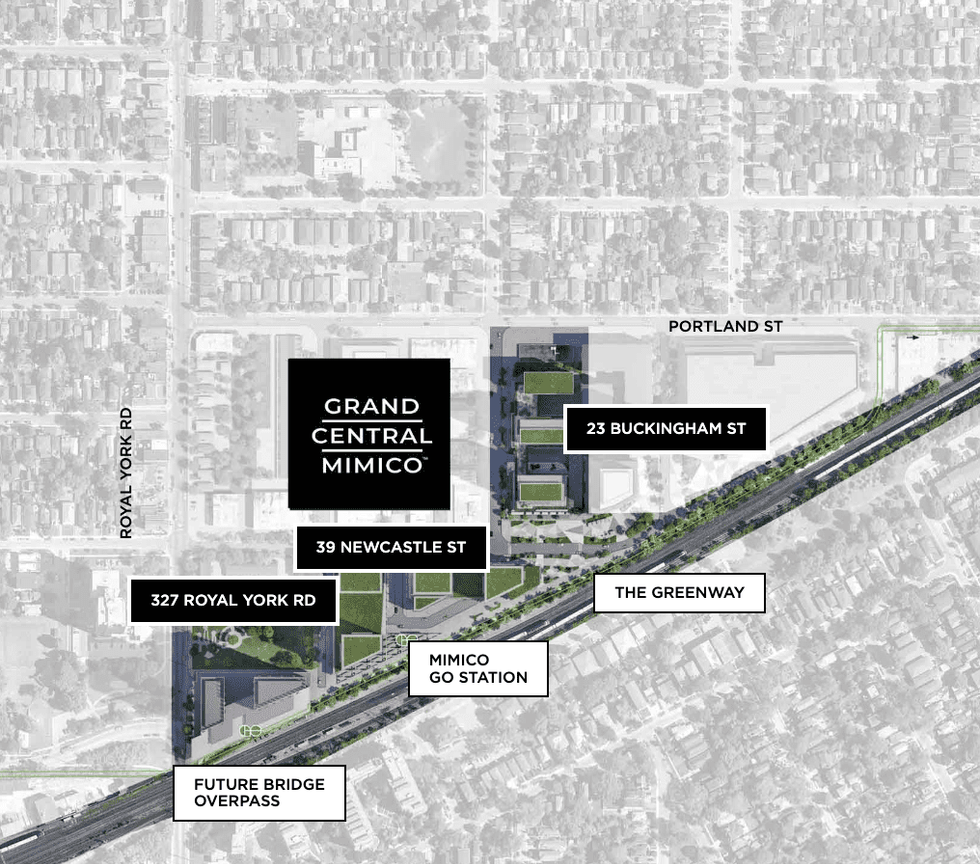 Vandyk Properties
As for the live component, the housing will be a mix of market ownership, market rentals, and affordable rentals, Vandyk says, with every affordable rental set to be enrolled in the Rick Hansen Certification Program, which focuses on removing barriers for people with disabilities.
With a number of the buildings being mixed-use, there will also be 200,000 sq. ft of workspaces, shopping, dining, grocery, and markets, all within a few minutes' walk of residents.
The development will also include 20,000 sq. ft of green roofs, electric vehicle parking stations, and permeable pavers, all intended to minimize the project's carbon footprint.
The demand from buyers in the area is clearly there, with The Buckingham, a three-tower mixed-use portion of the development located at 23 Buckingham Street, having already sold out. Plans for The Buckingham were filed with the City of Toronto back in 2021, before the TOC agreement with Metrolinx was signed.
Transportation