---
As we carry on along a year-plus-long ride of emotions and uncertainty, it's been well-established that the GTA could use a strong dose of joie de vivre -- these days more than ever.
And alongside that truth, it's also been established that Menkes is set to deliver what could be called "the return of fun." At least when it comes to post-pandemic living in the GTA.
Coming to the South Vaughan Metropolitan Centre via the multidisciplinary real estate development company and their partner-in-creation, QuadReal, a condo project called Festival is set to take the area by (joyful) storm.
Named Canada's top-selling project in 2020, Festival's first release of pre-construction suites sold out in mere weeks.
READ: The Return of Fun: Vaughan Condo Project Promises an Ongoing Festival
(Like we said: everyone is on the hunt for fun.)
And now, as the developer prepares to release its second phase of suite availability, dubbed GRAND FESTIVAL, even more to-be homeowners will soon be saying "next stop, Vaughan." Or, more specifically, next stop South VMC.
The South VMC is, indeed, in full bloom, with residential and commercial towers swiftly rising in the city's future central business district. The cherry on top of the neighbourhood's proverbial pastry is QuadReal's 80-acre master-planned South VMC community, the promenade of which will be home to curated retail, restaurants, green space, and more.
And amongst this lively space, Festival -- a series of four towers, two of which will be the tallest in South VMC upon completion -- are set to rise. And thanks to fresh designs from Cecconi Simone, which works synergistically with architecture and landscaping by IBI Group, the appeal of this project's surroundings will be baked into the residential builds themselves.
Where this infusion starts, Anna Simone of Cecconi Simone explains, is the entryway of each build.
"We've gone through several transitions with lobbies," Simone begins.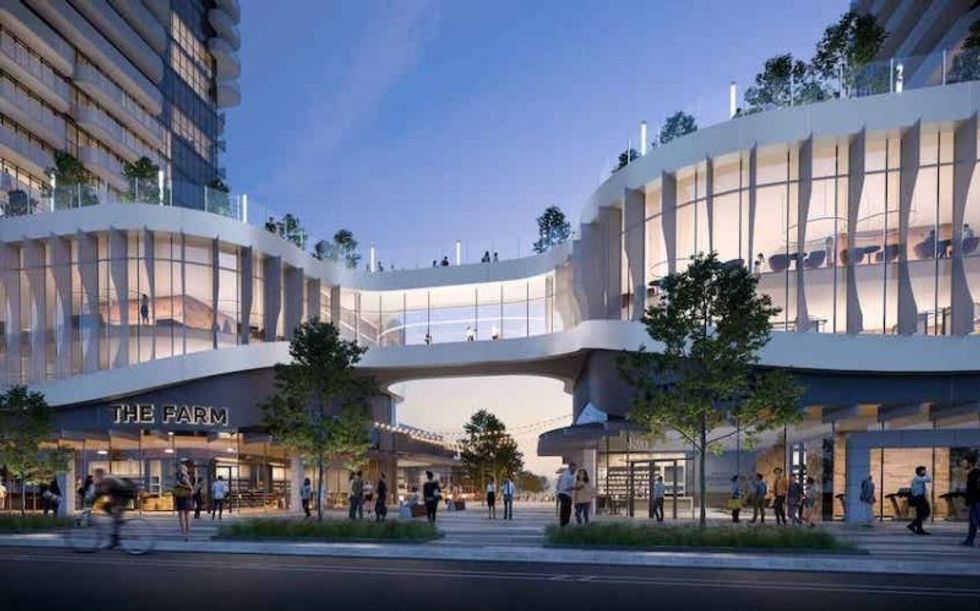 She speaks to "New York" lobbies, which are "beautifully designed" while physically smaller, presenting only the essentials. The next concept she describes gained popularity in the late '90s and early 2000s, when "big, grand" lobby spaces served as pass-throughs for guests and couriers.
More recently, lobbies began enmeshing with building amenities. There were places to sit, socialize, maybe even grab a coffee; this is the type of lobby space Cecconi Simone has frequently worked with, but Simone says Festival presented an opportunity to take the concept to new heights.
"The exterior really informs the interior [at Festival Hall, the project's lobby]," she explains. "[On site,] one wants to be on the exterior looking in, or on the interior looking out, but still feel very much connected."
Simone describes Festival's "village"-like feeling, which surrounds its four towers, as being brought into the residential builds. Finishes, details, and visual experiences that would be found outside enter the Festival builds with an individual, maintaining a sense of continuity throughout.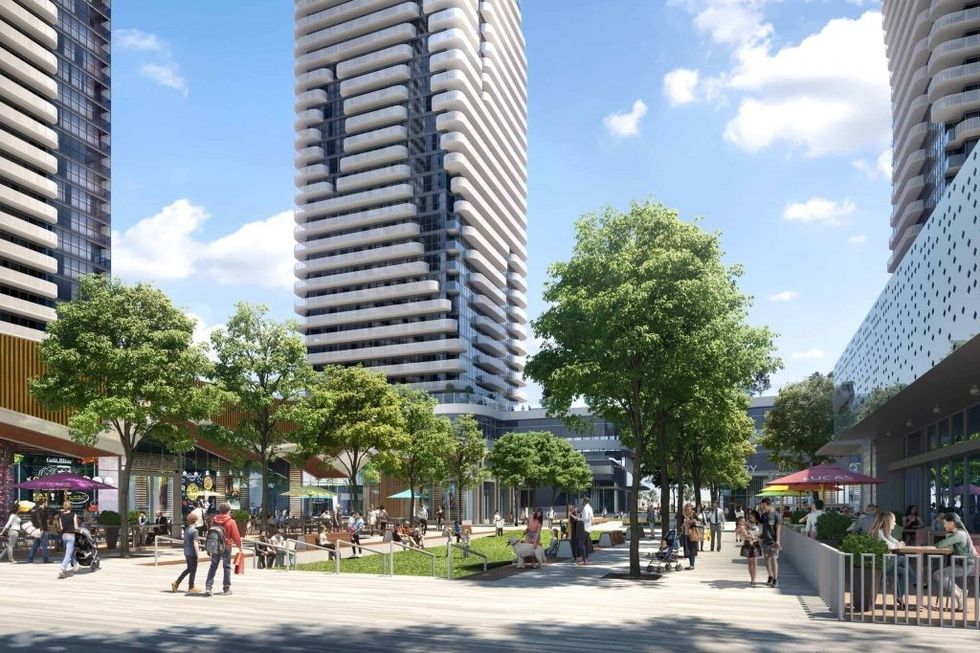 Pathways, akin to city-centre sidewalks, will lead Festival-dwellers through their building's common spaces, taking them from a spot to grab coffee to a place to sit and read, and then to an area for socialization. These elements, Simone explains, are ones that would typically be found in a streetscape, and at Festival are brought right into the lobby area.
"The interiors, the architect, the landscape; we all had a common goal," Simone says, when explaining how the team was able to deliver on playfulness alongside sophistication, while maintaining a sense of community.
"So at the end of the day, you have three disciplines working very closely together to ensure the experience is never lost. No one worked in isolation, but in collaboration."
The result of this shared effort is that aforementioned continuity. This sense of fluidity, Simone says, brings forth something we all could benefit from: peace of mind.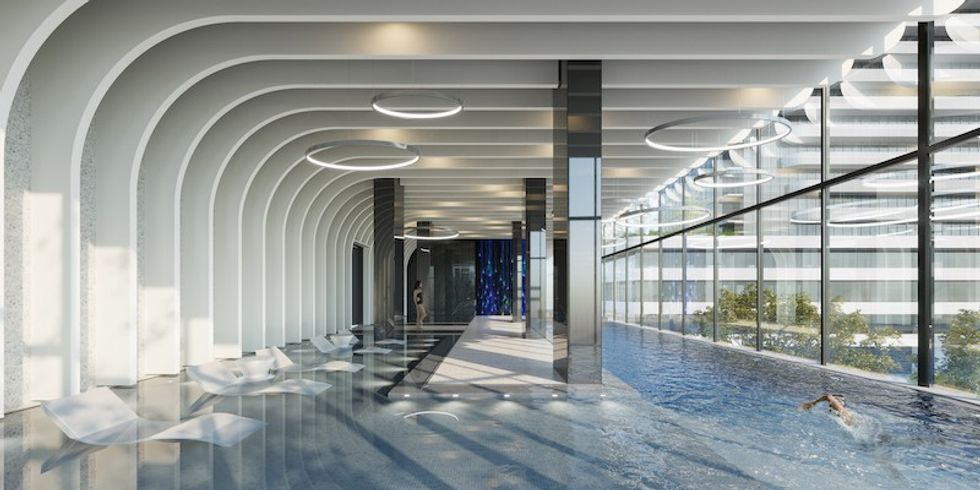 "The critical part is that -- from the minute you see the streetscape -- when you walk [into a residential build,] there isn't disappointment; that there is a common thread, whether it's through finishes, through the details, or a combination of both, that takes you not only through your lobbies, your common areas, but also into your suite," she says.
"The level of the selection of finishes and details have been carried through from the public areas through to the private areas, so there is a connectivity on all fronts."
Simone says that as a result, "the mind isn't jarred at every moment."
This experience might be called harmony, and it's one of the five principles of design that Cecconi Simone prioritizes in all its works: that's harmony, alongside rhythm, scale, proportion, and balance.
"If you abide by [these five principles,] you have a timeless project" Simone says.
READ: Next Stop Vaughan: The VMC Delivers the Future of Urban Downtowns
Timeless, indeed, but also timely. If COVID has left urbanites calling out for the hallmark aspects of city life to make their return, Festival is bringing forth a first-of-its-kind response which has -- in a kismet kind of way -- been in the works since well before the virus hit the city.
"[This concept, and its planning,] was even pre-COVID, which was very intuitive, I think, on all our parts. We didn't even anticipate it," Simone says.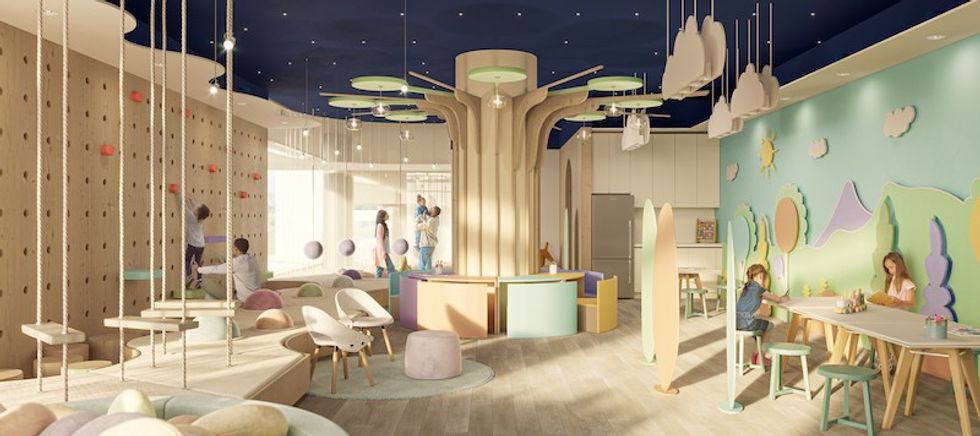 But on the topic of anticipation, she emphasizes that attempts to get ahead of changes should not just be for the sake of change itself. Instead, these aims should stem from understanding that a need exists -- be it for community, peace of mind, or, finally, a sense of joy -- and then moving forward with a design that responds to that need.
"It's not about the sake of design, but the function and purpose of design, and that it has a purpose. And we often don't talk about that," Simone says.
"I think that this project certainly had a need, and it had a purpose, and it had an opportunity. And I think that we seized the day. I really do."
To learn more, and to register for GRAND FESTIVAL, visit festivalsouthvmc.com
Future Developments