After a month away, Surrey City Council is back in back in action this week and one of the first new development proposals they will be considering is a big one by Langley-based Marcon.
Proposed for 13511-13551 102 Avenue, at the intersection with City Parkway, directly across the street from the Central City shopping centre, is a 42-storey residential tower with a seven-storey commercial podium consisting of a mix of uses.
---
The development site is currently occupied by a two-storey commercial building that includes a nail salon, a deli, and a Scotiabank. Marcon, which owns the site under Marcon City Parkway Properties Ltd, is proposing that the site be rezoned from C-8 (Commercial) to CD (Comprehensive Development) in order to allow for the proposed mix of uses and density, with the building having a floor space ratio of 11.3.
The residential component would bring 365 new condominium units to the area, including 33 studios, 198 one-bedrooms, 116 two-bedrooms, and 18 three-bedrooms. Residential amenities would be located on levels 7, 16, 41, and 42, and would include indoor meeting spaces, workspaces, multi-purpose rooms, lounges, and fitness areas, as well as fitness areas, open lawn spaces, dining space, and a children's play area outdoors.
The seven-storey commercial podium would then house 112,472 sq. ft of office space and 8,342 sq. ft of retail space on the ground floor, and there is expected to be separate lobbies for the commercial and residential components of the building.
In a planning report, City staff said that they have worked with the applicant to "maximize the amount of commercial and office space, given the size of the subject site" and that the building podium "will be significant in scale and one urban block in length."
A total of 435 vehicle parking stalls and 444 bicycle parking stalls would be provided in a seven-level underground parkade shared between the residential and commercial components.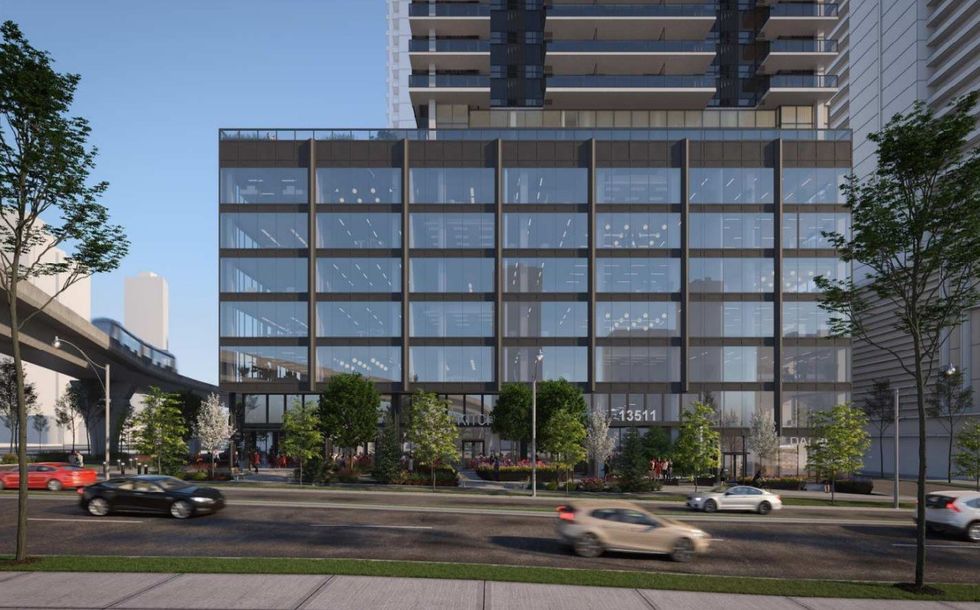 (MCMP Architects / Marcon)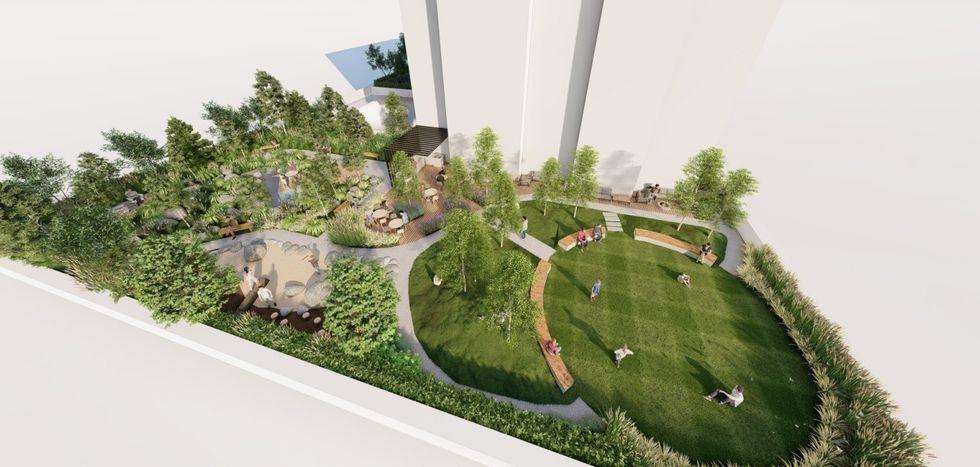 (LOCI Design / Marcon)
City staff are in support of the proposal, saying that Marcon's plans are "appropriate for this part of Surrey City Centre, and form part of an emerging high-density mixed-use and residential hub around Surrey Central SkyTrain Station," which is a three-minute walk away from the site.
Vancouver-based MCMP Architects is serving as the architect of the project, and City staff note that "the proposed building achieves an attractive architectural built form, which utilizes high-quality materials, contemporary lines, and unique form."
"The building's proposed massing is elegantly proportioned and expressed in three distinct volumes through architectural detailing: the ground-level commercial area with a fixed and retractable curtain-wall system, the commercial podium featuring a fluted metal panel profile, and the residential tower above," the City says.
The building will also make use of various sustainability features, according to the application, including a 50% window-to-glass wall ratio, an airtight building envelope, direct ventilation in residential units, high-performance glazing, high-albedo roofing, and a rainwater management system.
City staff also note that there were some initial concerns regarding the separation between the proposed tower and a tower proposed directly to the north of the site, but that those concerns have since been resolved.
The project will be subject to both Tier 1 Community Amenity Contributions (CACs) and Tier 2 CACs for the residential floor area that exceeds the permissible density under the current zoning (7.5 FSR). It will also be subject to the City's Affordable Housing Contribution – a charge of $1,000 per new residential unit — that goes towards the City's development of affordable housing.
Council will consider the application this evening and will likely grant the project a first and second reading before forwarding it to a public hearing on Monday, September 25.
Future Developments