---
The tallest building in British Columbia at the moment is the Living Shangri-La in Downtown Vancouver, at 659-ft tall, but a new development proposed in Surrey would exceed that by 20 feet.
The skyscraper is being developed by Vancouver-based Westland and designed by Chris Dikeakos Architects, and would be 679-ft tall, located at 10227 King George Boulevard in Surrey, between King George Boulevard and Surrey Central Station.
A representative from Westland told STOREYS in September that the development had passed the Advisory Design Panel, and City of Surrey council meeting documents show that the project was reviewed during last week's council meeting on land use, on November 28, with a public hearing now set for Monday, January 16, at 7:00 p.m.
The proposed building would be 67 storeys, with a seven-storey podium consisting of retail and office space, as well as an eight-storey residential podium, and more residential units above, for a total of 746 units. There are expected to be 226 studio units, 16 one-bedroom units, 283 one-bedroom units with a den, 122 two-bedroom units, 57 two-bedroom units with a den, and 42 three-bedroom units.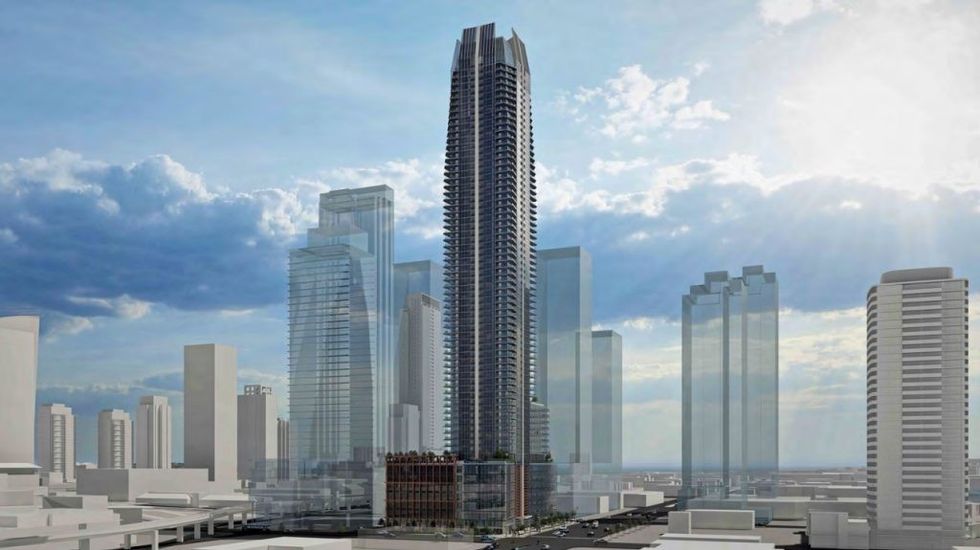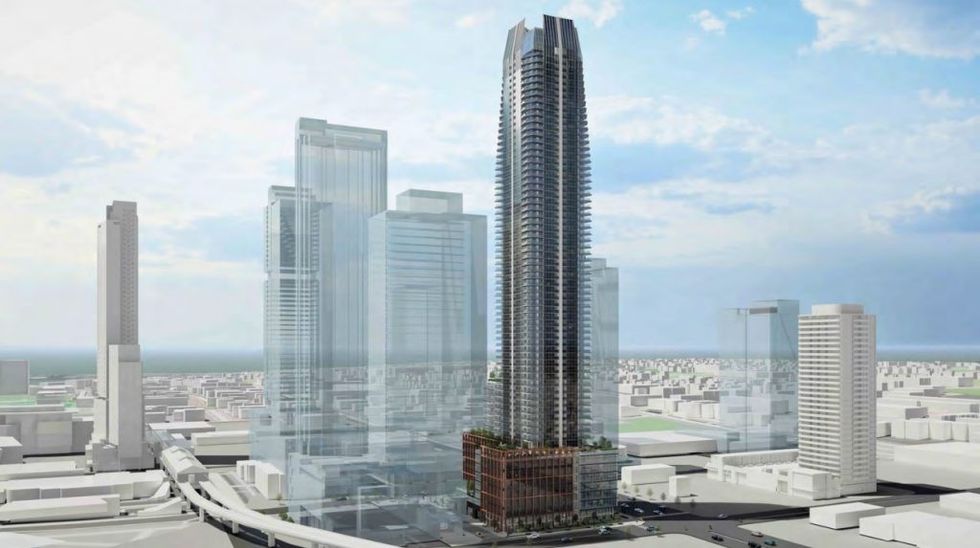 Renderings. (Westland / Chris Dikeakos Architects)
Indoor amenity spaces are proposed for the eight, 16th, and 66th floor, which will include meeting space, workstations, multi-purpose rooms, game rooms, lounge areas, fitness centres, and others, many of which will also be connected to outdoor amenity spaces, which will include open lawn space, children's play areas, outdoor fitness areas, and numerous eating areas.
The City also noted that because the proposed density is higher than what's allowed in the City Centre Plan, Westland will be providing increased Community Amenity Contributions (CACs) to support the residential density they're proposing. The City of Surreys sets the CACs rate at $2,000 per new residential unit added, but has said that this project would be considered a Tier 2 Capital Plan Project, with a rate to be set at a later date.
Aside from becoming the new tallest building in the province, the City of Surrey said "the proposed density and building form are appropriate for this part of Surrey City Centre, and form part of an emerging high-density mixed-use and residential hub around Surrey Central SkyTrain Station, Centre Block and Civic Centre." The site currently consists of multiple commercial buildings, zoned C-8 (Commercial), and the proposal would consolidate the lots and rezone it as CD (Comprehensive Development).
The City says that it has also worked with the applicant to "maximize the amount of commercial and office space, given the size of the subject site" and the podium is expected to be about one block in length.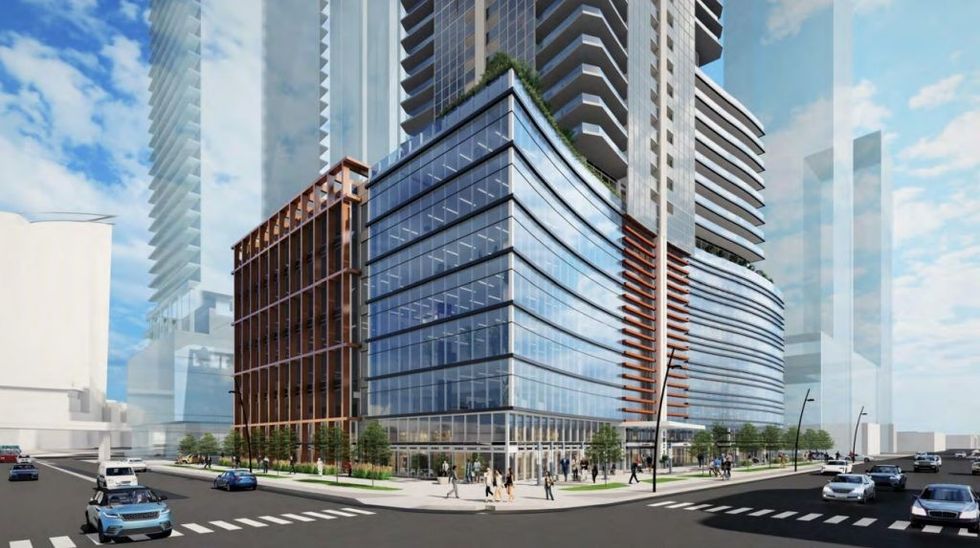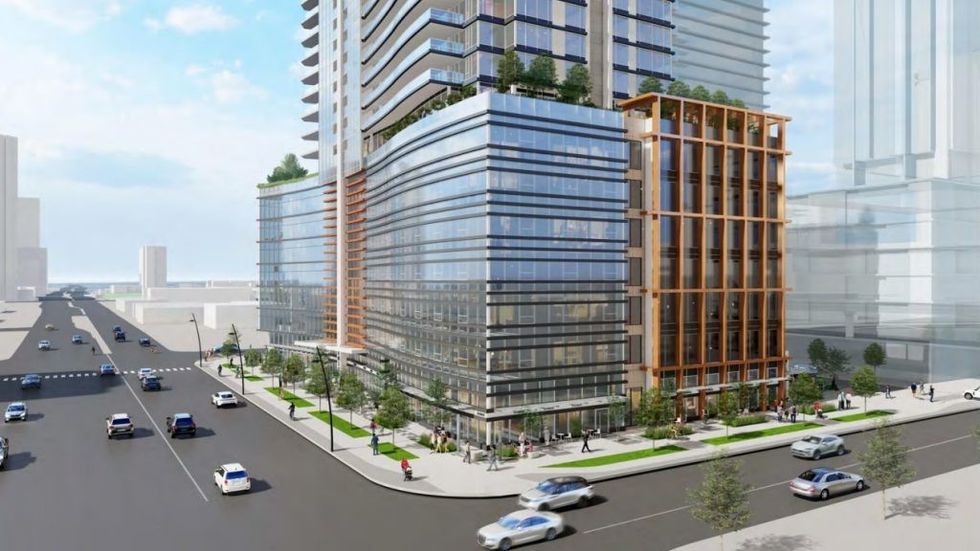 Renderings. (Westland / Chris Dikeakos Architects)
The applicants were required to submit a Traffic Impact Analysis (TIA), which projected that the development would generate approximately 333 vehicle trips during peak hours, equating to about five or six vehicles a minute, and the City "found that the majority of the road and intersections near the subject site would be able to adequately accommodate the anticipated growth at acceptable levels for an urban core context, particularly with the planned new connections and infrastructure." As part of the project, the applicants will also add or improve numerous pathways and roads surrounding the site.
READ: 23-Storey City Centre 4 Class-AAA Office Building Breaks Ground in Surrey
The proposal for the building includes 785 parking spaces, which is lower than what is required for its density and uses (1,009), with the applicants proposing that a quarter of the spaces be shared between the commercial and residential components. However, the amount of bicycle stalls would meet the required 925 stalls.
On the design of the building, the City said that "The proposed building achieves an attractive architectural built form, which utilizes high quality materials, contemporary lines, and unique form." In addition, it will also be built with several sustainability features, including solar panels on the roof of the tower, high-performance windows, energy recovery ventilators that pre-heat incoming outdoor air, and an energy-efficient building envelope and mechanical systems.
If all goes according to plan, Surrey and BC's new tallest building is expected to complete and open in 2025.
Future Developments