Construction has officially begun on the City Centre 4 office building in Surrey, the latest building in the Health and Technology District project by the Surrey-based Lark Group.
---
Located at 9682 137th Street, a 10-minute walk from the Expo Line's King George SkyTrain Station, City Centre 4 will be 23 storeys, with 354,468 sq. ft of Class-AAA office space, retail units, and restaurant space, and it's the Health and Technology District's largest building to date.
Office space is available both for lease and purchase, with floorplates ranging from 13,366 to 21,331 sq. ft and units starting from 659 sq. ft. Floors two through 17 have ceiling heights over 11', while floors 19 through 22 have ceiling heights over 14' and will be dedicated space for wet labs.
Additionally, the sixth floor will house top tier amenities, including a fitness centre, end-of-trip facilities, and a shared boardroom. The 23rd floor will be a rooftop terrace with views of the surrounding area, and a total of 1,887 park stalls will be shared with the other City Centre buildings.
"We are blazing a trail in Surrey's business and innovation landscape with the continuing expansion and growth momentum of the Health and Technology District," says Kirk Fisher, Senior Vice President of Lark Group. "The incredible demand for office and wet lab space, especially in Surrey which is one of Canada's fastest growing large cities, propels us forward with the construction of our City Centre 4 building."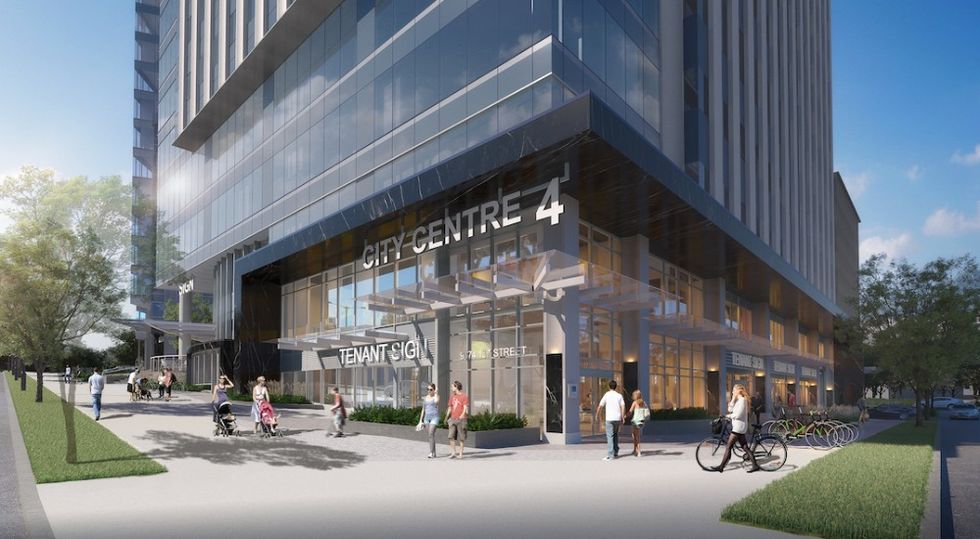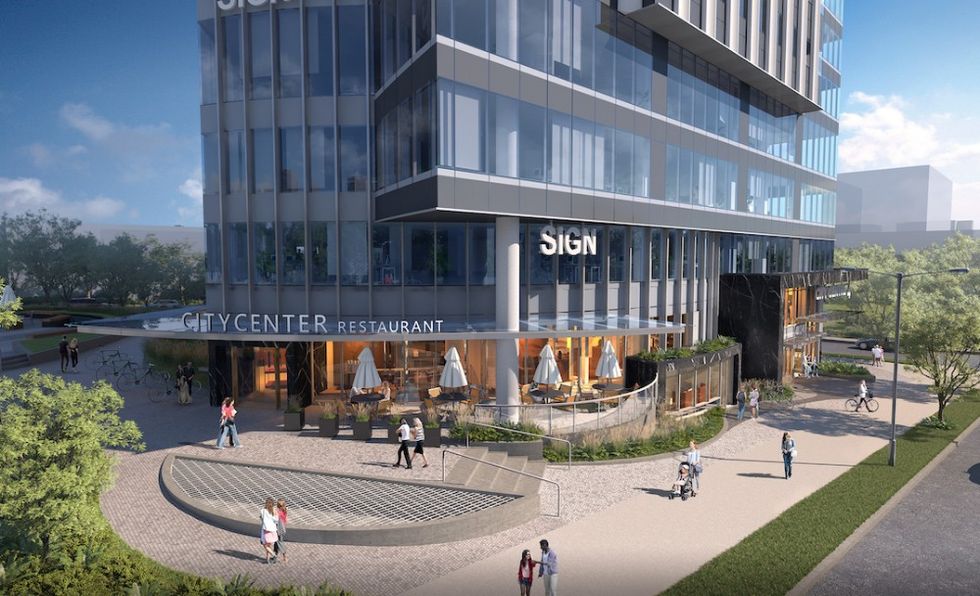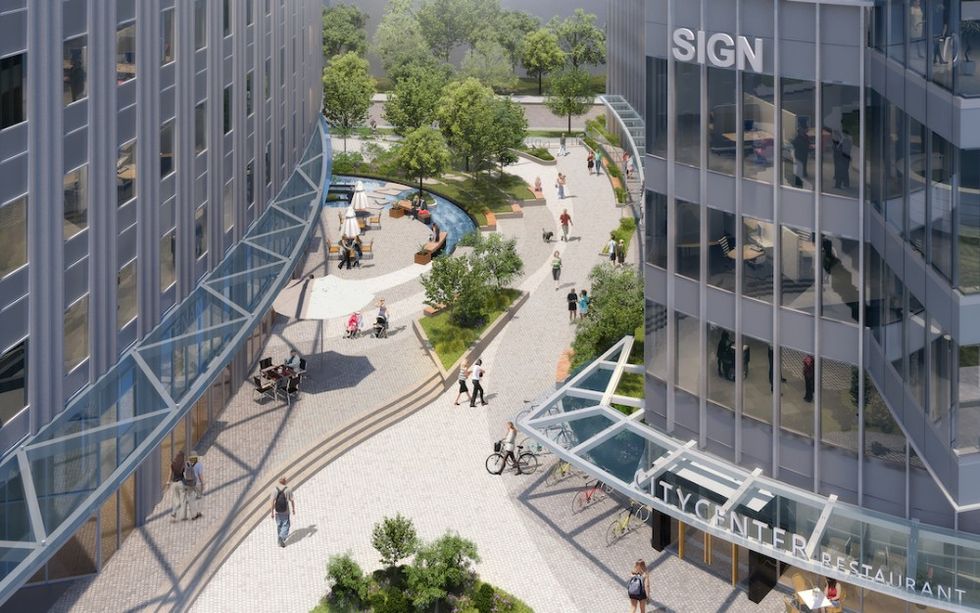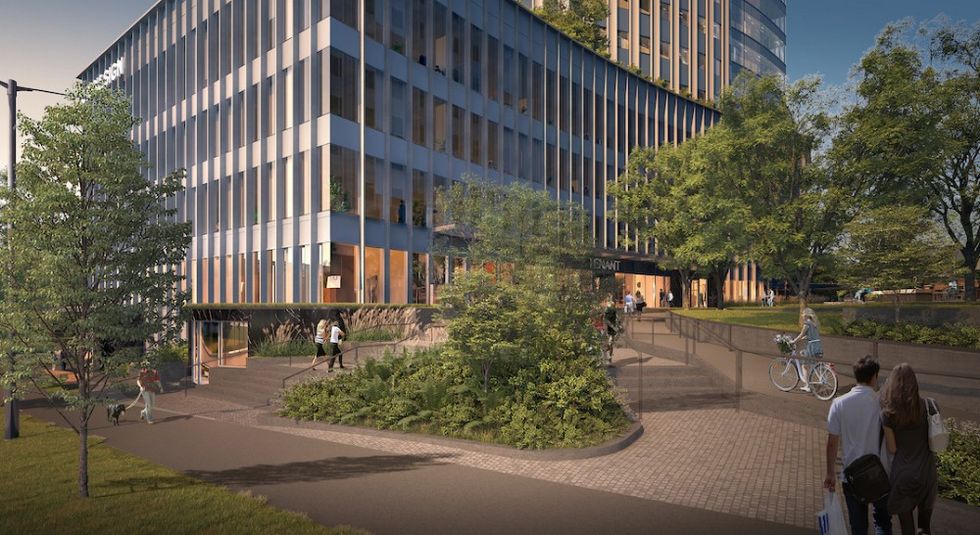 Renderings. (Lark Group / WA Architects)
Surrey Health and Technology District
Once complete, the Health and Technology District will be home to a cluster of organizations specializing in health, technology, and education that together will create a unique and innovative ecosystem with a focus on improving the province's healthcare sector.
In June, the University of British Columbia purchased space in City Centre 1, which is set to become the home of their Master of Physical Therapy program. Other companies in the District include, among many others: BaroMedical, which offers hyperbaric oxygen services; the Canadian Cancer Society; the Down Syndrome Research Foundation; Helius Medical Technologies, which specializes in neurological rehabilitation technology; Philips, the company that makes things like light bulbs and shavers, but also makes medical-grade equipment; and the Centre for Child Development.
The first three City Centre buildings are already complete, the first five floors of City Centre 4 are expected to be completed in 2024, and the upper floors in 2025. A future City Centre 5 building is then expected to follow shortly afterwards.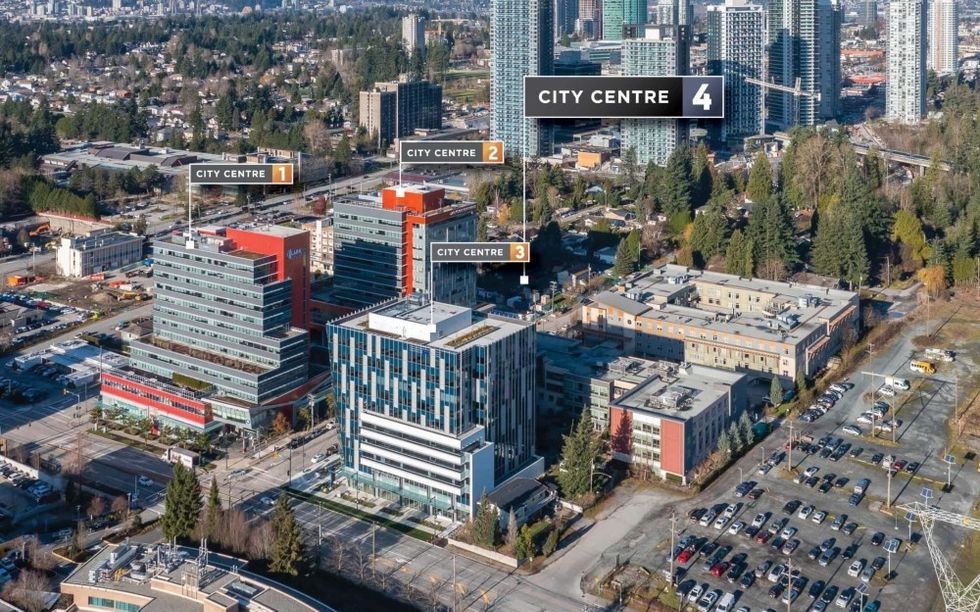 Health and Technology District. (Lark Group)
Downtown Surrey
The location of the Health and Technology District is critical, as is often the case with real estate. It's across the street from Surrey Memorial Hospital, of course, but also next to the area now known as the King George Hub. The King George Hub, which celebrated its grand opening in September, is itself a large-scale multi-building project, consisting of mostly residential and retail space.
With these two large-scale projects, and their vicinity to the major transit hub that is King George Station, this area is what many people are now calling the "new downtown" in Metro Vancouver. Surrey is the 11th largest municipality in Canada, according to Statistics Canada data published earlier this year. This particular area of Surrey -- Whalley -- has one of the largest populations within Surrey, with estimations at 120,000 and projections hitting 200,000 by 2051.
Much of that growth can be attributed to large-scale developments like the King George Hub and Health and Technology District, and there is no reason to think that's going to change anytime soon.
Office