---
At Toronto-based luxury real estate brokerage Johnston & Daniel, culture and collaboration stand front and centre. 
In addition to selling some of Canada's most coveted luxury homes since 1950, Johnston & Daniel is known as an enriching workplace for realtors -- both the seasoned set, and those new to the ever-exciting industry. 
Just ask Karen Yolevski. The Chief Operating Officer (COO) of Johnston & Daniel was drawn to the brokerage's reputation, history, people, and culture. "Everything about the brand exuded something that is stable; a happy place to work, somewhere where you can be comfortable for a long time," she says. 
After working in the broader real estate industry since 2005 -- spending time in title insurance, appraisal management, and closing services -- Yolevski joined Johnston & Daniel in April 2021. In the year since, her senior-level role has offered an overarching perspective on the celebrated brokerage's rich culture of peer-to-peer collaboration, development support, and sense of belonging. 
READ: The 2022 Luxury Report: Looking Forward Through An Evolving Lens
"We're so lucky at Johnston & Daniel, in that we have real estate agents at all stages of their careers, which is really what you're looking for in a brokerage; there's expertise and mentorship within the ranks of the brokerage," says Yolevski. "Our management is strong and has been in the industry for decades, so they can provide information and best practices because they've seen a lot and done a lot. While there is this seasoned expertise among our management team, it's always nice to have peers that you can ask a question of, work on a tough problem with, or work together with on a listing -- we see that as well. It's a nice cohesive group and people are always willing to help." 
J&D recently hosted the Annual Awards Gala at the Four Seasons in Toronto (Media: OTBXair)
It's this focus on collaboration -- rather than competition -- that really sets the brokerage apart; especially in a highly-competitive luxury market. 
"In sales, you are competing, but people who are really great in sales -- and we have so many at Johnston & Daniel --- recognize that there's room for all and helping others isn't a negative thing; it's actually helpful for all the parties involved. So, we are really lucky to have this spirit of collaboration and helpfulness; it's a culture we've built over time. People can grow from this, as opposed to closing their doors and doing their own thing."
For example, frequent sales council meetings allow people from different stages of their careers to get together to share ideas, brainstorm, and work through issues. Furthermore, the training and developmental support provided to Johnston & Daniel realtors ensures that they have all the best educational background and tools in their toolkit to do their work and do a great job, says Yolevski. 
"We have training in every format and at every level, from the informal coffee chats, up to national brokerage-wide events that are done both virtually and in-person, where we bring in the best in the industry to train, provide new perspectives, and help with the development of teams," she says. "So, we don't rely just on ourselves and our in-house experts; we do take the time to bring in outside experts in the field." 
Johnston & Daniel also tries to bring as much tech-forward information to the agents as possible. "We do weekly tech talks, where we have technology providers come in and share what they have available," says Yolevski. "There's an abundance of software available for agents, and we like to cut through that busy field and find what's best and what would appeal to our agents the most. Then, we provide training on that as well. "
It's this digital element to real estate that excites Yolevski the most about the future. "We are in a really unique position where we do have such esteemed and renowned realtors that have such big books already. So, it's about marrying these experts with new technology and helping newcomers grow to use that to their advantage, so they can become those big players themselves," she explains.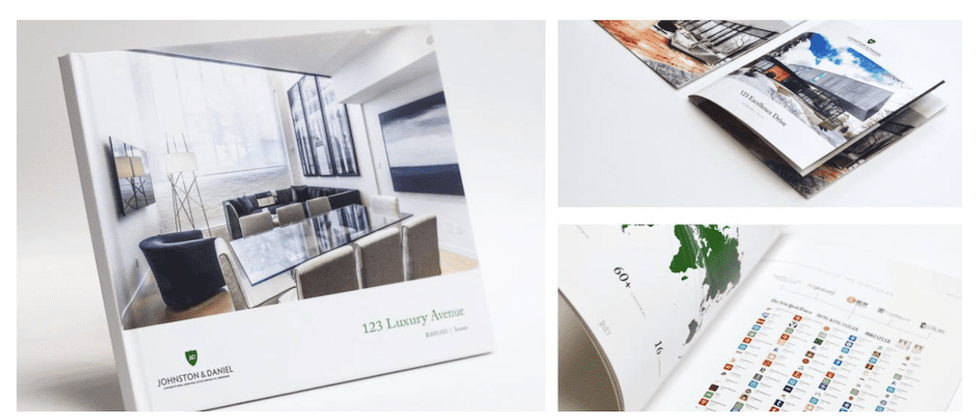 Image: Johnston & Daniel
Johnston & Daniel also offers its agents in-house marketing support through an in-house marketing team that provides digital and print collateral. "They can help with planning, strategizing, and provide listing and buyer presentations -- any collateral they need in association with a listing," says Yolevski. "We also highlight all of our listings on social media, so they get as much exposure as possible, and [we] have partnered with a company called Leverage to ensure that all of our listings get global exposure in addition to local exposure." 
In addition to the shop talk and training, a sense of connectivity is also facilitated through celebratory social events. 
Staying within the safety confines and protocols, Johnston & Daniel was able to host a handful of in-person events in 2021, which included a summer get-together and a holiday party. Most recently, the brokerage enjoyed their annual awards dinner at the Four Seasons. "Any chance we could get, we got together; this is an in-person business. We firmly believe in that," says Yolevski. "We did many things online as well to maintain connectivity and culture and also encouraged informal get-togethers as well, like getting together with a couple of agents for a coffee or a walk." 
The brokerage's offices remained (safely) open for business during the pandemic. "People still showed up, which was important for face-to-face interaction," says Yolevski. "You want people you can chat with, observe, and learn from. Having an open office that stayed active during COVID-19 helped." 
For new agents, or those looking to make a career jump, the career possibilities at Johnston and Daniel are endless.
"It's a very unique brand, where you get to be in the heart of a luxury brokerage while feeling comfortable, connected, and supported," says Yolevski. "It's a place to learn and grow, where you're selling the best real estate in the city -- the absolute cream of the crop. So, it's a really unique value proposition. It's tough to learn luxury real estate; it's extremely competitive, so it's nice to have a warm, supportive, and collaborative brokerage that encourages training and culture while allowing you to participate in a widely popular segment of the industry that is luxury real estate."
Yolevski encourages agents to reach out. 
"We would love to have a chat about the brokerage," she says. "It's a really open-door environment and we love to share the history and excitement of the brand, and continue to grow it." 
---
This article was produced in partnership with STOREYS Custom Studio.
Homes