Canadian home prices have soared to new heights over the past couple of years, and the Bank of Canada (BoC) says that "strengthened demand" from investors is partly to blame.
In a quarterly update published on Friday, the bank attributed 30% of mortgaged home purchases in Canada to investors as of the first quarter of the year. And that proportion is steadily rising. Prior quarters have seen investor presence in the homeownership market edge up from 25% (Q2-2022) to 26% (Q3-2022) to 28% (Q4-2022).
---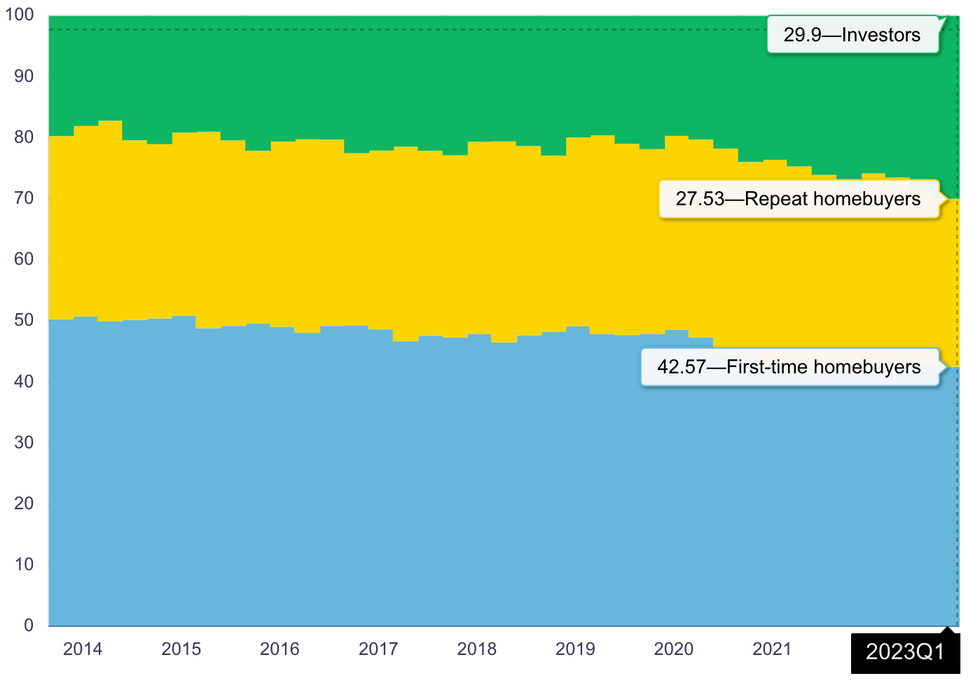 Share of mortgaged home purchases by type of homebuyers (regulatory filings of Canadian banks, TransUnion, and Bank of Canada calculations)
"The presence of investors in real estate markets can amplify house price cycles," the central bank said. "During housing booms, greater demand from investors can add to bidding pressures and intensify price increases."
While repeat and first-time homebuyers still accounted for the majority of Canadian home purchases in the first quarter (jointly making up around 70% of purchases), those buyers have had a shrinking presence in the market as affordability challenges have been dialed up. Prior to the first interest rate hike last March, repeat and first-time homebuyers accounted for 72% of those same purchases.
Of course, investors are just one piece of a larger housing unaffordability puzzle. The BoC also revealed on Friday that house flipping activity (defined by homes resold within either six or 12 months of purchase) has been more or less on the rise since 2021.
"Although a rise in house-flipping activity may improve the quality of the housing stock if renovations are involved, it may also signal that a local market is becoming increasingly influenced by speculative behaviour," said the bank.
Real Estate News