---
The response to the resurgence of interest rate hikes has been varied across Canada, with buyers in some markets swiftly retreating, while others have remained unperturbed.
After temporarily pressing pause in March, leading prices and activity to rebound, the Bank of Canada (BoC) delivered a 25-bps rate hike in June, and may repeat the move on July 12.
In Canada's priciest cities, the move promptly sent buyers back to the sidelines, according to a new report from RBC's Robert Hogue, Assistant Chief Economist, and Rachel Battaglia, Economist.
READ: How Canadian Home Prices Have Changed Since Interest Rate Hikes Began
In Toronto, the springtime rebound is "losing steam," after rising 32% month over month in April and May, as home resales declined 6.9% in June. Despite the dip, prices continued to increase, with the city's benchmark price hitting $1.16M in June, a 2.5% month-over-month increase. Since reaching a bottom in February, it has shot up 8.9%, or nearly $96K, reversing almost half of the decline seen in 2022.
However, with more homes on the market in June, there has been a "sharp" rebalancing of demand-supply conditions, which Hogue and Battaglia predict will lead the pace of appreciation to slow in the coming months. But, amid high interest rates, affordability will remain "extremely challenging."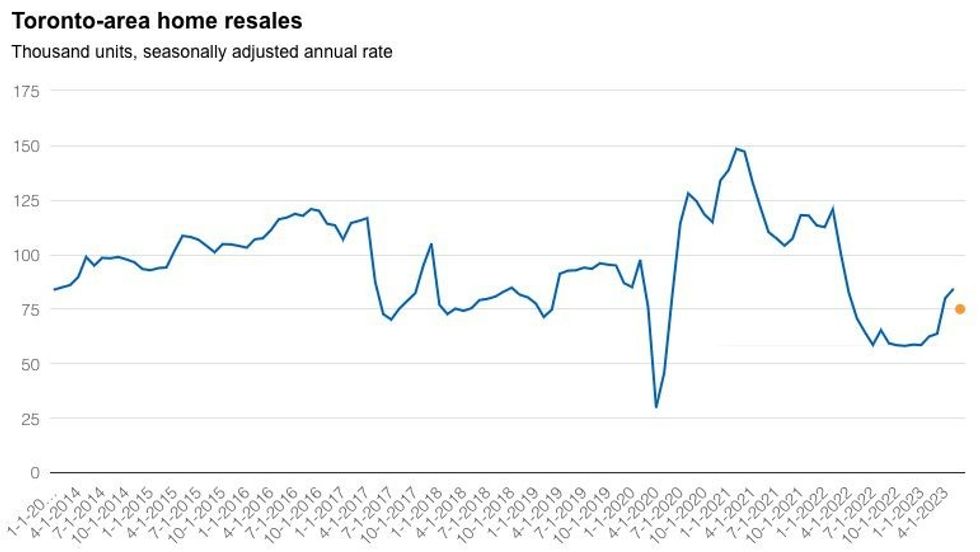 RBC Economics
In Vancouver, it appears that rising prices -- the benchmark price for the city jumped 1.3% month over month in June following a cumulative 3.1% increase across April and May -- and interest rates are "starting to rub buyers the wrong way," with sales little-changed last month.
Alongside an influx of sellers -- RBC calculates new listings were up 15% on a seasonally adjusted monthly basis in June -- Vancouver, like Toronto, has seen an alignment of supply and demand.
With more balance in the market, Hogue and Battaglia believe buyers will continue to push back on further price appreciation in the months ahead. However, housing affordability remains at "crisis levels" in Vancouver, posing "huge challenges" for many buyers.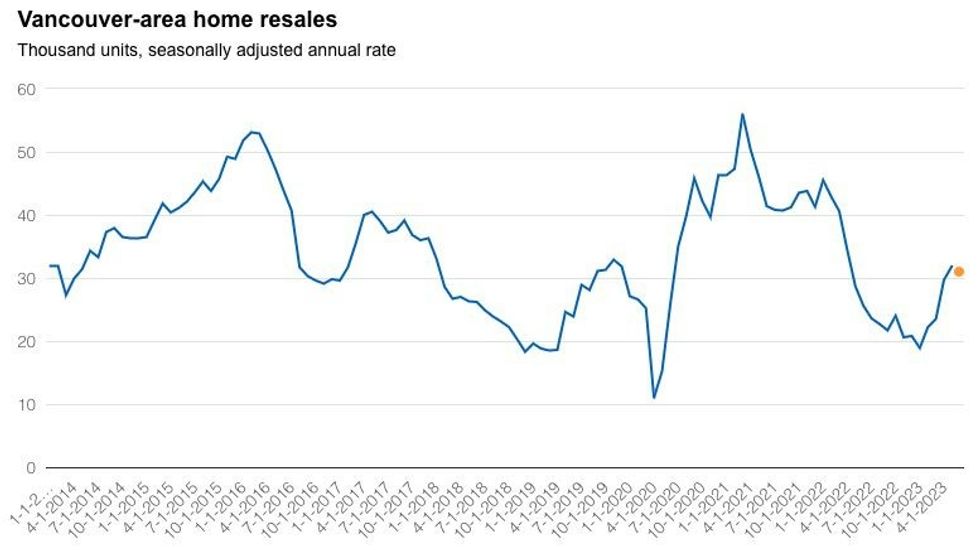 RBC Economics
While buyers have withdrawn in what were already largely unattainable markets, they have been relatively unfazed in more affordable locales.
Although the market remains "soft," Montreal is on the road to recovery, with home resales rising approximately 11% month over month in June, on the heels of an 8.9% increase in May and a 3.9% jump in April. Supply saw solid growth, too, with new listings rising 16% over the last three months, roughly 12% of which (seasonally adjusted) was seen in June alone.
With demand and supply seeing similar levels of recovery, home prices were relatively unchanged in June on a monthly basis. As such, there is room for a gradual appreciation in the months ahead.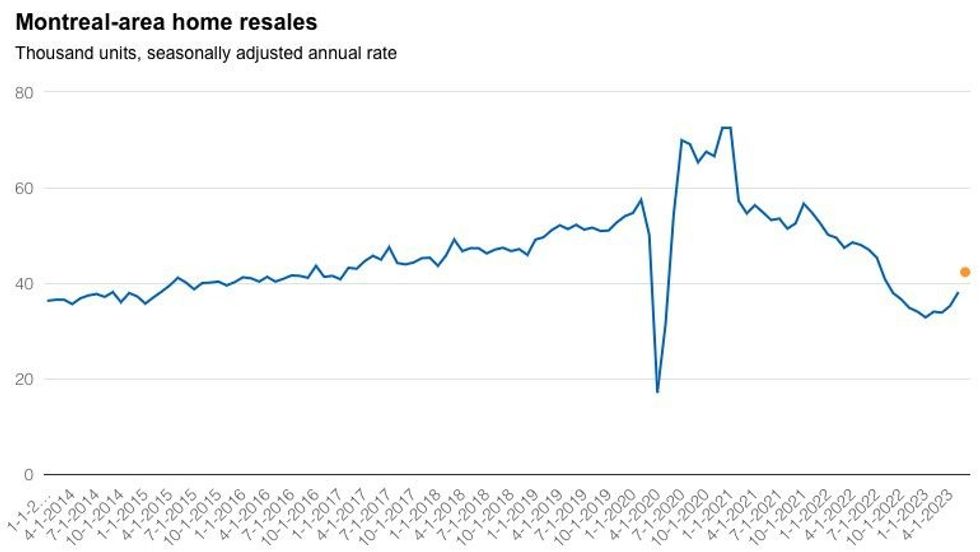 RBC Economics
In contrast to their counterparts in Toronto and Vancouver, buyers in Calgary are "eager" to transact. The city has seen a significant increase in new listings over the past two months, and, after rising 6% month over month in May, resales jumped an estimated 9% in June.
Despite solid supply, demand is rampant, leaving the market heavily in favour of sellers. As such, prices have been accelerating, and are up 4.4% year over year. Calgary's population boom and relative affordability will likely keep the appreciation going for the remainder of the year.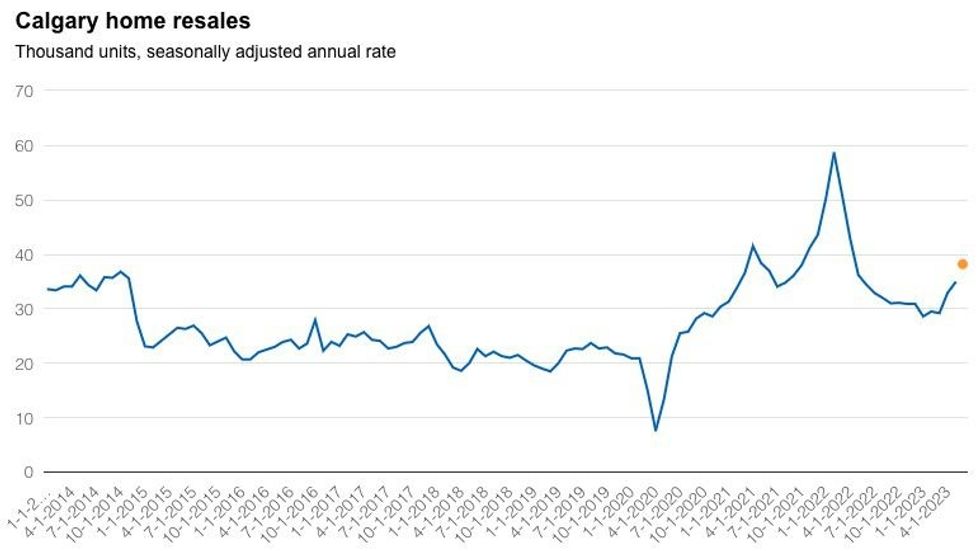 RBC Economics
Despite buyers' mixed response to rising interest rates, the "good news," Hogue and Battaglia note, is that supply, which has fallen to historically low levels as of late, is on the rise.
Every major market saw an increase in homes for sale in June and, while the growth has yet to impact rising prices, if it persists, the pace of property appreciation should slow over the coming months.
Real Estate News