Demand for industrial space dipped further across the Greater Toronto Area in the third quarter of 2023 but, following the frenzy kicked off by the pandemic, conditions still favour landlords. As such, rents have continued to rise significantly.
According to a new report from Avison Young, the overall industrial availability rate across the GTA rose 30 basis points in Q3 to 2.2%, the highest rate recorded since Q1 2018's 2.5%.
---
The flurry of activity seen throughout 2021 and 2022 has cooled, and availability has now been trending upward for three consecutive quarters; on an annual basis, it has increased 130 bps. Of the 20 million sq. ft of space available in the GTA, 2.9 million sq. ft was freed up in Q3.
Brampton harboured the highest availability rate in Q3, at 4.5%, followed by Caledon at 4.1%. Meanwhile, availability stood at 0.5% in Oshawa and Aurora. In Toronto, it was 2.9%.
The demand that did persist throughout the third quarter was centred on logistics and distribution, with Avison Young noting an increased focus on food and grocery businesses.
Notable transactions included Pepsi's new 570,000-sq.-ft lease in Milton, and Lactalis Canada's deal for a 380,000-sq.-ft purpose-built facility in Whitby. Built by Broccolini, the facility will serve as the company's largest distribution centre globally, based on capacity. The most significant lease of Q3, though, was Best Buy's 978,000-sq.-ft renewal in Brampton.
On the sales side, the most sizeable transaction saw Oxford Properties Group pass 80 Royal Group Crescent in Vaughan to Alpa lumber for $81.5M, or $284 psf.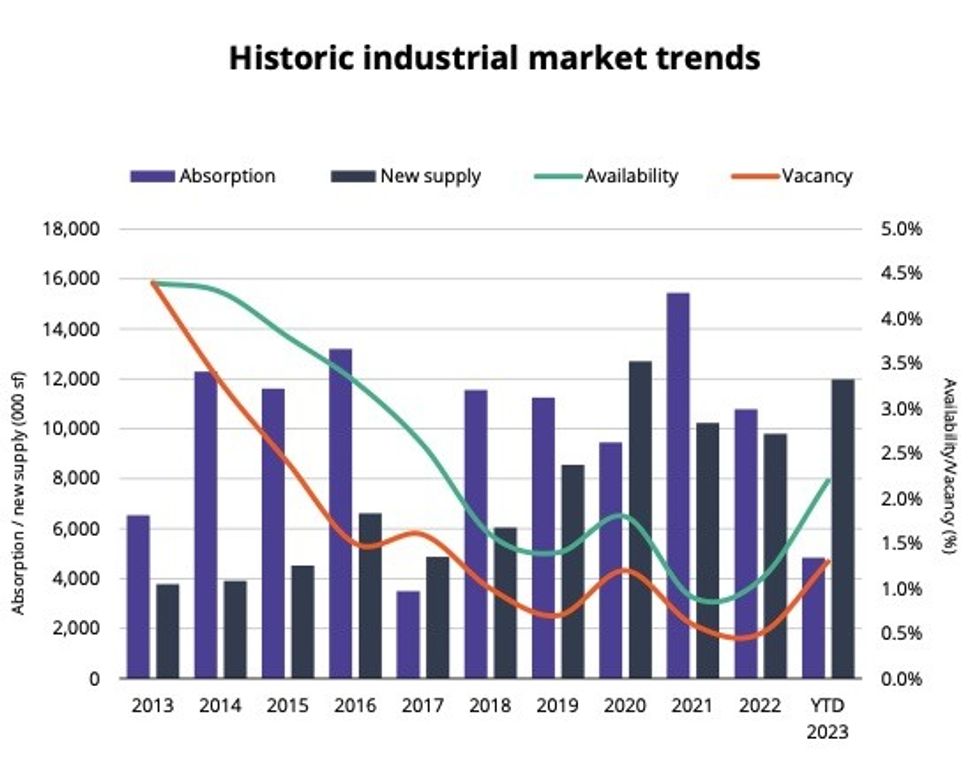 Altus Data Studio
Despite a consistent uptick in availability — and a vacancy rate that, at 1.3%, is at its highest level since 2020 — the average net rental rate in the GTA reached $18.38 psf in Q3, an annual increase of 14% and a three-year jump of 88%. In the past five years, industrial rents have risen 153% across the GTA.
Locally, Vaughan had the highest average net rents, at $19.67 psf, while the most affordable rents could be found in Whitby, at $15.24 psf. At $485 psf, Toronto had the most expensive sold prices in the GTA, and Milton, at $103 psf, had the cheapest.
With demand for space wavering, Avison Young expects the pace of rental rate growth to moderate over the next several quarters.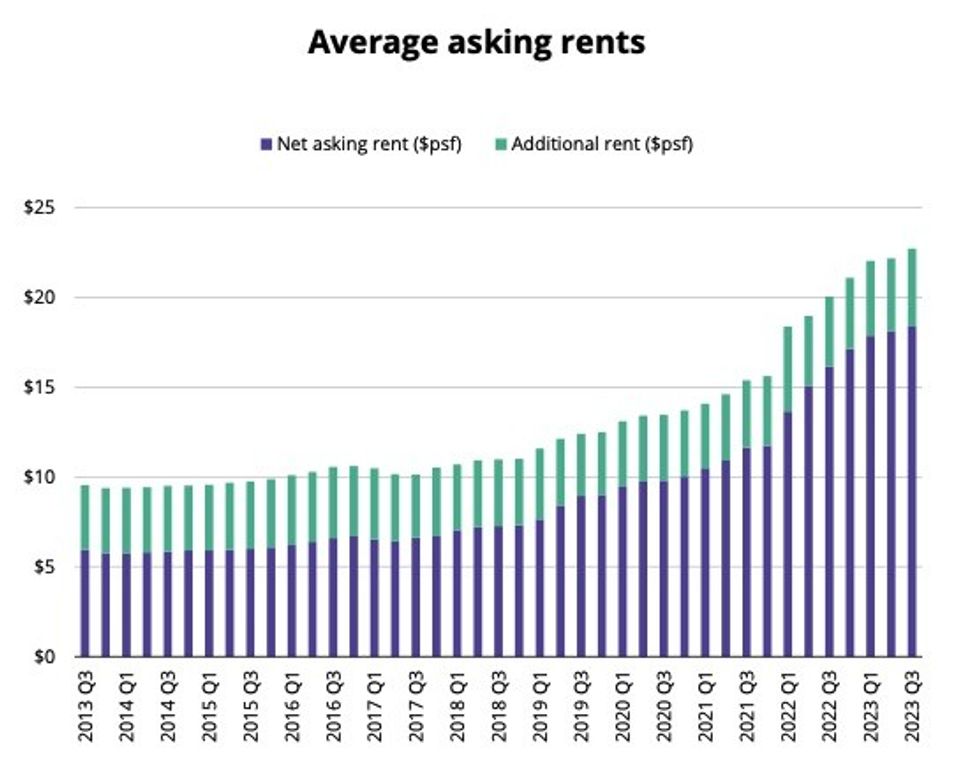 Altus Data Studio and Avison Young
Throughout the GTA, 4.1 million sq. ft of space was completed across 19 buildings in Q3, 60% of which is leased. The largest completion of the quarter was a 670,500-sq.-ft distribution centre developed by Orlando Corporation in Brampton, which is tenanted by Pet Value.
Another 64 buildings, equalling 16.4 million sq. ft, were under construction at the end of Q3, 28% of which were pre-leased. A further 152 buildings were in the pre-construction stage, offering the possibility of boosting the GTA's industrial supply by 53 million sq. ft.
"New construction starts are expected to slow in the coming quarters as some landlords and developers are being more cautious and plan to pause on starting new projects until current projects are fully completed," the report reads. "New construction starts may be further constricted if availability rises rapidly."
Industrial