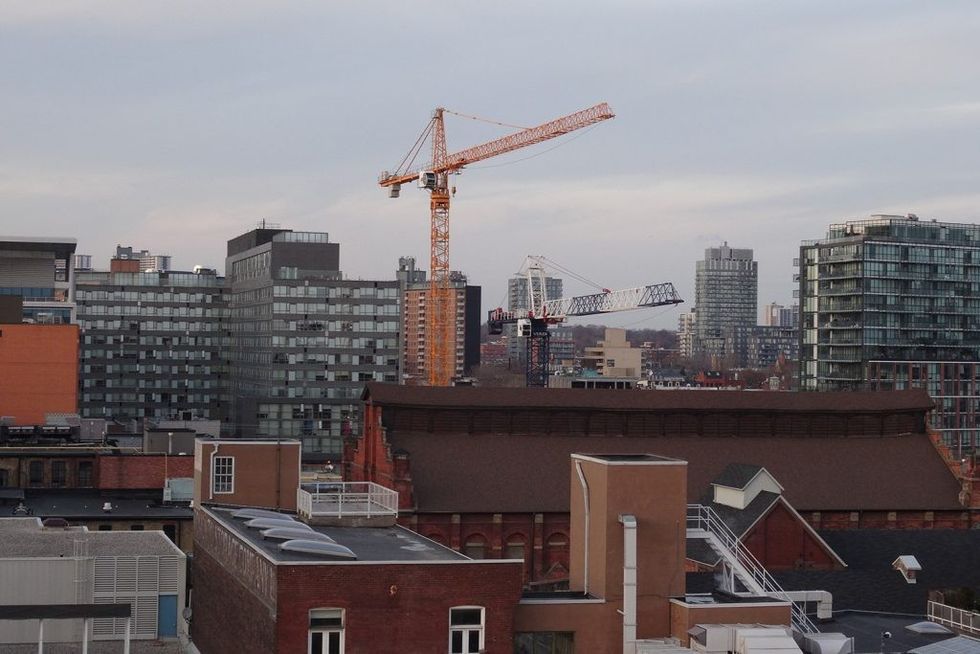 Condo rental quests in Toronto can be a nightmare.
---
Whether you're looking to rent a condo in Toronto or the GTA that's affordable — or at least available, it's rough out there. Now we have even more numbers to back up that reality.
Urbanation Inc., a leading source of information and analysis on the Toronto condominium market just released its Q2-2018 rental market results.
It finds the GTA condo rental market remained exceptionally tight in the second quarter, as trading activity continued to slow.
"Current rental supply has fallen to a critically low level," says Shaun Hildebrand, president of Urbanation.
"Demand has been pouring into the market while rental construction still remains relatively low, condo projects are taking longer to reach completion, not as many investors are offering their units for rent, and tenants aren't moving as often."
And the cost of rent just keeps rising.
The $231 average increase over the past year was the largest ever recorded by Urbanation, with rents having risen by $367 in two years.
In the City of Toronto, average rents grew by 12.1 per cent to $2,379, including a 13.5 per cent increase in the former City of Toronto to $2,505.
In the 905 Region, condo rents increased 9.2 per cent to $1,998.
In Mississauga, rent went up 11.9 per cent to $2,105.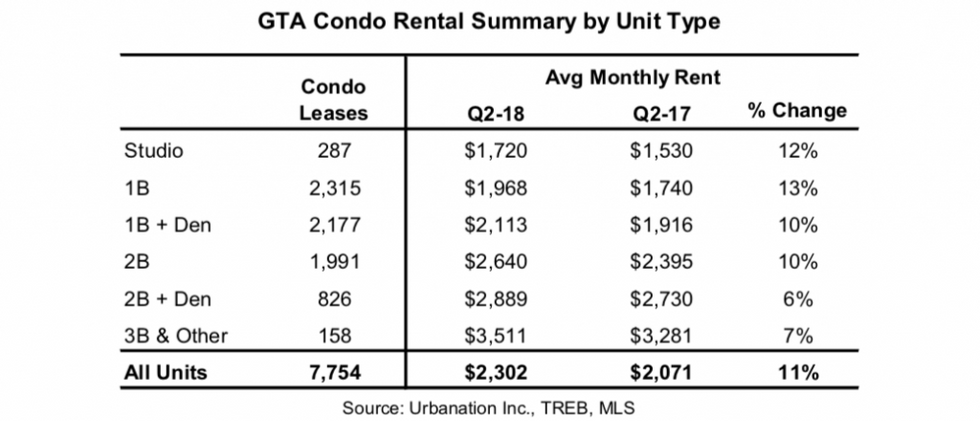 The report found that in the year-ending Q2-2018, a total of 25,955 units were leased through MLS. This is the lowest 12-month total in three years.
As a share of the entire stock of condos in the GTA, 7.8 per cent of units changed hands in the rental market during the past year, which was the lowest annual level of turnover in five years.
And the 85 per cent ratio of leases-to-listings remained well above the Q2 average of 78 per cent since 2011.
Rental condos, barely last on the market, and are typically leased out within two weeks.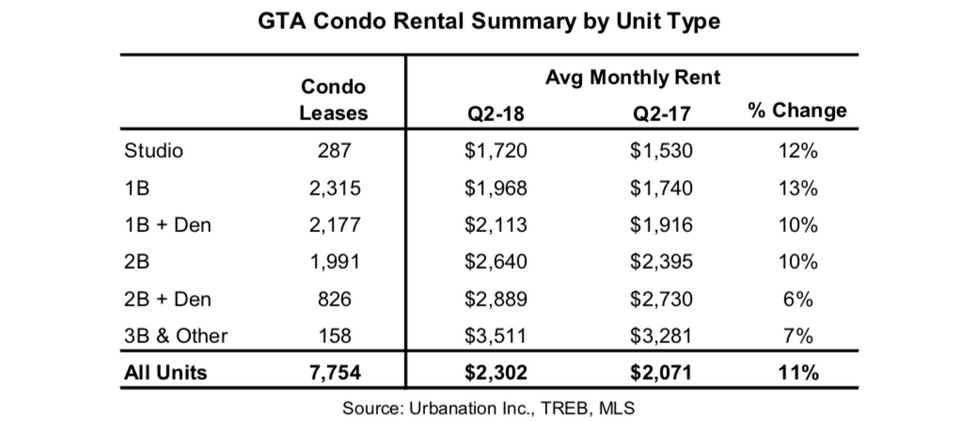 Here are some other key takeaways from Urbanation's study:
Average monthly rents for condo leases signed in Q2-2018 grew by 11.2 per cent year-over-year to $2,302, based on an average unit size rented of 732 square feet.
Per-square-foot rents increased by 8.7 per cent annually to $3.14, surpassing $3.00 psf for the first time.
Average rents grew strongest for studios (+12 per cent) and one-bedroom units without dens (+13 per cent) to $1,720 and $1,968, respectively.
The number of condo lease transactions fell for the third straight quarter, declining 8 per cent to 7,754 units as supply continued to drop.
Lease activity has been weighed down by declining rates of turnover and a low volume of new condo project registrations (i.e. final closings for new completions), which plunged by 28 per cent from a year ago to 3,264 units in Q2-2018.
New purpose-built rental construction surged in Q2, with 2,635 starts recorded during the quarter, raising the total inventory under construction to 11,073 units — the highest in at least 30 years.
The number of planned rentals also grew, reaching a total of 120 projects and 37,403 units.
Operators of rental buildings completed since 2005 in the GTA raised rents for available units by 11 per cent compared to last year, reaching an average of $2.97 psf. Vacancy rates in these buildings averaged just 0.3 per cent, with an availability rate of 1.5 per cent.
Renting