Toronto
Hume with a View
Gil Penalosa Could be Toronto's Chance to Challenge the Status Quo
The last time Toronto chose a mayor, John Tory's main competition was the city's former chief planner, Jennifer Keesmaat. This time, it's urban activist Gil Penalosa. Both are smarter, better informed, more progressive and enlightened than the incumbent, but like Keesmaat before him, Penalosa will almost certainly fail to unseat Tory.
Great news, website up! I am running for Mayor to build a #Toronto4EVERYONE. Together we can create an affordable, equitable, sustainable city. We just launched https://t.co/nv0Pi4UZOs. Please visit, learn about why, and, if possible and live in Toronto, volunteer, and/or donate. pic.twitter.com/Iq6epzG97f

— Gil Penalosa for Mayor (@Penalosa_G) July 15, 2022
Given a choice between the city that might be and the one that is, we prefer the status quo. Though Toronto always does well on those ludicrous listings of the world's most liveable cities — one ranked Calgary above Paris — those of us who inhabit this burg know that things could indeed be a whole lot better. More than that, we know that things have been a whole lot better.
READ: Toronto To Repeat Gentrification History at Jane and Finch
Has Toronto ever been so unaffordable? Just finding a place to live has become impossible for a growing number of wannabe residents. Has getting around ever been so frustrating? Public transit is mediocre at best, appalling at worst. Has the infrastructure ever felt so rundown and ratty? This summer dozens of city swimming classes were cancelled due to lack of lifeguards. Have the police ever been so out-of-control and quick to violence? Since when does clearing a homeless encampment require truncheons and handcuffs?
We could go on. And on.
The point, of course, is that the success of a mayor such as John Tory — and Rob Ford and Mel Lastman before him — is that confronted with the possibility of a chief magistrate who openly seeks excellence, Toronto typically settles instead for the same old, same old. Not only is Toronto the most reluctant of cities, it's one that actively fears change. It's little wonder NIMBYism, though it exists everywhere, is off the charts here. 
In these parts, the C-word is change. To fear change is, of course, to fear the future. And let's be honest, there are many good reasons to worry about what lies ahead. Most fundamentally, we face an environmental disaster that is already wreaking havoc in this country and around the planet. But in Toronto, it doesn't exist. Civically, we remain fixated on low taxes and less congestion. Little else matters.
READ: Toronto Isn't Just a City With Low Self Esteem
However convincingly candidates like Penalosa and Keesmaat talk about creating a city that's accessible, safe, diverse, equitable, fun and engaging, our eyes glaze over and we turn a deaf ear. It's not just that we don't believe it's possible; we no longer seem to care. Like many American cities, Toronto is becoming a place we drive through on our way somewhere else. That's why the late Rob Ford famously declared, "roads are built for buses, cars and trucks…"
The city was long ago handed over to vehicular traffic. Since then, pedestrians, cyclists, kids have been viewed as obstacles. They demand space and cause congestion. Tory reminded us of that recently when he acceded to the Toronto Blue Jays' request to cancel the hugely popular ActiveTO program on Lake Shore West because it would slow game-time traffic. Any disagreement, he argued, was "intolerance." 
Needless to say, Penalosa and Keesmaat would beg to differ. For them, streets are part of the public realm and meant to be shared by all.
The non-profit organization, 8 80, that Penalosa founded in 2007 is dedicated to the premise that "if everything we do in our cities is great for an eight year old and an 80 year old, then it will be great for all people." The language may be vague, but the Colombian-born former Bogota parks commissioner argues passionately for green space and open streets. The internationally respected urbanist wants more bikes and fewer cars. He would redirect the $2B Tory has committed to rebuild the east end of the Gardiner Expressway for five-to-eight storey residential buildings he would allow on streets served by transit. He would also lower speed limits, green schoolyards and implement street safety measures.
"Ideas," he says, "can be more powerful than money."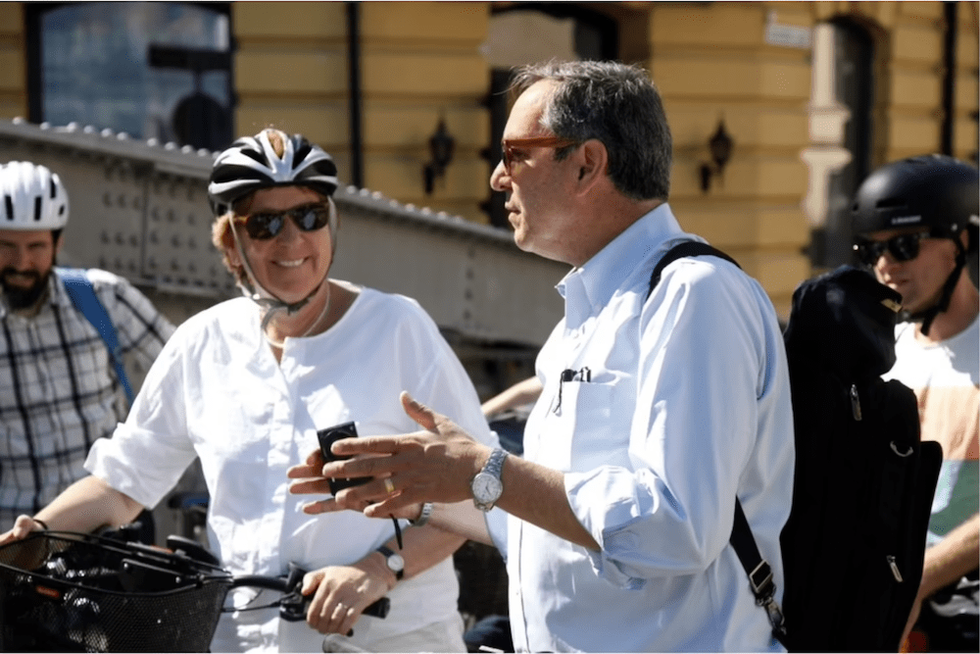 Penalosa's platform will resonate with the small portion of the population that, like him, wants Toronto to realize its urban potential. He would drag the political culture away from failed paradigms of earlier eras to policies more appropriate to the times.
Needless to say, he doesn't have a snowball's chance. Indeed, his progressive stance and common sense agenda will inspire hostility from the mass of voters who look no farther than their own backyards.
It will also put him at odds with Ontario Premier Doug Ford, who has invested much of his political capital in illusory promises of highways, sprawl, license plate renewal refunds and the like.
While Ford and Tory pledge to keep things as they are, Penalosa offers a vision of what they might be. The choice is ours.