Urban Living
Paving Paradise: Feds Step In to Oversee Environmental Assessment of Controversial HWY 413
The federal government has stepped in and says it will now complete an environmental assessment of the Ford government's controversial Highway 413 GTA West Corridor (GTA West).
GTA West is a proposed 400-series highway and bus transitway in the western Greater Toronto Area that would span approximately 59-kilometres.
If approved, a new four-to-six-lane controlled-access highway would pass through the municipalities of Vaughan, Caledon, Brampton, and Halton Hills. It would connect highway 400 (between Kirby Road and King-Vaughan Road) to the highway 401/407 interchange area, located near the northern end of highway 403.
Planning for the project began in the mid-2000s, but the environmental assessment was suspended in 2015 before being shelved by the liberal government of Kathleen Wynne. Though, following the 2018 provincial election, the Ford government announced the resumption of the suspended environmental assessment.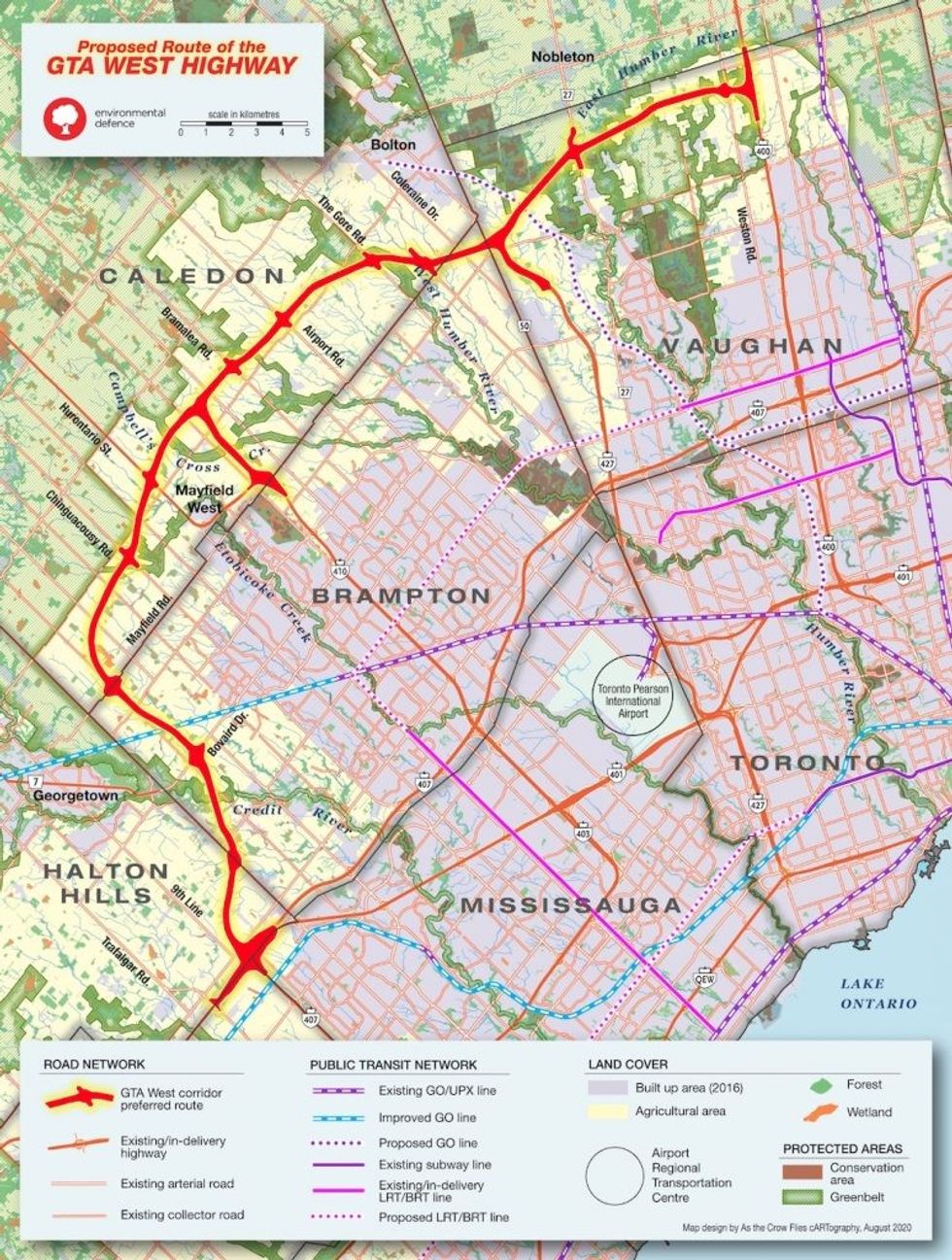 Since then, several municipalities and environmental groups have voiced their concerns, including the Canadian environmental advocacy organization Environmental Defence, which says, "Highway 413 is "a redundant and unnecessary toll highway that would pave over farm, forests, wetlands, and a portion of the Greenbelt and cost taxpayers billions."
"Right now Highway 407 (another toll highway) is underused. Yet the province is proposing to build another east-west toll highway just 15 km away," said the organization.
On Monday, Environment Minister Jonathan Wilkinson says after consideration, he's decided to designate this project under the federal impact assessment process.
Wilkinson said that the Impact Assessment Agency of Canada (IAAC) has identified "clear areas of federal concern related to the project."
My statement on the designation request for the GTA West project. pic.twitter.com/E7Bxyhj2jZ

— Jonathan Wilkinson 🇨🇦 (@JonathanWNV) May 3, 2021
Wilkinson says his decision is based on expert findings that the highway may cause adverse direct or incidental effects on federally-listed species at risk.
"After careful consideration of the available science, evidence and other relevant information gathered by the Impact Assessment Agency of Canada, as well as the Agency's recommendation to designate the GTA West project, I have decided to designate this project under the federal assessment process," said Wilkinson.
Wilkinson said the provincial Ministry of Transportation will now be required to submit an initial project description that will begin the planning phase of the assessment process once accepted.
"The impact assessment process is grounded in science, evidence and Indigenous knowledge, and our government firmly believes in the principle of 'one project-one assessment,'" said Wilkinson.
"Should the agency decide that areas of federal concern cannot be addressed and that a federal impact assessment is warranted, we will endeavour to work with Ontario to carry out a co-ordinated and predictable assessment that Canadians can have confidence in."
Environmental Defence says the completion of the highway would destroy habitats of wildlife like monarch butterflies, while wetlands would be at risk of being paved over. The highway would also damage watersheds that flow into Lake Ontario and pave over forests, meadows, and nature trails.
"Building a new highway gets more polluting cars on the road, and usually does nothing to relieve congestion over time. In fact, an expert panel study found the highway would only save drivers 30-60 seconds per trip," said Environmental Defence.
Environmental Defence says the completion of Highway 413 would deteriorate parts of the Credit River and Humber River that flow into Lake Ontario – a source of drinking water for millions of GTA residents.
Further, according to a recent report by Environmental Defence, evidence shows that by adding hundreds of thousands of polluting cars, SUVs, and trucks to Ontario's roads, "Highway 413 will make climate change worse and harm the health of people, communities, and sensitive ecosystems."
"The vehicles travelling on Highway 413 would create about 17.4 million tonnes of CO2(e) in cumulative emissions by 2050 under the Business-as-usual scenario," — this is said to be about the same amount of emissions produced by the City of Toronto in a year.
Those in opposition to the controversial highway can sign Environmental Defence's online petition here.