Toronto, get ready for more widespread snow before bracing for some of the coldest temperatures of the year over the long weekend.
---
[Want to see more stories like this? Sign up for our weekly newsletter!]
On Wednesday, we'll see a mix of sun and clouds with temperatures hovering just above freezing. However, by this evening, temperatures will drop ahead of the snowfall, which should begin around midnight.
While only between 2 to 4 cm of snow is expected, the snowfall is still expected to impact the commute Thursday morning.
There's also the chance that lingering flurries could slow down the evening commute, too. During the day, a high of 1ºC and a low of -5ºC are expected, and later in the day, the bitter cold will begin to set in before plunging to a freezing -17ºC, which will feel more like -19ºC with the windchill overnight.
READ: Another Blast of Widespread Snow to Hit Toronto this Week
As we head into the long weekend, The Weather Network is advising of another blast of "bitter winter cold," which could result in the coldest temperatures of the year. The Weather Network says temperatures may drop as much as 10 degrees across the region on Friday and Saturday, with windchills ranging from the -20ºCs to -30ºCs.
"While it's nothing exceptional for this time of year, it will be a shock to the system in a winter that has had minimal Arctic air," says Weather Network meteorologist Dr. Doug Gillham.
By Sunday, another dusting of snow is possible for the GTA before near seasonal temperatures return on Family Day Monday.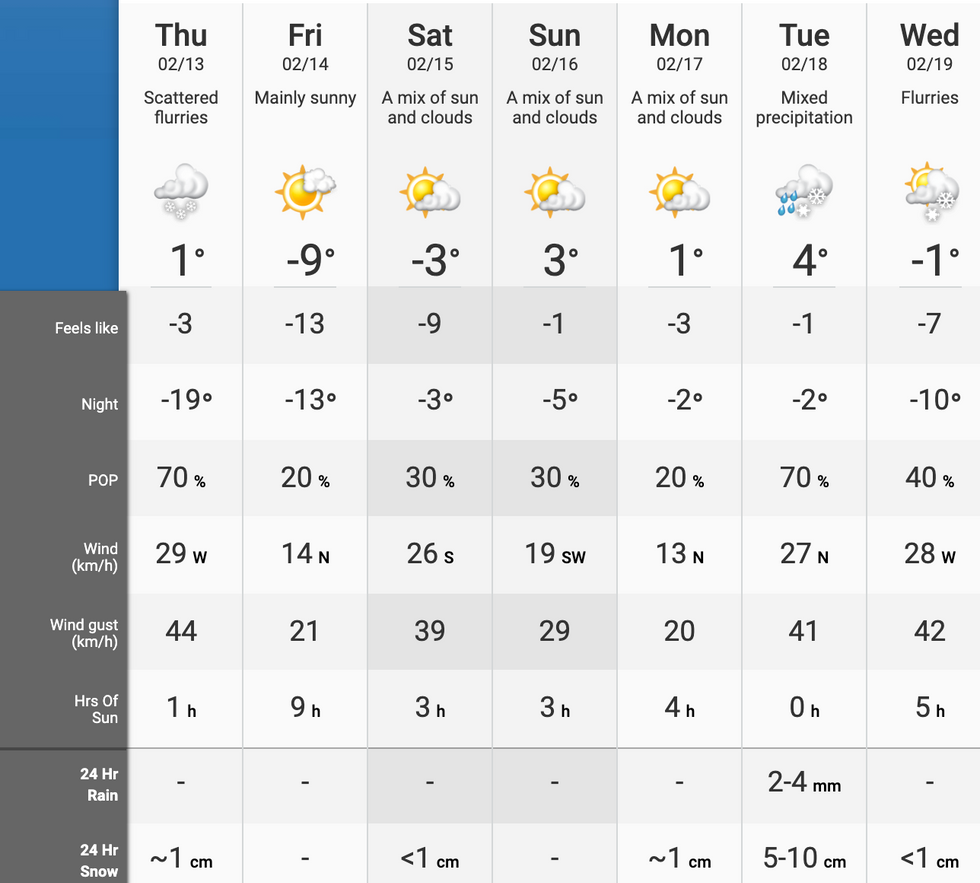 The Weather Network
Thankfully, The Weather Network says the bitter cold will be short-lived as temperatures are expected to rebound after the weekend.
"Mild Pacific air will spread across Canada for next week. This will bring an extended period that will be dominated by above seasonal temperatures that could last until the end of the month," Gillham says, adding that we can still see snow even in a milder pattern.
So, whatever you have planned for the long weekend, make sure to bundle up and stay warm.
Toronto