Don't put your parka and winter boots away anytime soon, as it looks like Toronto is going to be hit with another blast of snow and freezing temperatures later this week.
---
[Want to see more stories like this? Sign up for our weekly newsletter!]
While Torontonians woke up to snow and slush on Monday morning, The Weather Network says the snow will taper off by the mid-to-late afternoon, while a change in the winds will bump temperatures back up to seasonal for Monday afternoon, with highs expected to reach 3ºC.
However, on Wednesday, a system is expected to track through the Great Lakes Wednesday night and into Thursday, bringing snow and freezing temperatures to the region.
"A large moisture-laden system from the southern US will track south of the Great Lakes Wednesday night into Thursday, bringing widespread snow to southern Ontario and southern Quebec," says Weather Network meteorologist Dr. Doug Gillham.
Gillham added the system has the potential to bring 10 to 15 cm to parts of the region, particularly near Lake Erie, Hamilton, and Niagara.
READ: 10 Cozy Cabins Near Toronto to Rent for a Winter Getaway
The Weather Network sats accumulations for any one area — and whether or not the snow will mix with ice or rain at times — will depend on the exact track of the low, which forecasters say they will be watching closely this week.
As we head into the long weekend, the region will get a blast of "bitter winter cold," with temperatures expected to drop by as much 10ºC on Friday and Saturday.
The Weather Network expects that the region may experience some of the coldest temperatures so far this season on Saturday, with temperatures expected to drop to -15ºC in Toronto.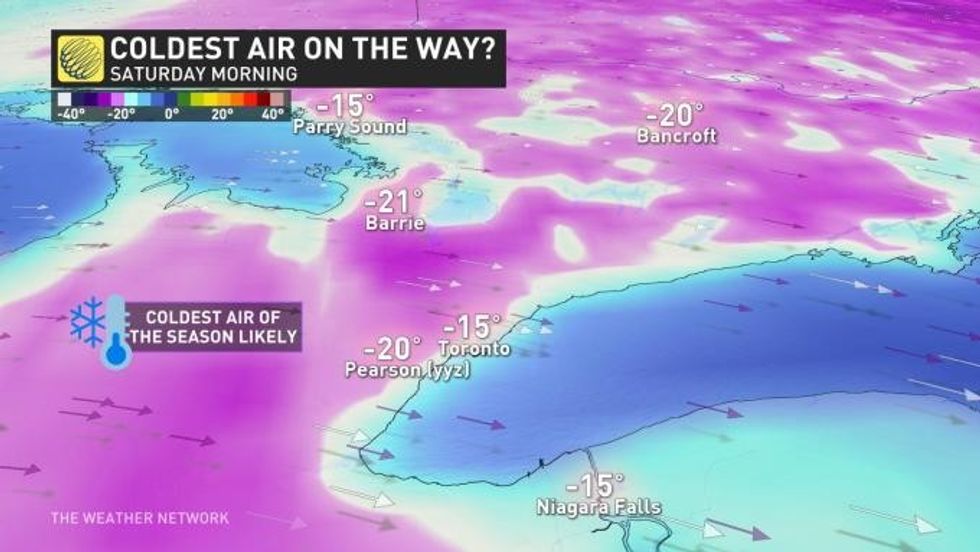 The Weather Network
With the end of winter nowhere in sight, remember that regardless of the snow amounts, homeowners and property owners are responsible for clearing ice and snow from nearby and adjacent sidewalks, driveways, parking spaces, steps, ramps, and landings within 12 hours of snowfall to provide safe access for people and vehicles.
According to the municipal by-law: "every owner or occupant of any building must, within 12 hours after any fall of snow, rain or hail has ceased, clear away and completely remove snow and ice from any sidewalk on any highway in front of, alongside or at the rear of the building."
And not only will clearing the ice and snow from the sidewalk in front of your home or business make it safer for everyone but it will also help you avoid a fine. According to the City of Toronto, the fine for not clearing snow from private property is $455 plus a $115 surcharge, for a total of $570.
Additionally, the fine for not clearing snow from public property is $100 plus $25 surcharge, for a total of $125, as per the city's Snow and Ice Clearing Bylaw.
Toronto